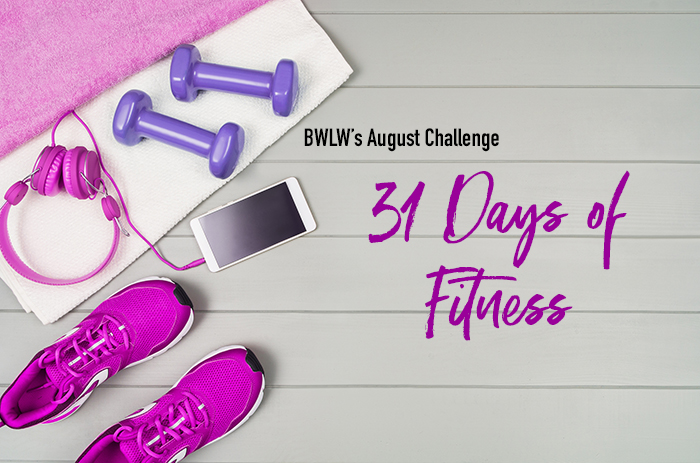 It's time for our August 2018 Challenge! We are excited to challenge you to focus on exercise for a full 31 days. The key to this month's challenge: Keeping track of your work. Not only are we giving you a printable tracking calendar, but we are also giving you a daily Fitness Wrap-up worksheet. (You'll find the links below)
The Challenge starts on August 1st.
Goals:
– Workout for at least 25 days during the month of August.
– Complete daily fitness/nutrition focused tasks.
– Eat as Clean as possible – Cut out the junk food and eat more whole, natural foods.
How to Join Us
Joining us is very simple. Download this month's resources below and Check-IN everyday on our Facebook page or Instagram. We will post a special Check-IN post each evening where you can tell us about your workout/rest day.
Each day you will complete the "Task of the Day" listed on the checklist and you'll include the Exercise of the Day in your workout routine. (If it is a rest day, you can skip the exercise.)
Don't know one of the exercises of the Day? Check out these videos.
You'll need a journal/notebook for some of the tasks. We are asking you to do some meal planning and take your lunch to work during this challenge so you may need to invest food containers and a lunch bag.
You'll also need a 1 inch binder and your favorite pin or pencil for this challenge – In your binder, you'll keep your 31 day tracking calendar and fitness worksheets. On workout days, dedicate at least 10 minutes a day to completing your worksheet. Take the time to record and celebrate your hard work.
We suggest that you choose a binder with a clear pocket in the front. Print out your favorite motivational quote or an inspiring image and put it on the cover for motivation.
Workout for at least 25 days out of 31. – Your choice of exercise – Zumba, walking, running, exercise classes, boot camp, HIIT, CrossFit, yoga… YOU name it. We suggest at least 20 minutes of exercise per day on your workout days, if you are a beginner (low impact, beginner level exercises). If you are intermediate to advanced, you'll likely be doing 30 minutes to an hour or more of exercise each day. Work at your own pace.
Eat as CLEAN as possible. – You can't exercise away a bad diet. Cut back on junk food, soda, fast food, sugary foods, etc. in August, and eat more whole foods. You'll have a better chance of seeing results on the scale and you may have more energy during your workouts. Food is fuel, so give your body the nutrients and vitamins it needs, not empty calories. If you'd like to learn more about Clean Eating, read our helpful E-Book, "Clean Eating for Wellness and Weight Loss".
Bonus: We are also hosting a DietBet this month. $25 Bet
Leave a comment below and tell us why you are joining our August Challenge!
We want to see your workout selfies on Instagram this month. Tag @blackwomenlosingweight and use the hashtag: #BWLWAug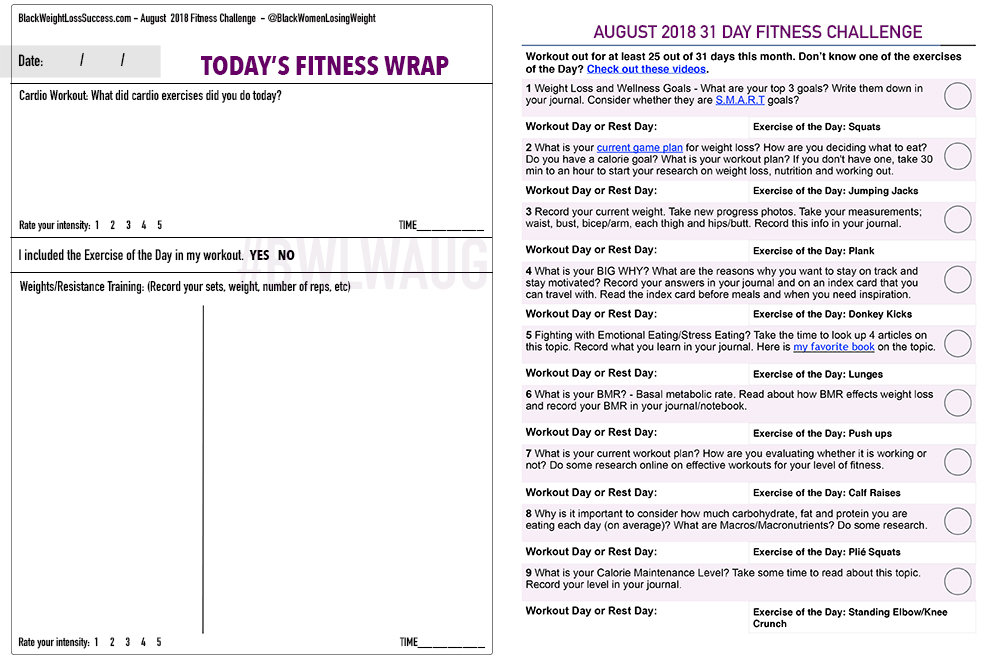 Join our Email List

Disclaimer* Before starting any exercise program, please consult with your doctor. We cannot be held responsible for any injuries resulting from attempting this exercise routine. If you have injuries that could be worsened, are pregnant, have knee issues, or are suffering neck and back pain, you should speak with a professional trainer about what workouts would be best for you. Do not attempt if you have current injuries, past surgeries or other physical issues/health issues that could be affected by exercise. Do not attempt if you are pregnant or could become pregnant. Don't forget to stretch before and after working out to avoid injuries. If you feel pain or severe discomfort, STOP.