Transformation of the Day: Berta lost 45 pounds. This busy mom had enough of back pain, knee pain, swollen joints, and feeling tired. After a health scare, she decided to join a local fitness group that is now her Fit Fam. Her dedication to transforming her health has also benefited her children and her husband, who are her biggest supporters.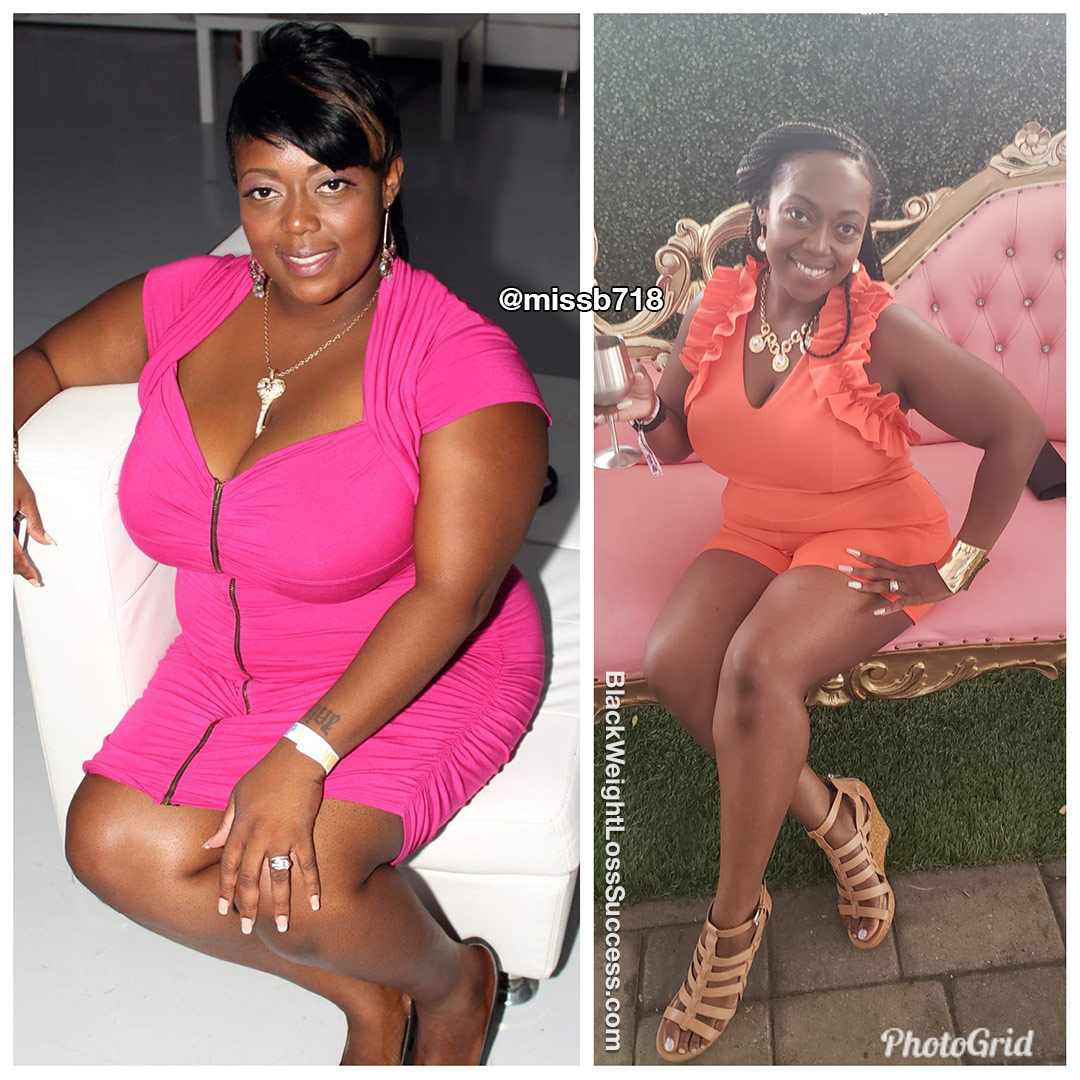 Yes, I tried every diet, every pill, and various gyms. I even thought about weight loss surgery, but I love food, and I've seen too many horror stories associated with surgery.
Earlier this year, I decided that I'd had enough of dragging my body every day, feeling tired after sleeping 10 hours, swollen joints, knee pains, back pains, etc. Life was draining me. After a health scare and after my doctor gave me pills to take, I said, "Enough IS Enough, GURL!"
I'm a woman, I'm a mother, I'm a wife, I'm a daughter, I'm a sister, I'm an Event Planner, I work full time. Guess what? I have NO time, but I made time for my life and well being.
What was your motivation? What inspired you when you wanted to give up?
My motivation was and is myself and my children. My family and friends keep me inspired and remind me of my goals. My husband is a driving force keeping me on track. He doesn't need to eat the same way as I do, but he certainly changed his diet to support me. On days that I didn't want to go to the gym, he drove me to the gym so I could stay focused. On days that we worked out outdoors, and I felt like I was missing family time, he brought the kids outside too so I could still be around them.
My sons are literally my mini trainers. They shout during my at-home workouts, saying, "Go Mommy! You can do it." My boys are also more physically fit, and we have truly become a Workout Family. My sisters are literally always on the phone and at the gym with me. They joined me at some of my classes. They keep me going and challenge me to do more and more. My sisters keep it real all day, and you need real people around you, letting you know that 45 lbs won't drop off in 2 weeks.
My trainer @fitnessguruphysique, and his unconventional methods of losing fat and building muscle while having a ball also motivated me. His no-nonsense attitude and focus on results keep everyone hustling to classes, including boot camp, soca kickboxing, personal training, and more.
How did you change your eating habits?
I ate about 5 to 6 times a day, eating smaller portions in a higher frequency. I stopped eating fried foods and anything processed or in a bag. I stayed away from chips, cookies, cupcakes, candy, and cola. I reduced and removed most sodium and sugar in my diet. I added more avocado and ate less bread. I also do sober living sometimes times, going 3 months to 6 months without drinking alcohol.
I don't binge eat anymore. I eat before going to places where there is tons of food. Now, I eat with my mind and not my belly. I also meal prep, and if I have to eat out, I eat wisely. I don't deprive myself of anything, but I firmly believe in moderation. I eat well 80/20 of the time, and even if there is a cheat meal it won't turn into a Cheat Day!
What did your workout routine consist of? 
My workout was 5-6 days a week. I do HIIT, Cardio, and Strength Training. My favorite is Soca Kickboxing class: Kicking and punching to all of our favorite soca tunes with a live DJ. This is literally the ultimate cardio class. Most days I blast 1200 calories in one Class! I also go to 24hr Fitness and utilize the sauna, which is excellent for the skin. It's essential to take care of your skin because it reduces cellulite.
What was your starting weight? What is your current weight?
My starting weight was 226 pounds, and my current weight is 181 pounds.
What is your height?
5'5″.
When did you start your journey? How long did your transformation take?
I started my weight loss journey on Jan 5th, 2019. I decided to sign up with my trainer for Biggest Loser. He sent us various diets weekly in our fitness chat group. We also work out as a team in Queens, NY. This is a group of great women motivated towards the same goals. Love My Fit Fam. My transformation has taken just about 6 months.
What is the biggest lesson you've learned?
Don't look at the scale. It will show you things that you won't want to see. Stick to a specific day and time to weigh yourself. Also, women gain bloat weight. (For example, eat too much bread = gain more.)
What advice do you have for people who want to lose weight?
The best advice I can give is to stay consistent and stick with it. If you can, join a fitness group. My fitness family is very motivating, and they give me tips all the time. It's great seeing Caribbean women working out together.
Instagram: @missb718