Update: Danielle has worked hard to keep the weight off since the end of 2018.
View this post on Instagram
Transformation of the Day: Danielle lost 69 pounds. This mother of two spent years as a serial yo-yo dieter and stress eater. Last year, she decided to go all in with Keto, and she could not be happier with her results. Check out her story.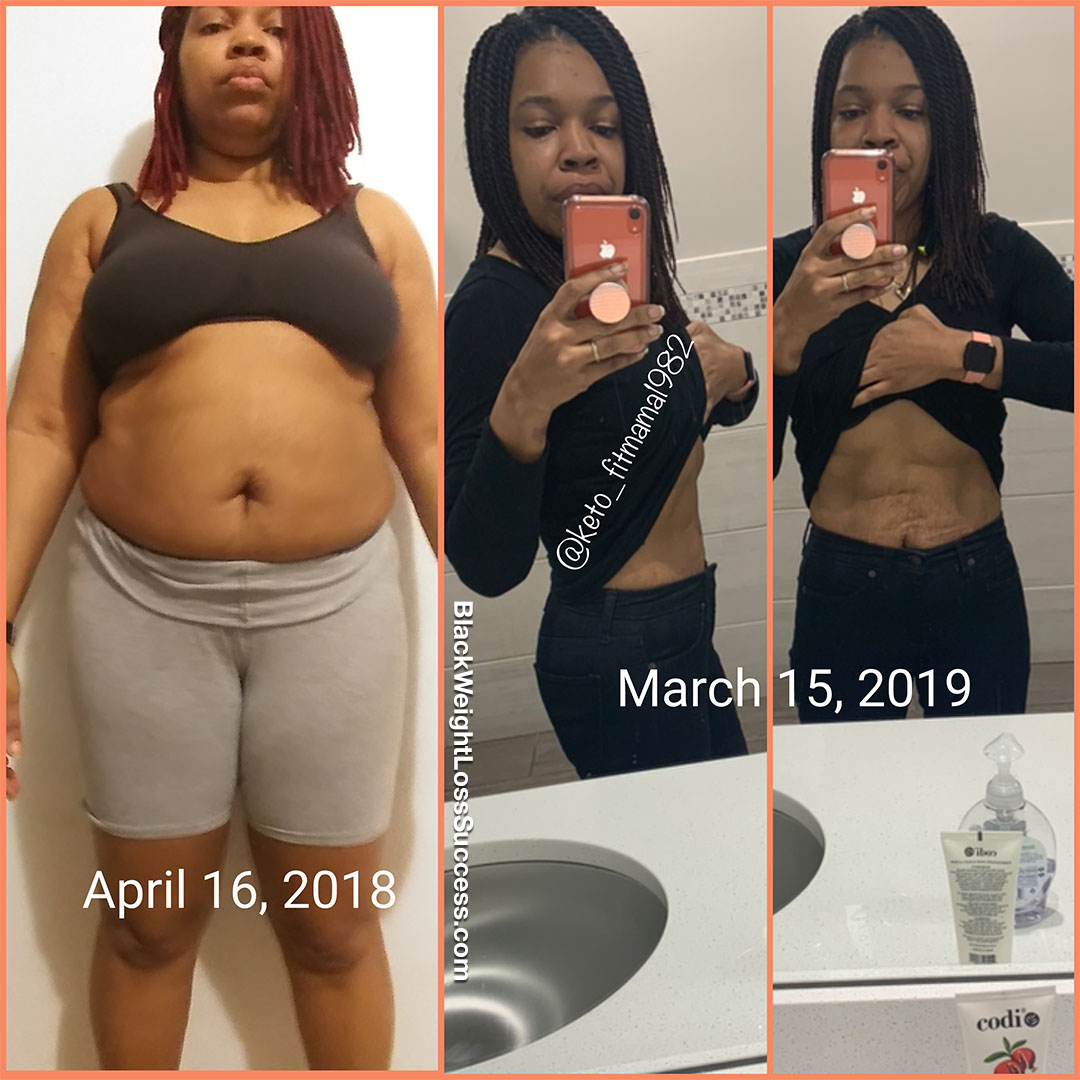 My name is Danielle D. I am a wife and mother of two. I found Keto when I was 35 years old and fell in love. I was super excited that I found something that works for me. Keto never made me feel deprived or as if I was missing out.
I was the serial yo-yo dieter from the age of 20. I would always start some program and stop. I've always been one to work out, but it didn't matter because I wasn't putting the right foods in my body. Even though I was working out, I was overweight.
After I got married in 2006, things just got worse. At the point where I felt like I had enough, I got pregnant with my first child, and that was it. I was up and down in weight ALL the time and couldn't stay consistent. Then, I lost my adopted mother in 2011 and my birth mother in 2015, so my stress eating was at an all-time high.
I knew all this time that I was damaging my body with what I was putting in it, but I didn't care. By the end of 2017, I knew I had to make a change, but I honestly wasn't ready. I didn't start my Keto journey until April 16, 2018. Since then, I am down 65 pounds and have been doing well with keeping the weight off. I reached my one year Keto anniversary on April 16, 2019, and the time has truly flown by.
I'm 5'6," and my starting weight was about 213 pounds/size 14/16. My current weight is 144 pounds/size 2/Small/XSmall. Never in a million years did I think I'd be here on my journey.
How did you change your eating habits as you transitioned to Keto?
I actually decided to jump in cold turkey. I wanted to change that bad. It was all or nothing for me at that point in terms of what I was putting in my body. I stopped eating sugar or anything that turned into sugar. In terms of eating habits, I keep it as basic as possible, so it doesn't get confusing. I include protein, veggies, and a fat in my meals.
What did your workout routine consist of?
I actually did a combination of cardio and weight training in a circuit I created at home. I did squats with a barbell, push-ups, rows, and core work. Further along on my journey, I started doing LIFT4, a weight training program on Beachbody On Demand that also covers both angles. I exercise Monday through Friday and take the weekends off.
What is the biggest lesson you've learned so far?
When trying to change your lifestyle and how you eat, it's all about your mindset and how you used to eat/binge on things. I was BAD, and none of those things tempt me at all anymore. I can go to functions, or that food can be in my house, and I won't look at it twice or consider having it. It's just not what I desire or crave anymore.
What advice do you have for women who want to lose weight?
Always take things day by day and don't beat yourself up if you have a slip-up. Just acknowledge that you messed up and jump right back on your plan. Don't chuck it up as a wash and go crazy the rest of that day. Doing this can mess up your progress far more and make it harder to get back into your groove.
Instagram: @keto_fitmama1982
My Fitness Page on Facebook: www.facebook.com/FitMama1982