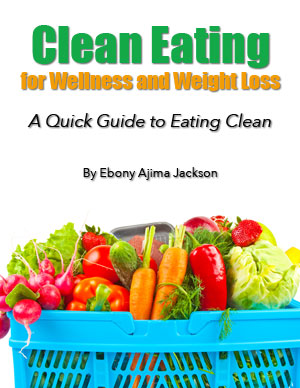 I'm so excited to bring you my ebook on Clean Eating, "Clean Eating for Wellness and Weight Loss". It's available as a PDF file and on Amazon Kindle.
Clean eating is something we talk about and recommend all the time here on our blog and our Facebook page. It is a very effective way to eat for anyone who wants to not only lose pounds, but also eat healthier in general. I really believe that this a great way to get on track with healthy eating, but still feel full and satisfied.
In this book, I explain the benefits of Clean Eating and how to go about changing your eating habits.  You may ask, "What is Clean Eating?" Basically, When you eat clean you will be eating unprocessed, whole foods that are prepared or cooked in ways that don't add extra chemicals and toxins. We are talking about fresh fruits, fresh vegetables, lean meats, meat substitutes like tofu, soy, whole grains, lots of water, healthy dairy and fresh juice.  The "clean" in clean eating refers to cleaning out highly processed, negative impact foods from your daily meals. That means being free from the junk at least 70-90% of the time.
Clean eating is a great option for those who want a true lifestyle change instead of just another short term diet plan. I've created this guide to show you the benefits and lay out the ground rules, so that you can begin eating clean today and get a jumpstart on your weight loss and wellness goals.
Download your copy today for $7.99
(Reg $10.00)
Purchase the PDF File
In this book I cover:
Benefits of Eating Clean
What Foods are Clean?
How to Eat Clean
Importance of Hydration
Eating Clean on the Go and at Work
Frequently Asked Questions
Exercising While Eating Clean
Recipes
Quick Meal Planning Ideas
… and MUCH MORE!
After your purchase is processed, you will receive a link via email to download the ebook (PDF file) for viewing on your computer or mobile device.
If you do not have a PayPal account, simply click the "Don't Have A PayPal Account?" link at checkout to pay with a debit or credit card.  
Health Disclaimer: All information provided within this book is for informational and educational purposes only, and is not to be construed as medical advice or instruction. No action should be taken solely on the contents of this book. Please consult your physician or a qualified health professional on any matters regarding your health and well being or on any opinions expressed within this book. The information provided in this site is believed to be accurate based on the best judgment of the author/individual member posting. However, you as the reader must be responsible for consulting with your own health professional on  matters raised within.