Weight Loss Story of the Day: Jennifer lost 130 pounds.  She is proud to say she did it all by herself, no trainer, no nutritionist, no surgery.  She is a testament to the fact that if you can go cold turkey on junk foods and highly processed foods while committing to exercise, you will see results.  Here is what she shared about losing the weight: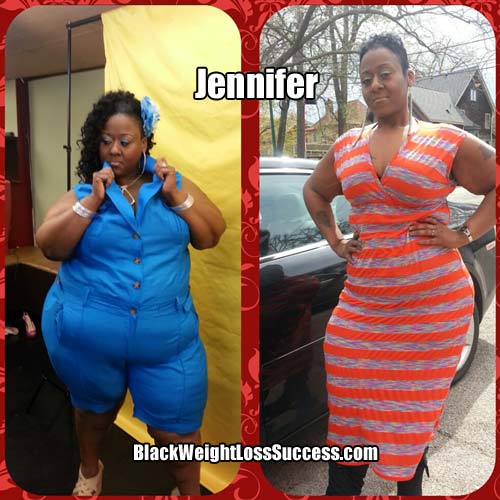 Hi, my name is Jennifer Griffis, I've been on my weight loss journey for 7 months, All By MYSELF! No trainer, no surgery. What motivated me was my health issues and my kids. I has diagnosed with hypertension and it was never under control. Every time I went to the doctor, I got admitted. I also got tried hearing that I was gonna die if I did get my weight down and my blood pressure under control. My heaviest weight was 355 pounds and now I weigh 225 pounds, I'VE LOST 130 lbs  in 7 months.
GOD has really seen me through this obesity. I'm not finished because this a LIFEstyle for me not a diet. I started my journey last year in August 20,2013. I workout everyday for 3-4 hours. I do cardio for 2 hrs and I weight TRAIN for 2 hours.
I started to change how I think about food and what I was putting in my BODY that made me FAT. I wanted to know how to educate myself on food and what best foods to eat. I changed my eating habits by changing how I looked at what foods do to my body. I just went cold turkey on cutting all bad sugars and carbs out of my diet. I learned that sugar turns into fat so I stopped eating junk foods, pops, juices, everything unhealthy that I used to eat and drink. I didn't touch those things anymore. Then I started to eat more fruits and veggies. I grilled or baked all my lean meats and fish. I challenged myself to drink a gallon of water everyday also. I'm still on a good track with my eating habits, because I no if I eat the wrong things it is gonna make me feel sick, so I just don't touch the old foods I use to eat. I have learned to make better chooses everyday because that is what helps me get results with my weight loss. I eat 5-6 times a day; 3 healthy meals, 3 healthy snacks, and drink water all day.
The BEST advice I give everyone is PRAY FIRST! I started by asking God to help me with this obesity, to help me fight this fight.  Second, You have to to BELIEVE in yourself! When u know BETTER, you do BETTER! I CHOOSE 2 LIVE! Thank you and God Bless