Update: Shout out to Joslyn. She lost 33 more pounds for a total of 127 lbs gone. She also celebrates her 1 year Ketoversary next month.
You shared my story on July 17th but I wanted to update you all for the end of the year. At that time, I weighed 199 pounds and had lost a total of 94 lbs. I currently weigh 166 pounds which makes my total weight loss 127 lbs!! I'm still going strong with the Keto lifestyle and will be celebrating my 1 year Ketoversary on January 1, 2020.
---
Transformation of the Day: Joslyn lost 94 pounds. She did her research and started her journey with Keto and Intermittent Fasting at the beginning of the year. Part of this mom's exercise routine is walking while pushing her two young sons in their stroller. Check out her story.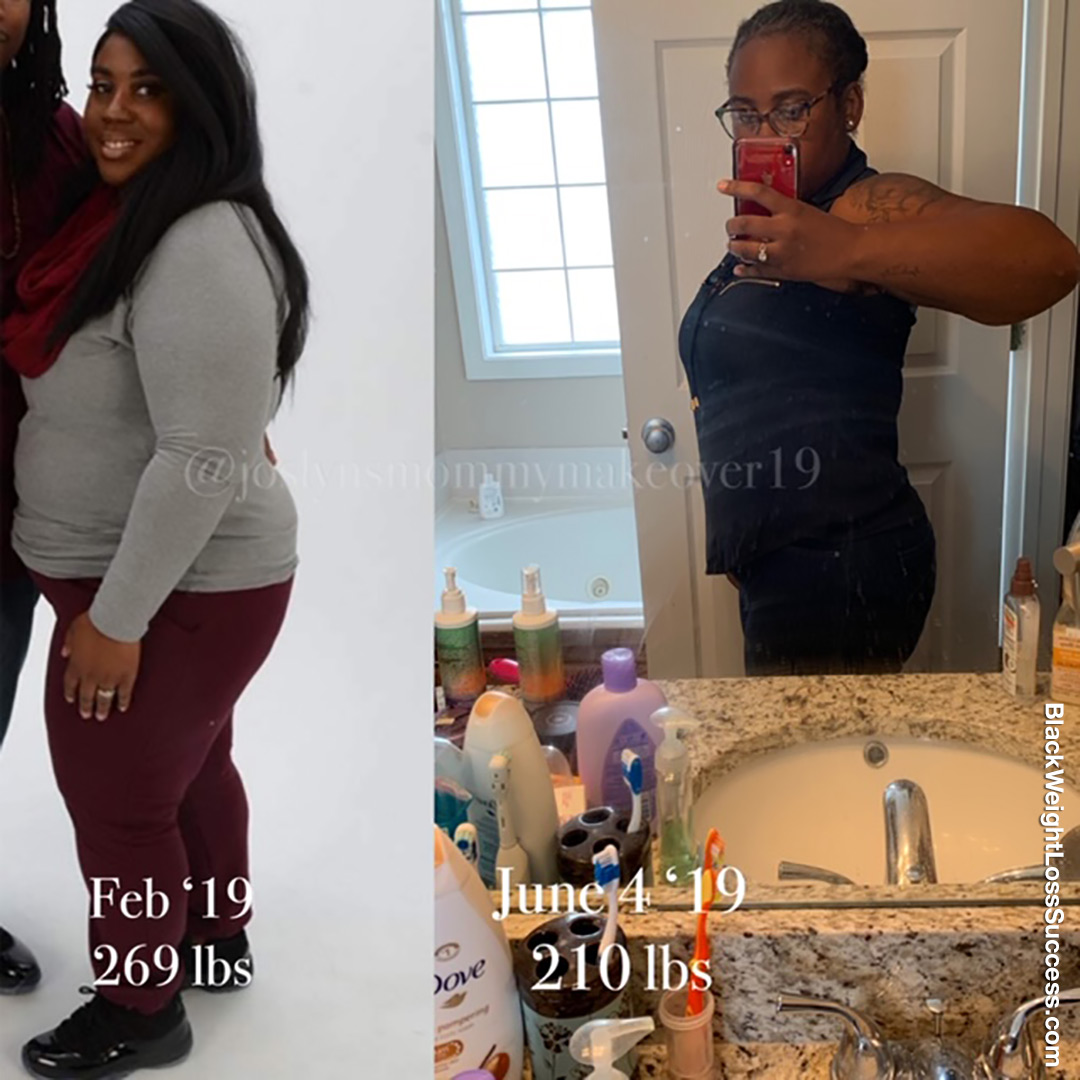 I started Keto because I have two baby boys who are under two years of age (23 months old & 11 months old). I felt so out of shape and just horrible when looking in the mirror, so I decided to take control. I didn't just jump into this way of life. I researched Keto for two months before deciding to start in the new year. On Jan 1, 2019, I began my journey at 293.4 pounds in size 3X shorts. I'm 5'3″.
I only weigh once a month. On May 1st, I weighed in at 226.8 pounds. On June 1, 2019, I weighed 210.8 pounds. I weighed in on July 1st at 199.6 pounds. I've finally hit ONEderland! Total weight loss to date is 94 pounds. My first goal is 190 pounds, and ultimately I'd like to reach 175 pounds.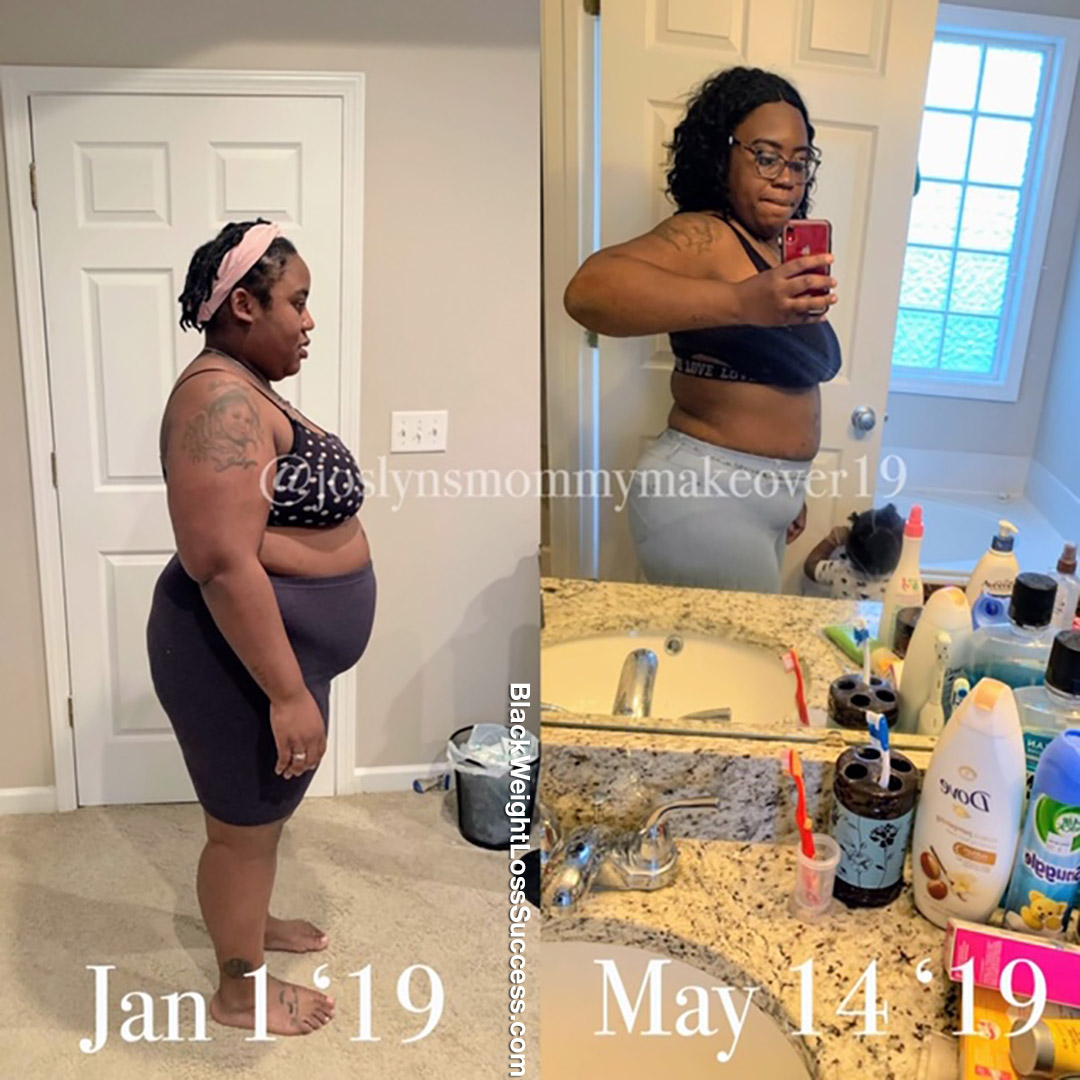 How did you change your eating habits to transition to Keto?
I collected recipes and followed a lot of people who were in that lifestyle already. I also read articles from Dr. Berg and watched a lot of YouTube videos. Once I got a good understanding, I downloaded the Carb Manager app, set my start date to Jan. 1, 2019 and jumped right into it.
I stopped eating carbs, like bread, rice, potatoes, and anything starchy. I started eating more veggies, such as cauliflower, broccoli, and green beans, along with meat. When I calculate my macros, I have a daily limit (not goal) of 20 grams of net carbs. Some people don't care about calories at the beginning of their journey, but I do because my main objective is weight loss so I know I needed a caloric deficit
What is your eating window for Intermittent Fasting?
I started IF on day one of my new lifestyle. I did 16:8, which means I eat for 16 hours and eat in an 8-hour window. I ate between 12 pm and 8 pm, and I'd only eat twice a day. I currently eat OMAD (one meal a day) and fast 20 to 24 hours a day. At the end of each month, I do an extended fast for 36-48 hours, and I feel amazing!
How often do you exercise?
I walk every chance I get. I put my two little boys in their double stroller and walk around the neighborhood. I also walk on my lunch break at work and dance with my kids in the evenings. That is pretty much the extent of my exercising.
What is the biggest lesson you've learned?
My biggest lesson I learned is how to have a relationship with food. I used to snack all the time, even in the middle of the night, and I wouldn't even be hungry. I would rarely eat a real meal. With fasting, I have a totally different relationship with food and listening to my body.
What advice do you have for others who want to lose weight?
Set yourself up for success, pick a goal, and do it. Once you reach that goal, set another one. Never stop. Think about what will happen if you don't quit this time? What will you look and feel like six weeks or even six months from now? Keep pushing!
I hope my story motivates someone because I can't believe it every time I look in the mirror! Just imagine how you would look and feel like if you just kept going this time.
Instagram: @joslynsmommymakeover19