Today's weight loss success story: Martine lost 181 pounds.  This proud nurse went from 321 pounds down to 140 by exploring all of the options available to her and seeking out professional advice from experts. A high protein, low carb lifestyle and much prayer worked for her as well as raw vegan eating.  Here is what she shared with us about her journey (video below):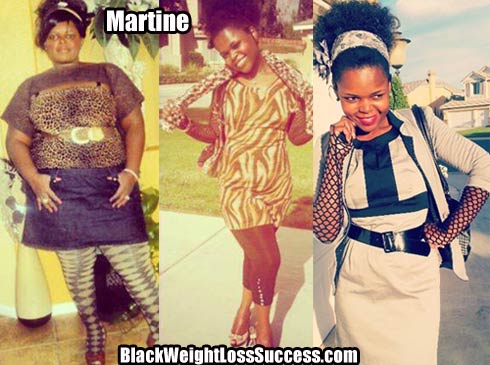 "Hello, I love your site but I did not want to submit my story & photos until I had arrived to my goal… My friends however convinced me to submit my story. My name is Martine & I am a registered nurse. I've been overweight for most of my life, but yet was very active until I went to college. I was 18 & that year I gained about 60 lbs as I was not eating the healthy foods I normally ate at my parents's house. Soon, in approximately a year's time, I was morbidly obese & found myself being over 300 lbs. I was devastated, felt helpless but soon I decided to change my life. Over the next 10 yrs I studied health & tried every diet out there. I was gaining & losing all the time but at some point I actually did lose 100 lbs by doing a high protein no carb diet. I sustained that for 2 yrs until I went to nursing school. There I found myself stressed beyond measure and while I invested much in taking care of my health, my body resisted me.  Eventually I gave in, gaining approx 60 lbs. When I finished nursing school I was then stressed with passing the nursing board exam & gained another 20 pounds. Then I got stressed due to finding a job and moving to Texas and gained more weight, until I was over 300 pounds again.
At some point while I lived in Texas my health started crumbling and I knew it was a life or death moment. I had only 2 choices: fight or flight. I determined to seek out & use every intervention known to man. I began working hard & I sought specialist doctors & dietitians to help me out. I followed their plans. It was a major challenge and life style change. I was given a choreographed, very specific program on portions to eat, types of foods to eat, how to eat (ex: chewing time), how & when to drink, amounts of meals per day, higher in protein, lower in carbs. I also heavily focused on putting the right nutrition in my body. I followed the program hard core. I went from 321 pounds to 140 pounds in approx 13-16 months. That's a total of about 180 lbs in a year & 1/2!!!!
Work outs: I did walking around my neighborhood and workplace lightly. This was not the focus in my program. At first, I had very little energies as I went from a super high calorie diet to low calories, from high carbs to almost no carbs. So, I did light activities. I also noticed that the more I worked out the less I lost & the more I refrained the more I lost. Something else I did is: I prayed A Lot. I am a Christian and for me there are times when I was met with discouragements or plateaus. I would pray & say "Lord please put me under x amount of lbs… or please give me another 5 lb loss." As I lost weight, I rewarded myself every 3 months with a brand new wardrobe. I actually ate in restaurants w/ friends all the time, but I'd order healthy salmon. soups, or salads. Today, I am eating a raw fruits & vegetable diet, which has tremendously blessed my health. I also add 2 Premier protein shakes a day. I have tremendous amounts of energy, am alert, & am very optimistic. My advice to people wanting to lose weight is to first accept themselves & love themselves bc God loves them & has a great purpose in life for them.  I'd also suggest they seek out help. Don't try to do it all by your selves. Join support groups. I lost weight with many of my friends, so I was not alone. I would advise to look into every program that can work. Depending on how heavy one is, no intervention is off limits as long as one is monitored by professionals. Be optimistic & celebrate every pound off. God bless."