Update October 2020: Shout out to Monet. She lost 200+ pounds and had skin removal/tummy tuck surgery in 2018 to address a large amount of loose skin. In her update, she shared how she has maintained her success with a Keto lifestyle, exercise and determination. 
What is your current weight?
190 pounds
How have you maintained your weight loss/continued to lose weight since 2018?
I can't lie as if I haven't gained and lost weight here and there and there. However, I've maintained my weight loss through several different avenues.  
The majority of my pre-tummy tuck/skin removal weight loss was from Keto and Cardio. I became certified as a Keto Coach and fell in love. 
I was a single mom with two toddlers only ten months apart, I didn't have a lot of time or extra money, so I had to make due. I got a used bike and a jump rope (even though I had forgotten how to use both as an adult. That made the workout INTENSE, lol). I also had dance time with my kids for 30 minutes every day. We dance and run around the house. Truth be told, having kids, and being about to play with them was my drive to get rid of this weight and reverse my PCOS. 
After my tummy tuck/skin removal surgery in October 2018, I followed low-calorie meal plans that I created. 
It helps me to coach and influence others (especially my social media community) because it holds me accountable. Helping others keeps me focused on my primary goal: Being healthy, happy, and loving life… not just existing to die.
Of the lessons you've learned on your journey, which one stands out the most at this point?
I said this back in September 2014 after I first flatlined in that hospital from being OBESE, and they brought me back to life: I have to do something. I can't die from being FAT because that's something I can fix. I need to get this weight off of me. 
My spirit told me I had more work to do than I realized on the surface. I learned that I needed to deal with the emotional, mental, and physical abuse I had endured since I was a small child. My spirit whispered in my ears, "Heal your heart first because TEARS WEIGH MORE THAN FAT" and "If you don't address that WEIGHT first, the physical pounds go nowhere. 
So, my lesson was that I had to (and still have to) go on a journey to forgive myself, my molester, my abusers, and many more. I have to make sure that I'm not just "LOOKING the part but, LIVING with A HEALED HEART."
Would you like to offer any new or different advice to women who want to lose weight?
I made my journey ALONE. My mom started it with me initially, but she passed away suddenly about 9 or 10 months into my journey. I was in a horrible marriage and suffering from thoughts of suicide. It took me actually dying from being overweight to bring me to my knees as a wake-up call. I KNEW I COULDN'T GO BACK. Even if I had to do it all alone, I was going to beat what the doctors said. I'd be healthy, and I'd be a mother. 
So I pushed and through the years, through the weight loss, through manifesting miracle children, through single mom life, through divorce and depression… and so much more. I learned how much we as women, Black Women, go through and take on. We take care of the kids, the man, the parents, the friends, work, family, and EVERYONE AND EVERYTHING… EXCEPT OURSELVES… 
So, I guess my advice is first, STOP SUFFERING IN SILENCE, SIS. IF NO ONE IS THERE for YOU, I'M HERE. I know what feeling alone is like. Second, JUST GET STARTED—no more excuses.
2020 has taught us that excuses will leave you unprepared and out of luck. Third, SELF LOVE IS NOT A BAD THING. I do realize this is not really something we learn. We are given baby dolls and cleaning toys as kids and are given the responsibility of caring for others. We aren't taught that WE ARE WORTH IT and WE DESERVE CARE. LOVE ON YOU! If you need help because I'm here. I have coaching for weight loss, self-love, mindfulness, meditation, and manifestation. 
Instagram: @CoachMonet_Reloaded
---
December 2018: Transformation of the Day: Monet lost 210 pounds naturally over the course several years. When she flatlined while in recovery after having emergency surgery, that was her wakeup call. By changing her lifestyle, she as able to beat PCOS and give birth to 2 beautiful childen during her journey. Check out her story.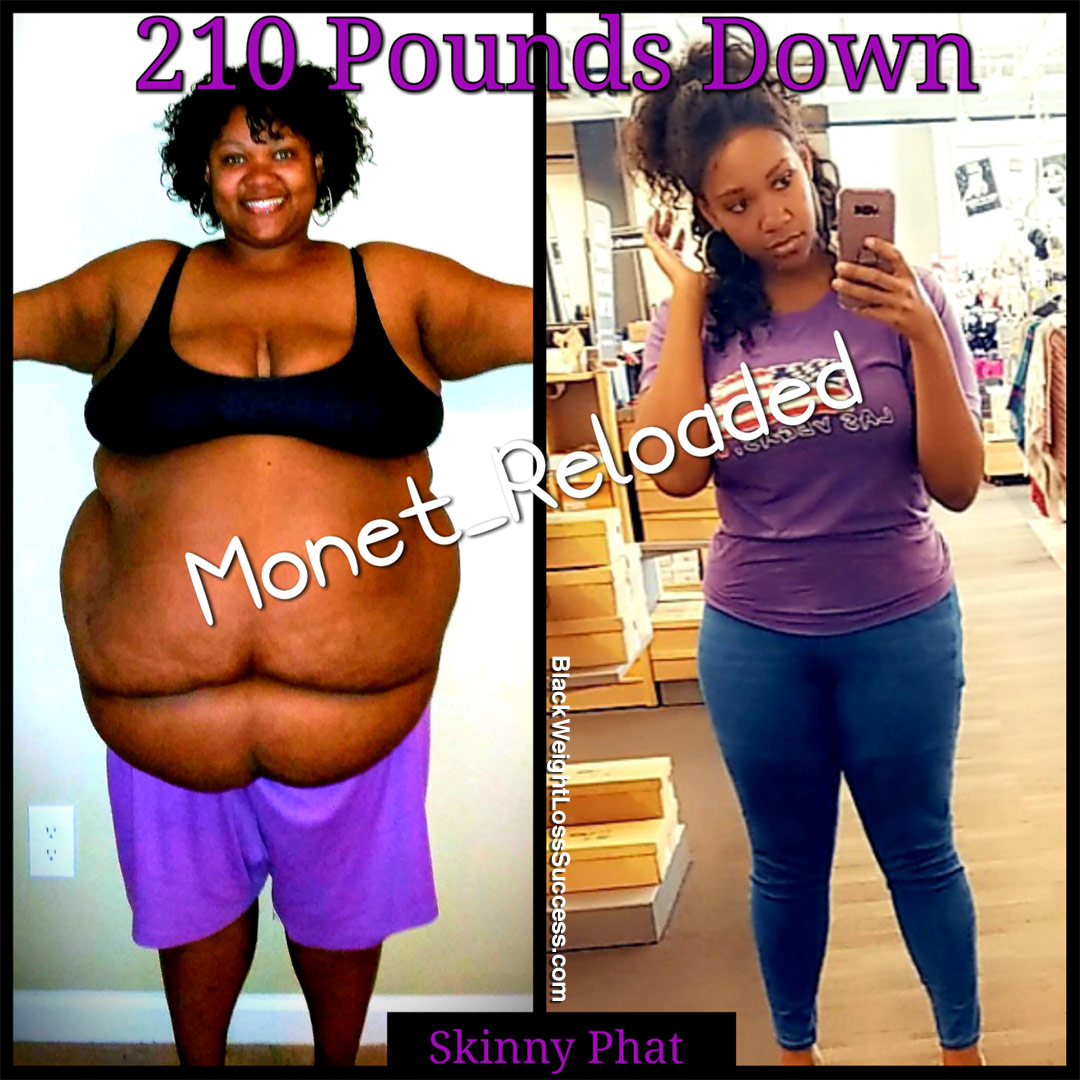 What was your motivation? What inspired you to keep going, even when you wanted to give up?
My motivation was the fact that I had to have an emergency surgery on Sept. 10th, 2014, which was one month and 7 days before my 30th birthday. During recovery, as they were trying to bring me back from being under anesthesia, I flatlined several times due to being overweight. I was at my highest known weight of 374.8 pounds (height 5'4″) on that day (that's after losing about 20 pounds before surgery). I told myself, "You can't let yourself die from being fat. You're not even 30 years old yet."
Plus, I had no children at the time, and I was told that I'd never be a mom because of PCOS and a few other health issues. My desire TO LIVE AND BE A MOM NO MATTER WHAT pushed me to change my life FOREVER.  I desperately wanted to prove the doctors wrong. I had/have so much living to do and so many things I hadn't done yet.
When did you start your journey? How long did your transformation take?
I officially started in Sept 2014. I went from 374.8 pounds to 198 pounds in 10 months and then became pregnant. I have had two babies from 2016 to 2017. Started back on the journey again in Jan 2018 at 245 pounds, and now I weigh 165 pounds.
How did you change your eating habits?
During the first part of my journey, I cut out soda completely. I am not a "sweets" eater. Chips were my weakness. I stopped eating chips and actually started having several small meals a day. I didn't consume more than 1500 calories a day. My problem wasn't that I ate a lot. I usually only ate once a day, and I ate late because of my lifestyle. I didn't realize how those habits were ruining my metabolism.
Then, In 2015, I became pregnant with my son after losing about 100 pounds. My PCOS had been reversed. So changed my diet again to accommodate my baby, but keep me at a healthy weight of 198 pounds. One month after having my son, I became pregnant with my daughter and continued that same diet/lifestyle change.
During the last part of my journey, I gained lots of weight from taking my Depo shot, so I tried Keto. I lost about 40 or 50 pounds on Keto alone after I'd reached a stall with everything else. Now, I'm an online Keto coach. I offer coaching, consults, tips, and help because as women we have to be there for each other.
Tell us about your workout routine.
I used to make sure to do cardio at least 30 mins EVERY SINGLE DAY. I also did small things like parking further from the grocery store, work, and malls so I could walk more. I started taking the stairs any time I could. I also did light weight training, lots of swimming and spent time in the sauna. During the last part of my journey (on Keto), I only walked for 1 hr each day broken up into 20-minute intervals. I did that because Keto doesn't require exercise to be successful. I'm active every day, even if it's just a little. I workout at least 5 days a
week.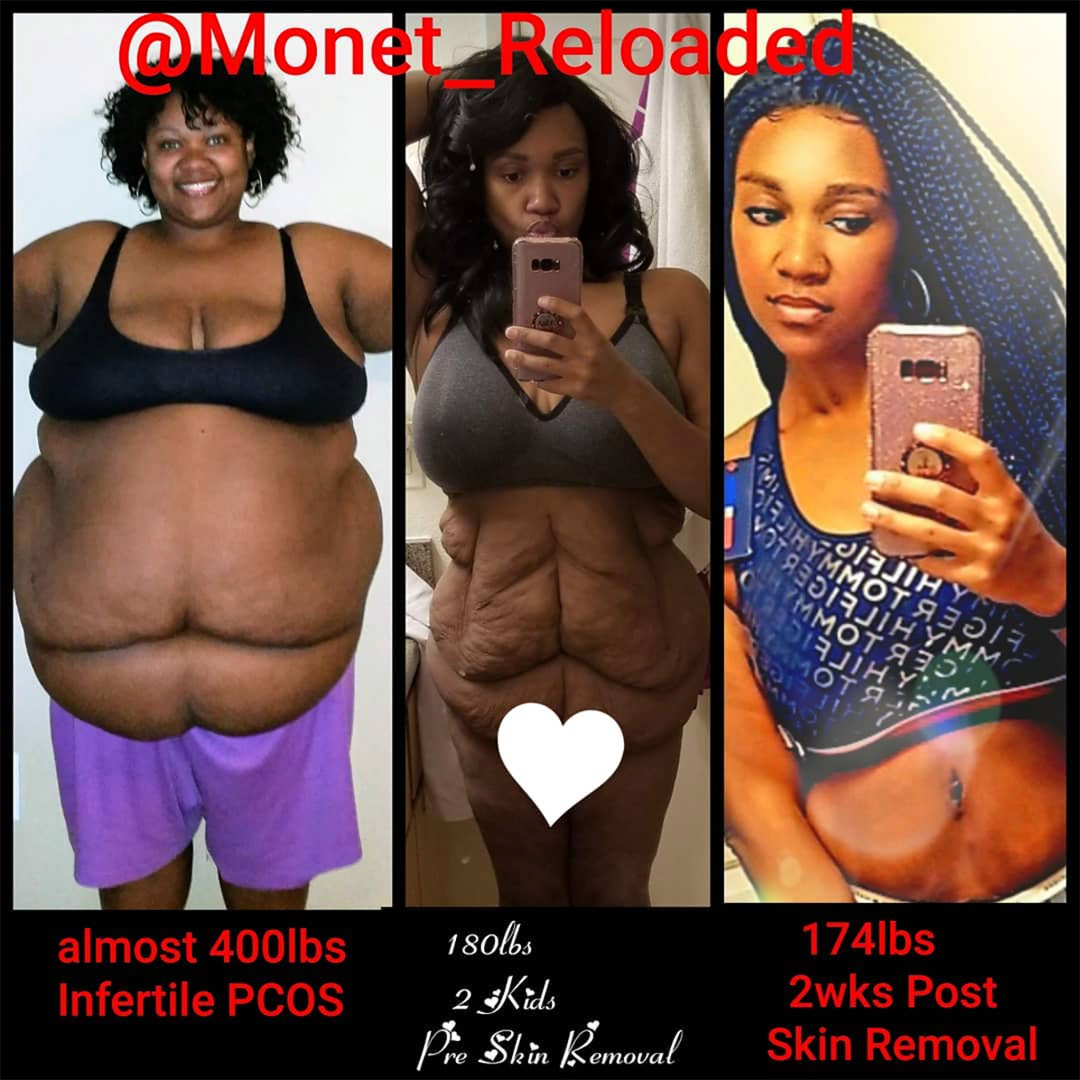 Is weight loss surgery part of your journey?
No, but I did recently have a Tummy Tuck skin removal on my stomach on Oct 27th, 2018. I am a little over a month post-op.
What is the biggest lesson you've learned?
That TEARS WEIGH more than FAT. Also, until you fix your emotional issues and your past and present pain, you won't truly be successful… no matter what you do or try. You won't be successful until you shed the weight that isn't physical.
What advice do you have for other women who want to lose weight?
No matter how many times you have to START OVER just never STOP. Keep going, and make sure you are changing for you and for the right reasons. Do your research, learn your body, and remember that it's a LIFESTYLE change.
Instagram: @CoachMonet_Reloaded