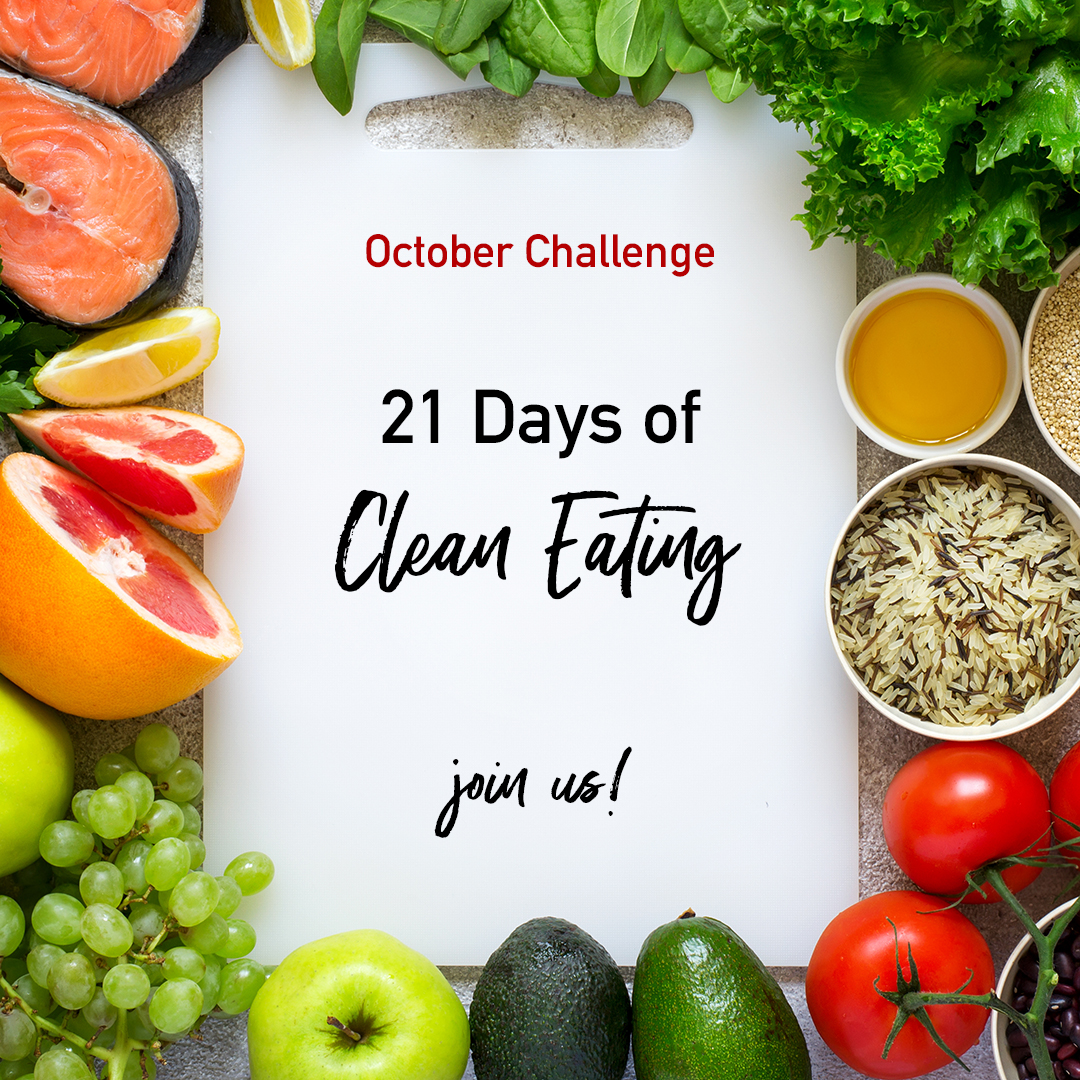 Eat Clean for 21 Days and Lose to Win with our October DietBet Weight Loss Pool
October 1-21, 2018! #BWLWOCT
The end of the year is about 12 weeks away. That is plenty of time to make significant progress in 2018.
That could mean not being out of breath when you play outside with your kids.
That could mean keeping that promise you made earlier this year that you would lose the pounds and get healthy.
That could mean seeing an improvement in your blood pressure or blood sugar numbers.
That could mean feeling better than you have in years.
We know that 80% of the transformation equation is what we put in our mouths. This October, we are going to commit to Eating Clean and refining our eating habits for 21 days straight. (We've provided lots of resources below to help you.)
What is Clean Eating?
When you eat clean, you will be eating lots of unprocessed, whole foods that are prepared or cooked in ways that don't add extra chemicals and toxins. We are talking about fresh fruits, fresh vegetables, lean meats, meat substitutes like tofu or jackfruit, healthy dairy and whole grains. You'll be drinking lots of water, freshly brewed tea, and fresh juice.
You will avoid fried food, fast food, junk food, bleached white flour, artificial ingredients, soda, commercial juice and sugary drinks, processed sugar (white sugar, corn syrup), and foods with preservatives, toxins, dyes, saturated fat, and trans fat.
You will likely be cooking a lot of food at home, making green smoothies, eating salads, eating healthy snacks, and really realizing just how healthy you've really been eating.  It's not about perfection…it's about making healthy choices.
Ultimately, this is not just about weight loss. It's about your long-term wellness goals and building a healthy lifestyle that you can maintain for the long haul. You may have a day or two where you don't eat clean, and that's ok. This challenge is about making progress… not eating some perfectly healthy diet. For 21 days, you are going to focus on health and wellness goals and take action by giving yourself the healthiest food possible.
How can you join the challenge?
Sign up by leaving a comment below. Let us know what your weight loss and wellness goals are for October. Tell us what you would like to achieve during the 21 day challenge.
This is a self-guided challenge. We will post daily check-in posts on our social media channels every evening for accountablity. Tips will be sent out via our email list as well, so if you aren't signed up, join today.
Click to Tweet: "I'm Eating Clean for 21 Days with the Black Women Losing Weight Sisterhood. #eatclean #BWLWOct https://www.blackweightlosssuccess.com/october-21-days-of-clean-eating-challenge/"
Medical Disclaimer: If there is any reason why you should not change your diet and how you normally eat due to an ailment, pregnancy, blood sugar issues, chronic illness, allergies or other medical issue, Do NOT participate in this challenge. If you have trouble digesting raw or cooked fruits and veggies, this may not be the challenge for you. Speak with your doctor before joining any weight loss challenge or before starting ANY eating plan/diet.
---
Getting Started/Resources
Need a guide to help you get started? – Looking for a clear, straightforward guide to help you navigate clean eating? Check out our ebook, Clean Eating for Wellness and Weight Loss.  It includes recipes and meal ideas too. Get your copy today for just $7.99.


This book covers:

Benefits of Eating Clean
What Foods are Clean?
How to Eat Clean
Importance of Hydration
Eating Clean on the Go and at Work
Frequently Asked Questions
Exercising While Eating Clean
Recipes
Quick Meal Planning Ideas

… and MUCH MORE!
| | |
| --- | --- |
| (PDF File) | |
Create a Weekly Grocery List based on your food preferences.  – Not sure what to eat? Check out our Clean Eating Foods List. Whether you are vegan, going low carb, keto, paleo, vegetarian etc… you can eat more clean, whole foods.
Create a Clean Recipe Go-To List with 10 Breakfast options, 10 lunch options and 10 dinner options. This list can serve as your go to list of meal ideas for meal prep and meal planning. A great place to start looking for recipes is Pinterest. We've also compliled a list of recipes and resources for each week of the challenge.

Check out these tips for eating clean on a budget.
Share your meal photos for Photo Accountability – Post photos of your cooking photos, meal photos, meal prep tips and recipe links on Facebook, Instagram and Twitter with the hashtag #BWLWOCT
Don't forget to exercise. Exercise and clean eating is a powerful combination. Work at your own pace. Find a form of exercise that works best for your level of fitness and your lifestyle.
---
Photo Weigh-in: October 6-8th | Bet: $35 – Lose 4% of your weight in 28 days and split the pot with other participants who've done the same. Get the full details today. Bonus Stakes Giveaway: One DietBet participant, chosen at random, will get 35 DietBet Credits.
---
Goals for October!
Cook or prepare at least 1 meal at home each day.  The goal is to cook more meals for yourself.  Feel free to prep and cook as many meals as you can, but 1 per day will be the minimum.
Eat 4-5 times per day – 3 meals and 2 healthy snacks is a great way to split your meals up.  Don't let more than 4 hours pass between meals (unless you are practicing intermittent fasting).
Stop eating at least 2 hours before bedtime.
No fast food, junk food or foods high in processed sugar.  
If you have the time, look up the calorie, carb, fat and protein counts for what you eat before you eat it.
Be mindful of chemicals, preservatives, dyes and other additives in the foods you eat. Read nutrition labels and do your research online.
Avoid sugary drinks or soda. This includes artificial sugars in diet drinks/diet soda.
Eat ANY fresh fruits or veggies that you like (fresh or frozen). Eat all the veggies you want. Use fruit to combat fruit cravings. (Note: Limit your intake of dried fruit as they are often dried with sugar and sulfur).
Use Moderation and Portion Control. If you do indulge in processed food, fast food, junk food, etc… do it in moderation and eat reasonable portions.
Resources You Don't Want to Miss
TOP TIP for Success: Decide on a daily calorie goal and daily goals for carbs, fat and protein.
Protein has 4 calories per gram – .7 to 1 gram per pound of bodyweight
Carbohydrates have 4 calories per gram – .7 to .9 gram per pound of bodyweight
Fat has 9 calories per gram – .4 to .5 gram per pound of bodyweight
You can also break down your calories by percentage. For example, 30% carbs, 40% protein and 30% fats.
How do you decide on how much food to eat? Use an online weight loss calculator to help you decide on the numbers that work for you. Here are some helpful calculators: www.webmd.com, www.myfitnesspal.com or www.freedieting.com. Please keep in mind that you have to do your own research and work figure out what works for your needs. Someone with blood sugar issues is not going to eat a high carb diet. Someone with pancreas or gallbladder issues can't just pick numbers without considering how much fat they will be eating. There is no "one size fits all" plan. Here is some additional guidance.
PS: This post includes Amazon affiliate links. We may receive compensation if you make a purchase. It's just one of the ways we keep the lights on. 🙂