Update: Shakima has maintained her weight loss for more than a year.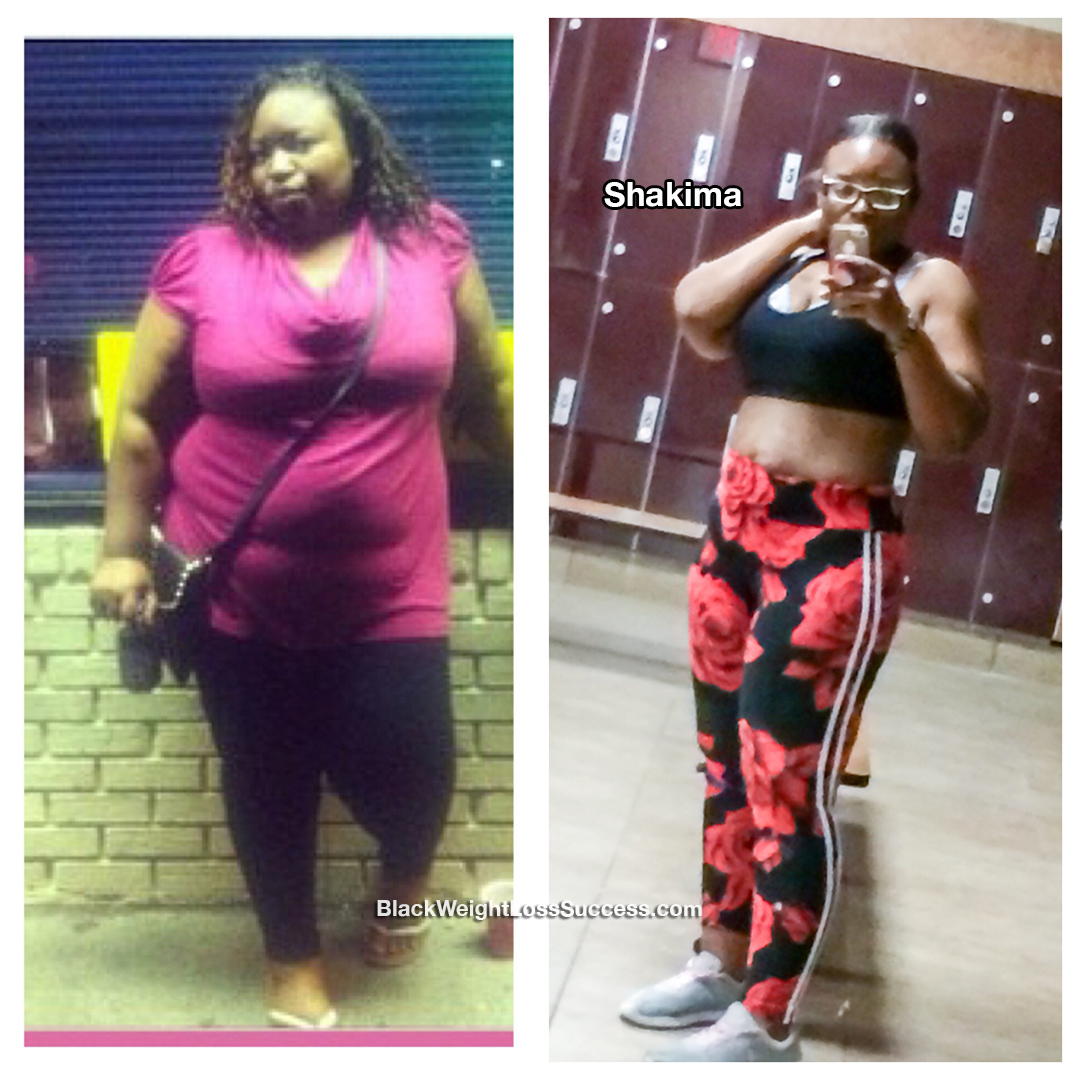 My weight loss journey was featured by BWLW a year ago. I am back with an new update on my progress, I'm currently working on tuning up my body because I have loose skin on certain areas of my body. I stopped weighing myself a while ago, but the last time I checked I weighed about 156 pounds. My starting weight was 300 pounds. I'm a mother of five who suffered from depression and anxiety. I had to change my life around for my children. I hope my story helps someone out there.
---
Transformation of the Day: Shakima lost 140+ pounds. This single mom of five was battling depression and bad eating habits. Her wakeup call came at the hospital where she was caring for her son after his 5th brain surgery. She decided that she had to become the healthy mom that her children deserved, and began taking steps in the right direction.
My name is Shakima. I'm a 34 year old single mom of 5 from Paterson, NJ. My wake up call came a year ago while sitting next to my oldest son, who was having seizures and going through brain surgery for the 5th time. I was sitting there, in the hospital, thinking about how I would be able to take care him if I was unhealthy.
At the time, I weighed over 300 pounds at 5'4″. I was always depressed and stayed in my house, on the bed, eating fried, greasy food and junk food. Food was my comfort. In January 2016, I decided that I had enough.
I called around looking for affordable gym, because I'd never joined one before. On January 28,2016, I walked into Club Metro Gym and decided to change my life around. From the first step into the gym, I felt loved and comfortable. I didn't sign up for a trainer. I worked out on my own instead, doing a lot of cardio and strength training to tone my body. I learned everything on my own or by watching other people workout. Now, I workout 5-6 times a week.
I changed my eating habits. I prepped all of my healthy meals in advance and I drink a lot of water. No soda, juice or greasy junk food. The healthy foods I choose now include lean meat, eggs (which I never ate before because of the taste, but now I eat a lot) and nuts as snacks. I also eat weight control oatmeal and a lot of vegetables, like broccoli, carrots, celery, etc. My favorite food is fruit.
One year later, I've lost over 140 pounds. My current weight is 161 pounds. I'm not depressed at all and I have a new outlook on life. I offen go to the park with my kids and I'm much more active now. I feel and look great.
The  biggest lesson I learned while on this journey is never to depend on the scale for proof of results at the beginning of your journey. It's just gonna make you feel down if you don't see the numbers change.
My advice to others who want to lose weight: Never give up. Find your motivation to change; your kids, a desire to be healthy again, etc. Also, even though you may not see results at first, soon you will be able to do things that you haven't done in a long time. That's a victory in terms of getting results. Just keep going. Keep pushing yourself harder each day. No matter if you are sore, just keep on going. The pain will only last a little while, but the results at the end will be fantastic.