Transformation of the Day: Chryssy lost 62 pounds. Releasing the weight improved her health and she thanks God for her transformation. Intermittent fasting, eating a vegan, alkaline diet and working out with Youtube videos worked for her. Check out her journey.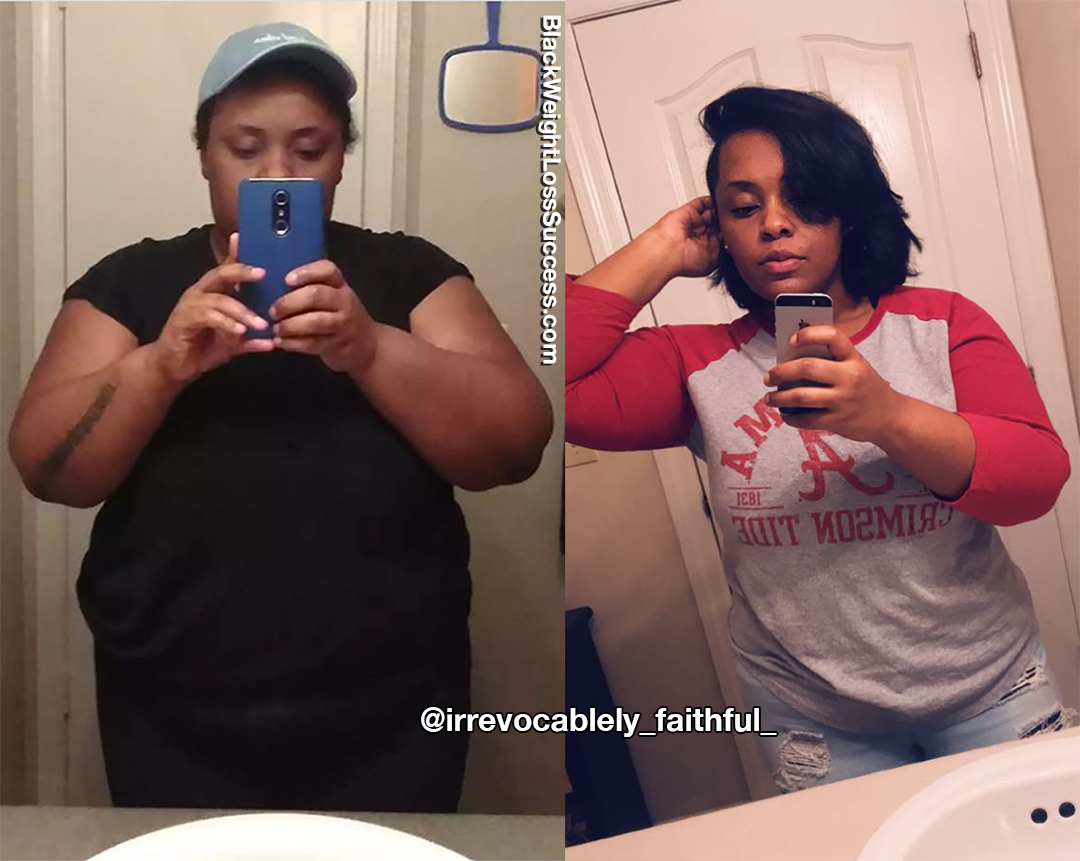 In July 2017, I was extremely unhappy. I was at my highest weight of 298 pounds at the time. I wasn't even aware until this year, but based on my blood work from 2017 I was at risk for heart disease (…BUT GOD). I decided to go vegan, coupled with adopting some Dr. Sebi practices, and it changed my life. However, I still wasn't focused or consistently working out.
From July 2018 until now, I've been working my butt off. My current weight is 236 pounds at 5'3″. I still have a long way to go, but I THANK GOD that I'm not where I use to be. The moral of the story? Don't give up, stay focused, work hard and WIN!
What inspired you to keep going, even when you wanted to give up? Results kept me going when I wanted to give up! Yes, there was a huge difference in the way that I looked, but my physical health improved as well. My cholesterol and blood pressure dropped significantly. I felt and still feel great.
How did you change your eating habits?
I decided to adopt the raw vegan lifestyle coupled with intermittent
fasting. That helped jump start my weight loss. I adopted Dr.Sebi's
alkaline lifestyle for a few months which taught me a lot about food
and clean eating. No processed food and no meat.
What did your workout routine consist of?
I decided to use workout videos on Youtube. My favorite trainer is Lucy
Wyndham Read. She has over 600 videos full of cardio, leg and arm workouts. I workout 3-5 times a week for at least 30 minutes.
What is the biggest lesson you've learned so far?
To stay focused and never give up. Your journey is yours. It should not be compared to anyone else's.
What advice do you have for other people who want to lose weight?
You didn't gain the weight over night, so you're not going to lose it overnight. This isn't a diet. It's a lifestyle change. Be patient, work hard and enjoy the
journey!
Instagram: @irrevocablely_faithful_