Transformation of the Day: Patricia lost 99 pounds. Our sista from the U.S. Virgin Islands started working with a supportive coach and eating clean. She put in lots of work in the gym and cut out the foods that contributed to her insulin resistance. Check out her story.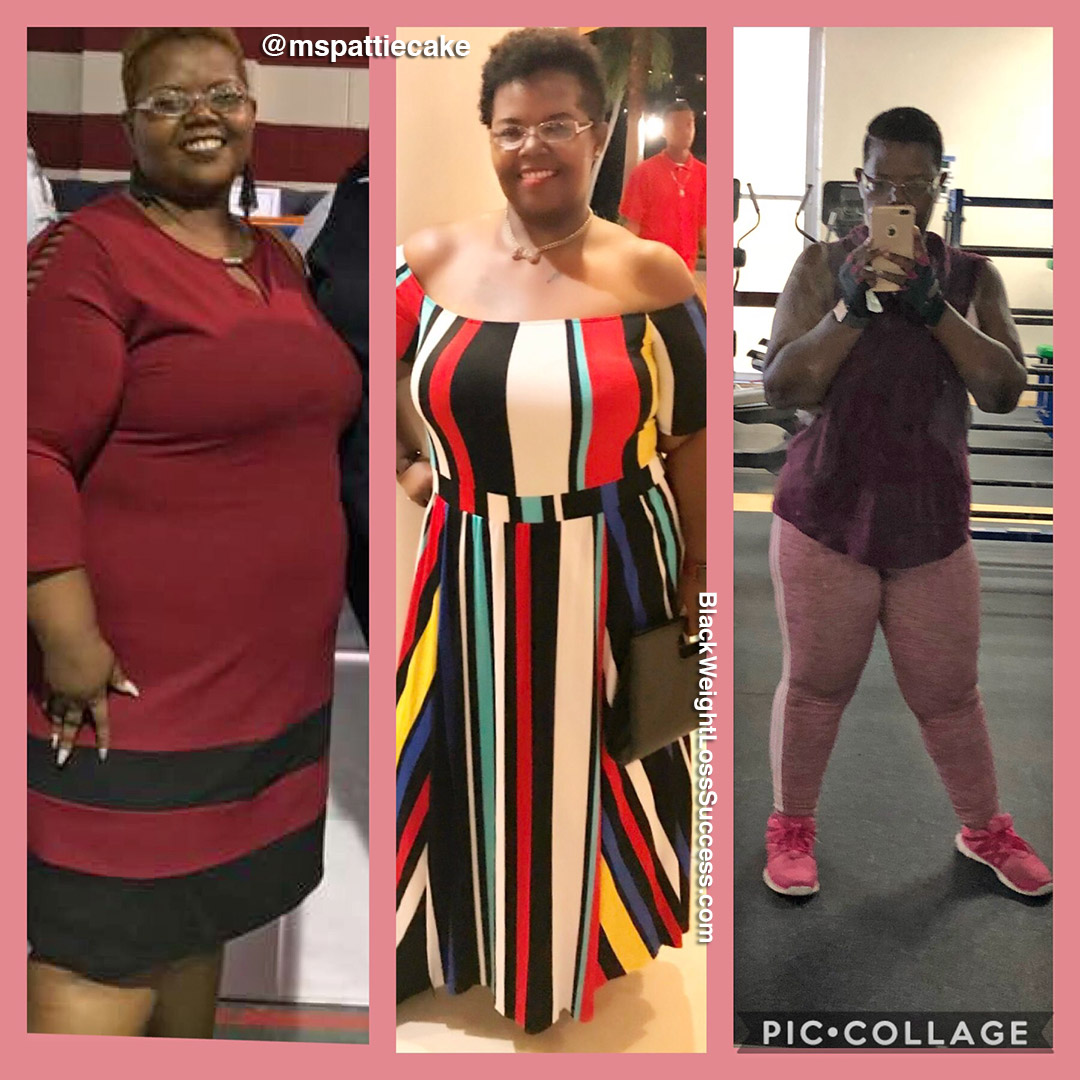 What was your motivation? What inspired you to keep going when you wanted to give up?
I was always overweight but always stayed between 270-280 pounds. At one point, I met a new acquaintance and realized we had a lot on common. We became good friends and did everything together. We often ate out together for lunch and had a lot of unhealthy food, especially Chinese food. Eventually, I found out that she dated a guy I briefly dated behind my back, and I grew angry and bitter.
I talked to another friend of mine about the situation. She told me to take my anger and bitterness use it as fuel to work on myself and better myself. She told me to focus on me for once, and that's what I did.
When did you start your journey?
Started in December 2016.
What did your workout routine look like?
I began with walking. I did little things, like parking far away from my job in the back of the parking lot to get more steps in on my pedometer. I also walked to people's offices at my job instead of calling or emailing. The place where I work has a lot of stairs. Whenever I had to run an errand, I forced myself to take the stairs. Eventually, I lost my first 10 pounds, but then the weight loss stopped. I figured I needed to stay motivated and take it to the next level.
I eventually met a guy who sold Herbalife and had a health club. He offered free workouts there. He always expressed how much he believed in me and celebrated every single victory I conquered. Those celebrations and his faith in me really motivated me.
At the beginning of my journey, I did a lot of cardio. I went to Zumba on Tuesdays and Thursdays. I went to the health club on Mondays, Wednesday, and Saturdays. I practically exercised every day. After losing my first 30-50 lbs, my trainer asked if I wanted to work out with him in the gym. Of course, I did, and I instantly fell I love with strength training. I did strength training twice a week, along with my cardio. I rested after class on Saturday straight into Sunday. Today, I still do strength training and work out 5 days a week, focusing on a different muscle group on each day.
How did you change your eating habits?
First, I cut out sodas, Chinese food, and some heavy carbs. I realized that I was insulin resistant, so I cut out processed carbs such as pasta and bread. I focused on getting my carbs from clean, nutrient-rich foods, like dark leafy vegetables, pumpkins, squashes, and fruit. I also learned the importance of drinking plenty of water.
My trainer/coach taught me about clean eating and how to keep my snacks healthy and clean. Once in a while, my coach would let me have a cheat meal. He taught me to plan my cheat meals on heavy workout days.
I also used Herbalife, but I did not want to be dependent on shakes to lose weight. I studied nutrition and learned about my body type. Understanding the idea of calories in VS calories out, I slowly stopped using Herbalife and just maintained my daily calorie count at the same amount. I tracked my calories using MyFitnessPal. Although I still use the product, I only use it sporadically as a treat or when I just want a shake. My main focus is clean eating and staying away from unhealthy, processed carbs.
What was your starting weight? What is your current weight?
My starting weight was 312 pounds in 2016. Now, at age 35, I weigh 213 pounds. My height is 5'4". I lost my weight 100% naturally.
What is the biggest lesson you've learned?
To lose the weight you have to find your underlining reason why. Whether it's health, your loved ones, to build confidence, or even to get a revenge body like me, it's ok. Be honest about why you want to lose weight and build on that energy. Stay disciplined and consistent. Your reason will keep you focused and determined.
What advice do you have for others who want to lose weight?
No one was meant to be overweight. Weight loss success is possible. It is as possible as getting a degree, getting a job or winning a game. It can happen, and it will happen, but you have to be patient, focused, and disciplined. Stay in unison with your body and mental health. Everything is a holistic unit.
You have to be mentally disciplined too. In fact, it's 20% exercise and 80% nutrition, but it's also 100% mental confidence and positivity. You will meet stumbling blocks. (Even my trainer had stumbling blocks.) What will set this journey apart from other attempts in your past is whether or not you get back up. Keep going!
Instagram: @mspattiecake