Weight Loss Journey: Tia lost 42 pounds. She was sad, depressed and dealing with acid reflux daily. This former sugar addict found success by going vegan and exercising. Read all about her journey.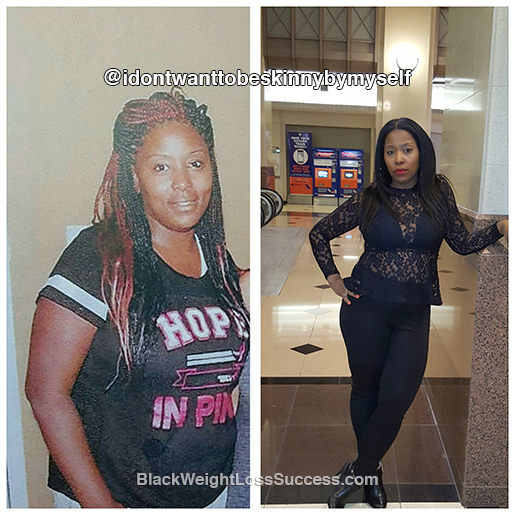 I started my journey last August when I saw the picture of myself on the right. I did not like it! I was sad and depressed. I felt unhealthy and had chronic acid reflux everyday. I knew that above all I was a sugar addict. Back then, I would rather have sugar vs. food. I decided that I needed to be healthy and not just lose weight. I was 40 years old and my bikini days are numbered, so my mental approach had to change!
I decided that I wanted to live and I didnt want to be unhealthy! The Vegan lifestyle just sorta walked into my life. Eating vegan changed my life. My highest weight was 225 pounds and now I weigh 183 pounds (height: 5'5″). My goal weight is 155 pounds! I feel awesome! I now longer have acid reflux. I also have tons of energy and my grocery shopping is so easy! I love my new life, and I'm hoping to inspire and help save a few lives with my story.
How did you change your eating habits?
I started eating vegan. That means lots of quinoia, vegetables, fruits and nothing processed!
What did your workout routine look like?
I worked out 5 days a weeks, alternating between cycling classes, weight lifting and cardio. My workouts took 45 minutes.
What advice do you have for others who want to lose weight?
Your journey is your journey. You have to make the choice to live! That is what motivated me! I didn't want to be diagnosed with something and be forced to make a change! I wanted it to be my idea! Now, I know that I have to nourish my body. My body needs me to be healthy so it can function like it should!