Update Oct 2019: Candice has worked hard to maintain her success.
Starting Weight: 271.8 – Current Weight: 234.7 – Total Weight Loss: 37lbs
How have you maintained your weight loss?
I continue to follow the regimen that my nutritionist and my trainer have created for me. I plan on continuing this same routine because it's a part of my life now. Prepping my meals and setting reminders for myself helps me stay consistent (whether it be an alarm or electronic reminder to prep).
The Fitness on Fire Online Training Program has been the easiest and the hardest program that I've tried, but it WORKS. Accountability and consistency is the key to being successful on this program. Once you've mastered that with Fitness on Fire, you will see results, but you have to put the work in. Fire and Nutrtionistguru will be there with you the entire way.
I've written two books, and I'm not afraid to open myself up to strangers, let alone my family. I'm content in who I am, not my size. I will never go back to that mind frame again!
What obstacles, hurdles, or setbacks have you faced during your journey, and how did you get back on track?
I did have a few times when I did not eat enough or didn't work out consistently. I made a promise that no more than three days of being off track are allowed, and this seemed to help me with consistency.

Of the lessons you've learned, what stands out the most?
I learned that guilt can be a barrier between success and failure. I learned not to beat myself up to a point where I want to quit if I "fell off."
At this point, would you offer any new or different advice to people who want to lose weight?
Weight loss and fat loss are two different things. I prefer fat loss as opposed to weight loss (scale) — inches matter.
Instagram: @Candiceydotson
---
Transformation of the Day: Candice lost 37 pounds. Tired of starting over and yo-yo dieting, she decided to reach out to an online training program for help. By focusing on nutrition and doing resistance training, she has seen her body transform. Check out her journey.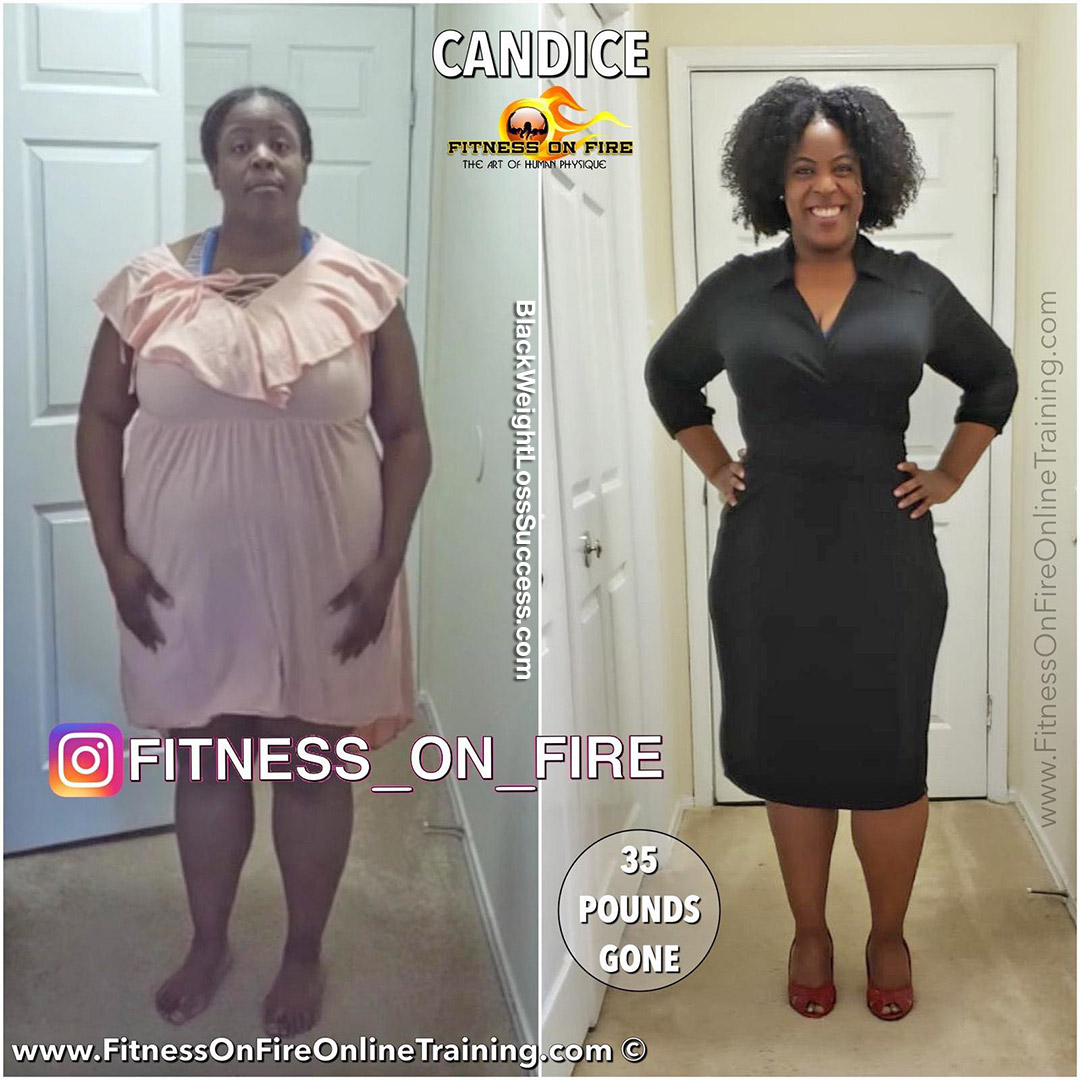 Age: 40
Height: 5'6″
Starting Weight: 271.8 pounds
Current Weight: 234.7 pounds
Total Weight Loss: 37 pounds
Representing: Virginia
What was your motivation?
I was tired of starting over. I came to terms with the fact that my goals were not going to become a reality unless I did the work and became consistent. I looked at photos of the "Fitness of Fire" Online Training Members and found motivation there. I also got motivation from my family, who allowed me to take care of me for a change.
What inspired you to start your weight loss journey?
One day in 2010, I got on the scale and saw I weighed 250lbs, the heaviest I had ever been. I decided to do Weight Watchers, but I would still go back and forth into the yo-yo effect with my weight loss. I would never get past 4 months before I would use an obstacle or any challenge as the reason why I did not continue with a healthy lifestyle.
How did you change your eating habits?
My eating habits stayed about the same. I already knew the textbook tools for losing fat, but nutrition was not my mindset. With the help of num nutritionist, NutritionistGuru, I was able to understand nutrition as opposed to just eating healthy and not knowing what MY body needs.
What did you cut back on?
Beef and pork were the two proteins I removed and replaced with Bison, veal, and lamb. Also, I still had the occasional "treat," but not enough or so often that it would sabotage my progress.
What did your workout routine consist of?
To my surprise, I was"killing" myself in the gym or doing home workout programs, and I had not lost the amount of fat I did by simply doing the resistance training in the "Fitness on Fire" Program that was given by my Online trainer, King of the Fire. I would do this activity 5-6 days per week
How long did your transformation take?
It took about 19 weeks to lose the fat, in the 10th week is when I started to feel and see a difference in my midsection. If my midsection was going down, I was on board and wanted to continue to see the end result. My confidence grew a little, and that is what pushed me. Confidence.
"Fitness on Fire" gave me Accountability. We have to be accountable for our behaviors. The behaviors that I was demonstrating toward my health and lifestyle were damaging. I looked back on my before photo and was in amazement of how I treated myself. I tried to do better, but I needed that push. "Fitness on Fire" provided the heat under my coat tail that I needed to keep going and stand firm on my commitment.
What advice do you have for people who want to lose weight?
Take charge. We sit and create the body we don't want with no problem but then don't want to work and create the body that we do want. Do the time, do the work and work on the mental aspects as well. I prayed A LOT.
Disclaimer: Reference or link to any specific product, diet plan, exercise plan or service mentioned in the weight loss stories we share is for the information of our readers, and does not constitute an endorsement or recommendation by Black Women Losing Weight.