Transformation of the Day: Caren lost more than 50 pounds. During her transformation journey, she learned that unhealthy eating habits had just been a crutch for dealing with her insecurities, lack of self worth and feelings of inadequecy. Check out how she took her power back and changed her life.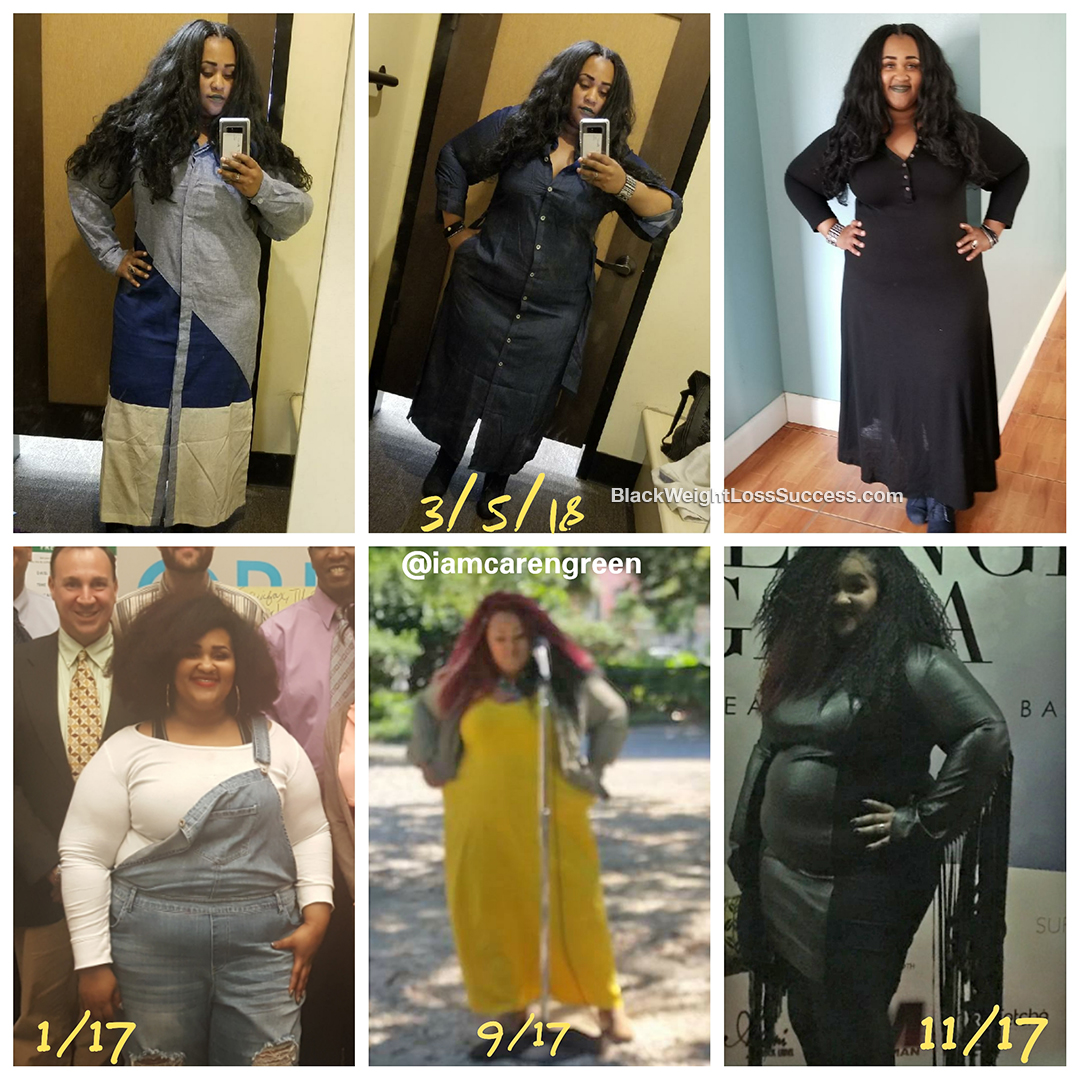 I was featured on your page in 2012 after I lost more than 60lbs. I kept it off until I switched professions, and by 2015 it started to creep back on. So, I started to embark on a journey that has completely turned my life around… a purpose driven journey.
It was quite scary for me! I could hear an inner voice guiding me, as well as a childlike me. The journey seemed to Big! I obeyed my inner voices, but because my eating habits were attached to my emotions unhealthy habits came back to life again at a time when I thought I needed a crutch for my insecurities, lack of self worth, and feelings of inadequecy.
How can the girl who has made tons of mistakes, who was given away by her birth mother, and who was rebellious, incomplete and horrible with people skills be called to greater? Asking yourself questions like that leads to depression from dealing with things behind you or dealing with the anxiety of the things in front of you. Either way, you are not present. Landing in either space leads to pulling things from those spaces prematurely or resurrecting the past through habits and meditation.
My fear reached back, and although obedient to my calling , I reconnected with the LOVE of unhealthy and mass eating again… and I knew this place (*in my @SunniPatterson voice lol) all to well. Habits are like the "IT" in A Wrinkle in Time or the black suit in Spider Man. They leech and spreadsfast…like they never left.
So, here I was again bigger than I had ever been, wearing a size 24 and weighing 292 pounds. (height: 5'2″) I was also having all kinds of unexplainable health issues, misdiagnosis, and the doctors were not listening to my sypmtoms. Eventually, I landed with a great doctor after months of continual weight gain. It had become to painful to eat and I discovered that I had a hiatal hernia and gastro perisis. I was given a list of foods low on the FodMap that would help me better digest nutrients vs. more complex foods that would be hard to digest. I no longer eat beef, broccoli, cauliflower, beans, pasta and red sauce.The foods I ate were dairy free and nutrient dense. I also ate veggies and fruit that don't cause gas. (More info https://www.dietvsdisease.org/low-fodmaps-food-list/)
I made a vow to myself that I would follow all the directions my doctor gave. The next month at my follow up appointment, my stats woud prove that I did that. When I returned to the doctor in Novemeber, I'd lost 30 pounds and I couldn't believe it myself.
I worked out 5 days a week for 30-45 minutes with a trainer. I continued to follow the diet, but I implemented intermittent fasting into my eating routine. My window of fasting was from 7pm to 12noon. (I would eat during the window of 12 noon-7pm.)
I started my journey on Oct 21, 2017 and now I've lost more than 50 pounds! I still have a way to go to be at my best for my health. Most importantly, I am wiping layers of waste away that took up very valuable space in my heart and mind.
Advice: Deal with the underlying issue. Figure out what other stuff are you carrying within that needs to go also. Spend time with yourself to help you get to know yourself. Sometimes this process can start off as a very ugly journey. I promise if you stick with it, It will turn out BEAUTIFUL.
I hope my story encourages and helps someone in their journey. "It's not a race, It's your LIFE"
Instagram: @iamcarengreen