Transformation of the Day: Erika lost 172 pounds. After being diagnosed with several healthy issues, including diverticulitis, she decided to have weight loss surgery in 2020. She recently turned 40, and she is thriving.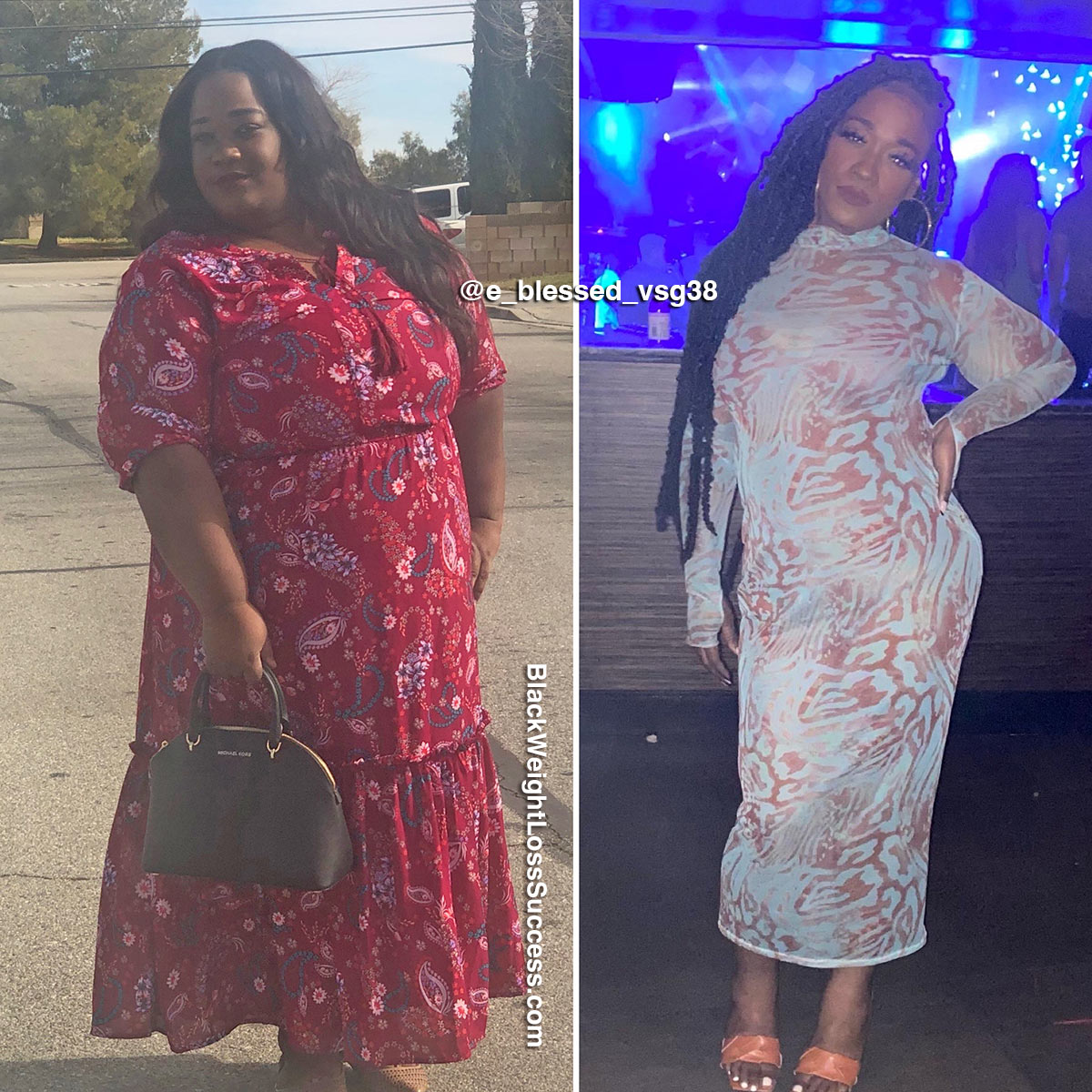 Social Media:
My weight loss journey blog on Instagram: @e_blessed_vsg38
TikTok: e_is_blessed38
My name is Erika. I just turned 40 this year and living my BEST LIFE. I've allowed my body to limit me for years. The chain is now broken… No looking back or regrets.
What was your motivation?
ME. I was tired of having all these underline health issues. I developed diverticulitis, and my doctor said I was too young to have all these issues. (which was also caused by being severely overweight.) I knew if I didn't decide to take control, the control I thought I had would no longer sustain. 
I decided to have VSG on March 30, 2020, at the start of the pandemic. So I guess you can say the pandemic was a "blessing in disguise" or, in other words, "perfect timing." A few years prior, I tried, but for whatever reason, it wasn't my time to have the surgery. 
Having said that, VSG not only helped save me but inspired close friends to move forward with the procedure. Also, I've gained more discipline and confidence 
We hear time and time again. Having weight loss surgery is not the "easy way" or "all you have to do is…" Nobody, and I mean NOBODY, can tell me this is the easy choice. It is not. 
What is your workout routine?
I work out consistently, five days a week. I started slow, but now two years out, I'm more comfortable in the gym. In the next part of my gym journey, I will start lifting heavy to gain more muscle. It's time to tone
 

 

View this post on Instagram

 
What was your starting weight?
356 pounds was my starting weight before surgery, but the heaviest weight recorded was 394 pounds. 
What is your current weight?
My current weight is 184 pounds. 
What is your height?
5'6″
What is the biggest lesson you've learned so far
Believe in Yourself. God knows how many times I started this journey and didn't have the confidence to keep going for whatever reason. Stop letting other people's fears stop you. Be what they know you are capable of. Take it one day at a time. 
Find people along your journey who help you be the best you. We all have the same goal. That's to be healthy and feel good about what you see in the mirror. It's all worth it in the end.