Update: Shout out to Erika! She is down 88+ lbs. "Just out here trying on skin tight size 16 junior jeans, reminiscing when I used to wear a size 24 women's. Down 88lbs naturally in 8 months on Keto." @blackgirlgoneketo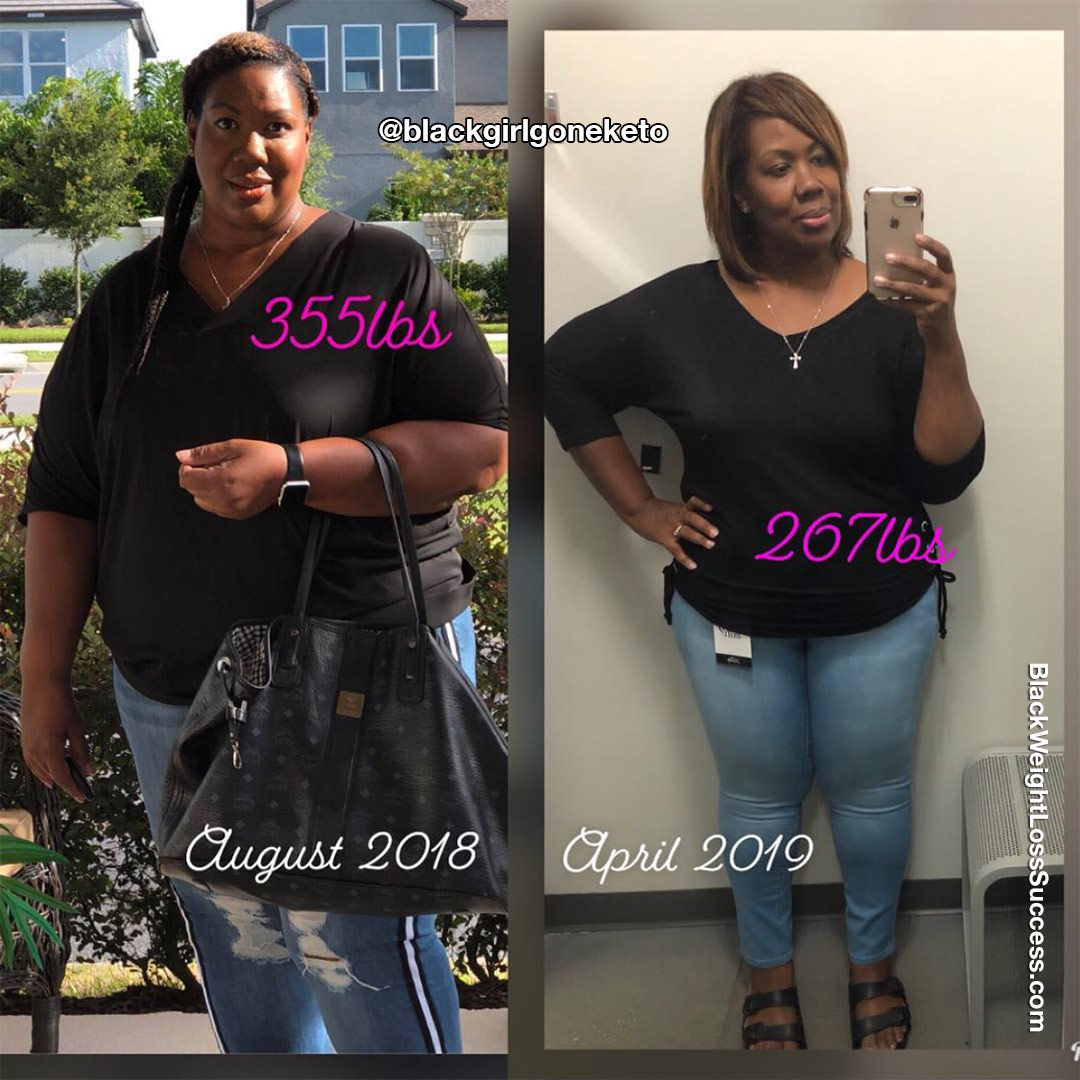 Transformation of the Day: Erika lost 56 pounds in 4 months with Keto. This mom of 4 and grandmother of one's motivation is all about living a happy and healthy life. She doesn't have cartilage in either of her knees, but she was still able to find an exercise routine that works for her. Check out her story.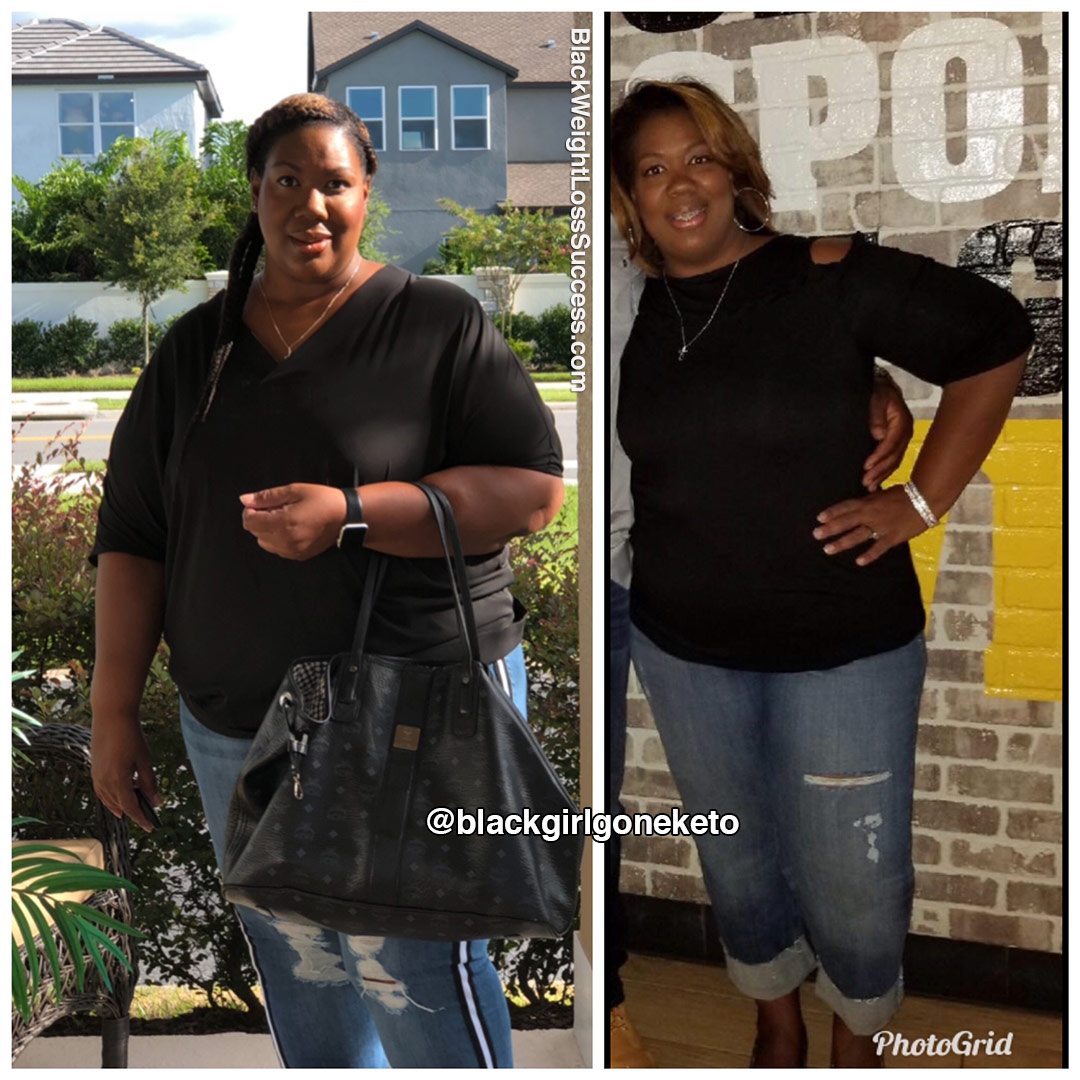 My name is Erika, and I'm a mother of 4 young men and grandmother to one beautiful granddaughter. I am also a Jersey girl who relocated to Sunny Florida.
I'm 5'10″ and I started my weight loss journey on 7/23/18 at 355 pounds.  On 11/23/18, I departed the 300-pound club and weighed in at 299, with a total weight loss (thus far) of 56 pounds!  This transformation was actually, four months to the day.
I have not had any weight loss surgery, and due to health issues, I will not likely have any type of elective surgery.  Because of past Pulmonary complications, it's been deemed necessary that I stay on blood thinners for life.
I became motivated to lose weight after being internally dissatisfied to my core. After being told by my doctor that I was at my highest weight ever, I became totally uncomfortable in my skin.  At 355lbs, I hit my rock bottom.
My children have always given me a purpose for living life, but I finally decided to make myself a priority as well.  My motivation has been, and still is, my end game goal which is to be healthy, happy, and agile!  No more aches, pains and, knee issues. No more High Cholesterol, High Blood Pressure, and Thyroid medicine. Just plain ole' HEALTHY!
Giving up hasn't crossed my mind in over 3 1/2 months!  The first two weeks were the hardest getting through, but after that, it's been full speed ahead! That's not to say I haven't hit a couple of bumps in the road. I just don't allow them to become roadblocks!
Initially, I stopped eating BAD CARBS. My spiel was No Bread, No Rice, No Pasta, No Potatoes, No Flour, No Grits, etc.  Basically, I started with a Low Carb diet the first week. In the second week, I bought a book about the Ketogenic Diet, which is a high fat, moderate protein and low carb way of eating.  This is the VERY first meal plan, that I've been able to stick with and more importantly, I don't feel deprived!
I no longer have cartilage in my both knees, so an added weight loss motivator is, to avoid knee replacement surgery.  I forced myself to walk 25 to 30 minutes (or more) 3 times a week. Then, I gradually started riding my bike. The good news is that they both have become my favorite pastime, 4 to 5 times a week.  I go to the gym and ride the bikes as well, but my current preference is outdoor exercise.
The biggest lesson I've learned so far is that I can do ANYTHING that I set my mind on. I learned that no one can stop me, BUT ME! I also learned to get out of my own way! When I made an honest, conscious effort and commitment to myself and my journey, I saw results!
I am overly excited about my progress and optimistic about what's to come. I am grateful for my family, friends and IG support system!  So many have inspired me, and I only hope to do the same for others.  I started my @blackgirlgoneketo IG page to hold myself accountable, but I've gained so much more than accountability! There is a powerful, dedicated Sisterhood of women, with similar struggles, desires, challenges, and goals, who aren't afraid to share, shout, question and encourage! It's AWESOME!
I aspire to lose at LEAST 44 more pounds, and by the grace of God and hard work, that will happen.
To those looking to embark on a personal weight loss journey, I say, don't wait! Get started now and don't look back!  Find what works for you and go for it! Stay the course!
If I can be a resource, please let me know. I am not a Keto Coach or expert, but I can certainly share my knowledge or direct you to someone more knowledgeable.  If you follow me., you know what's next.  Let's get it in!
Instagram: @blackgirlgoneketo