Transformation of the Day: Icey lost 26 pounds and several dress sizes. When her weight began creeping close to 300 lbs, she decided that it was time to get off the weight loss rollercoaster. She sought out people who could help her get results and committed to the process. Check out her journey.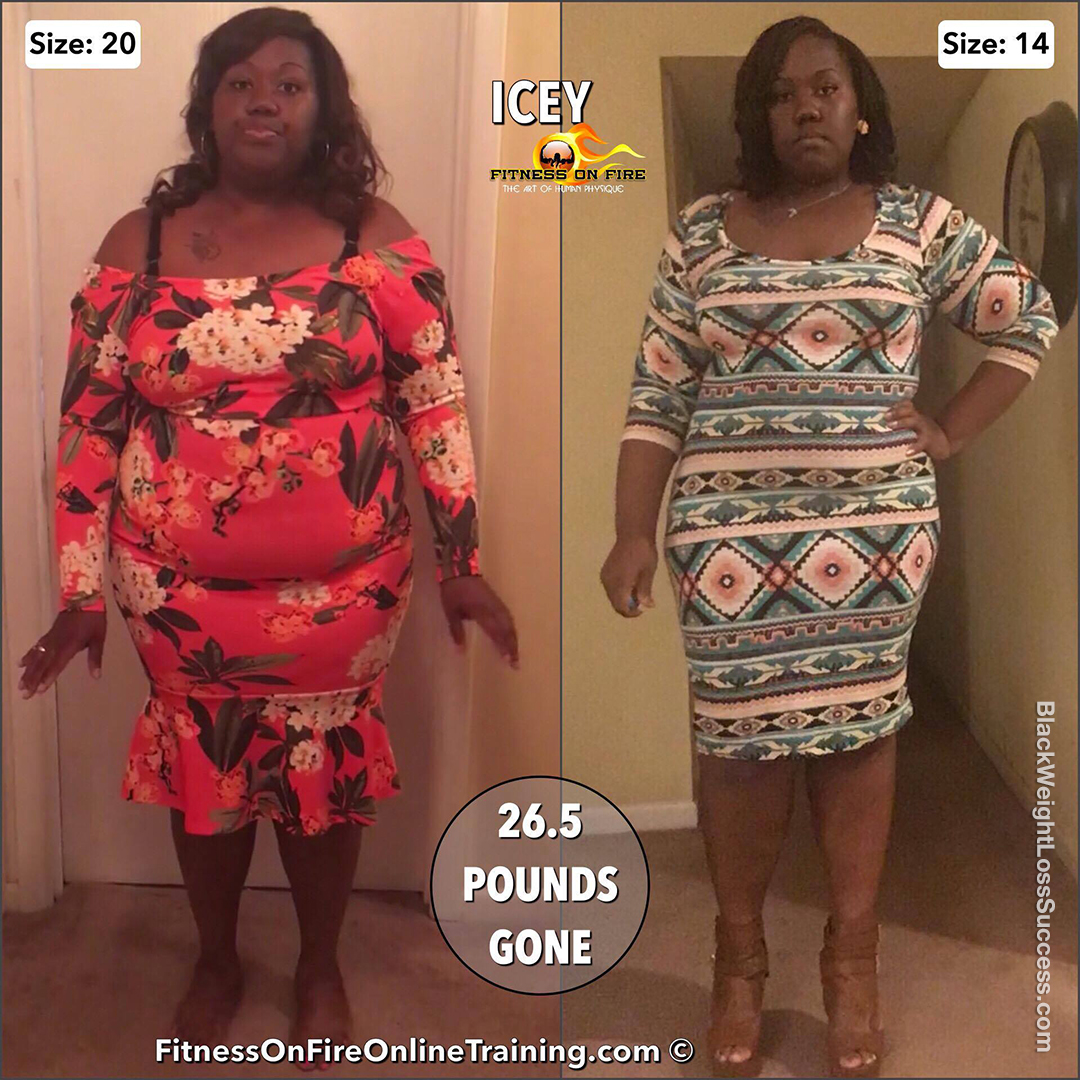 Age: 27
Height: 5'5
Starting weight: 276.5 pounds
Current weight: 250 pounds
Total weight loss: 26.5
Starting Dress 20
Current Dress 14
Representing: Georgia
What was your motivation?
I found my weight loss motivation when I got on the scale and it reflected that I weighed almost 300 lbs. I said to myself, "Now, it is time for me to lose weight."
What inspired you to start your weight loss journey?
I had always been big, as long as I could remember. I was finally tired of it and I knew it was time to make a change. Also, I looked at some photos of people who had used the Fitness on Fire Online Training Program. I saw how great those women looked and I thought that maybe I could use the program too.
How did you change your eating habits?
It was not too hard to change my eating habits. I never really ate a lot of junk food, but I always ate late at night. So, I stopped eating after 8pm. I stopped eating red meat, pork, white rice, peanuts, and white potatoes. I started eating ground turkey, 100% whole wheat bread and red potatoes. I added more vegetables and fruit into my diet. I also started drinking a lot more water. I ate six times a day as directed by my nutritionist, NutritionistGuru. I ate 3 meals, 3 snacks and just followed the structure that I was given.
What did your workout routine consist of?
My workouts consisted of doing 75 to 90 minutes of resistance training and HIIT, as laid out in the workout regimen provided to me by my online trainer, King of the Fire. I often went to the gym 5 to 6 days a week.
How long did your transformation take?
My transformation took about 7 months. I started to see results after my first 50 workouts a the gym. Also, I could see progress when I did a weigh in, recorded my my measurements and tried on my goal outfit.
I have tried many different things to lose weight in the past, but  nothing worked or I would give up early. Not this time! I was determine to keep going. I think the Fitness On Fire Online Training Program worked for me because it taught me how to eat properly and how to keep my metabolism up. Also, I taught me that losing weight is a process and that you can not lose the weight overnight.
What advice do you have for others who want to lose weight?
My advice to others is try to find a plan that works for you and try to stick with it. You did not gain the weight overnight so do not expect to lose it overnight. Keep pushing and continue working towards your goal. Sometimes, it will seem hard but always remember you have a goal to accomplish. If I can do it, so can you.
Instagram: @Graceof_angel
Disclaimer: Reference or link to any specific product, diet plan, exercise plan or service mentioned in the weight loss stories we share is for the information of our readers, and does not constitute an endorsement or recommendation by Black Women Losing Weight.