Update 2019: Kinshasha has maintained her success and lost another 23lbs for a total of 109 pounds gone. Check out her update.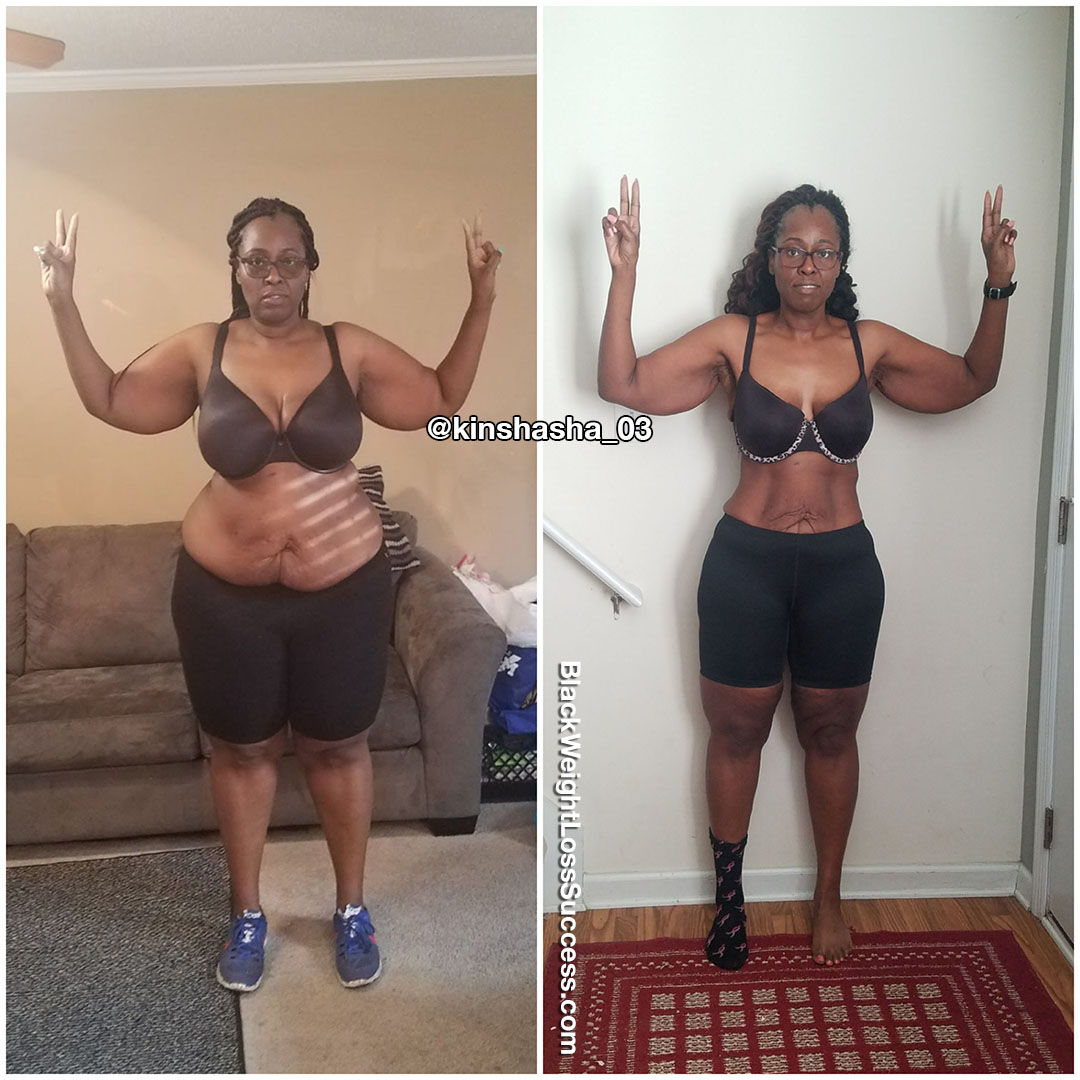 My current weight is 185 pounds, and I officially wear a size 10/12 in pants. I wear a size small in shirts, size med in skirts and size 10 dresses.
I am still part of Coach Maria's Mpowered fitness program. Now that I have hit my goal weight, I have transitioned to focusing on maintaining my weight while leaning out. Coach Maria has created a program that is beneficial for every woman, no matter what their current fitness goals are… gaining weight, losing weight, maintaining weight or leaning out.
I'm still working out 5 to 6 days a week, and I have incorporated more weights into my workouts. I am following the Mpowered meal plan, but I am focusing more on my calorie deficit which has led to me tracking my meals daily. I'm also journaling my goals and certain behavioral changes that I need to continue to work on throughout my fitness journey.
The best advice I can give to anyone who is trying to make a lifestyle change is DO NOT GIVE UP. Life will continue to provide you with challenges. You will continue to have bad days, bad weeks and a bad month from time to time. What you have to do is not allow a bad day to continue. You have to focus on YOUR WHY – Why have you decided to take this journey and where are you trying to go. Just know it is okay to fall. It's okay to make mistakes, but it is what you do when you fall that matters; Do you stay down or do you get back up and continue to push.
Lastly, I want you all to know that you do not have to do this alone. Coach Maria Collins and my fit sisters are here to help you, encourage you, and push you when you need it the most. We are here with open arms.
Instagram: @kinshasha_03
Her coach: @mariamore @mpoweredfitnessig
www.mariamore.com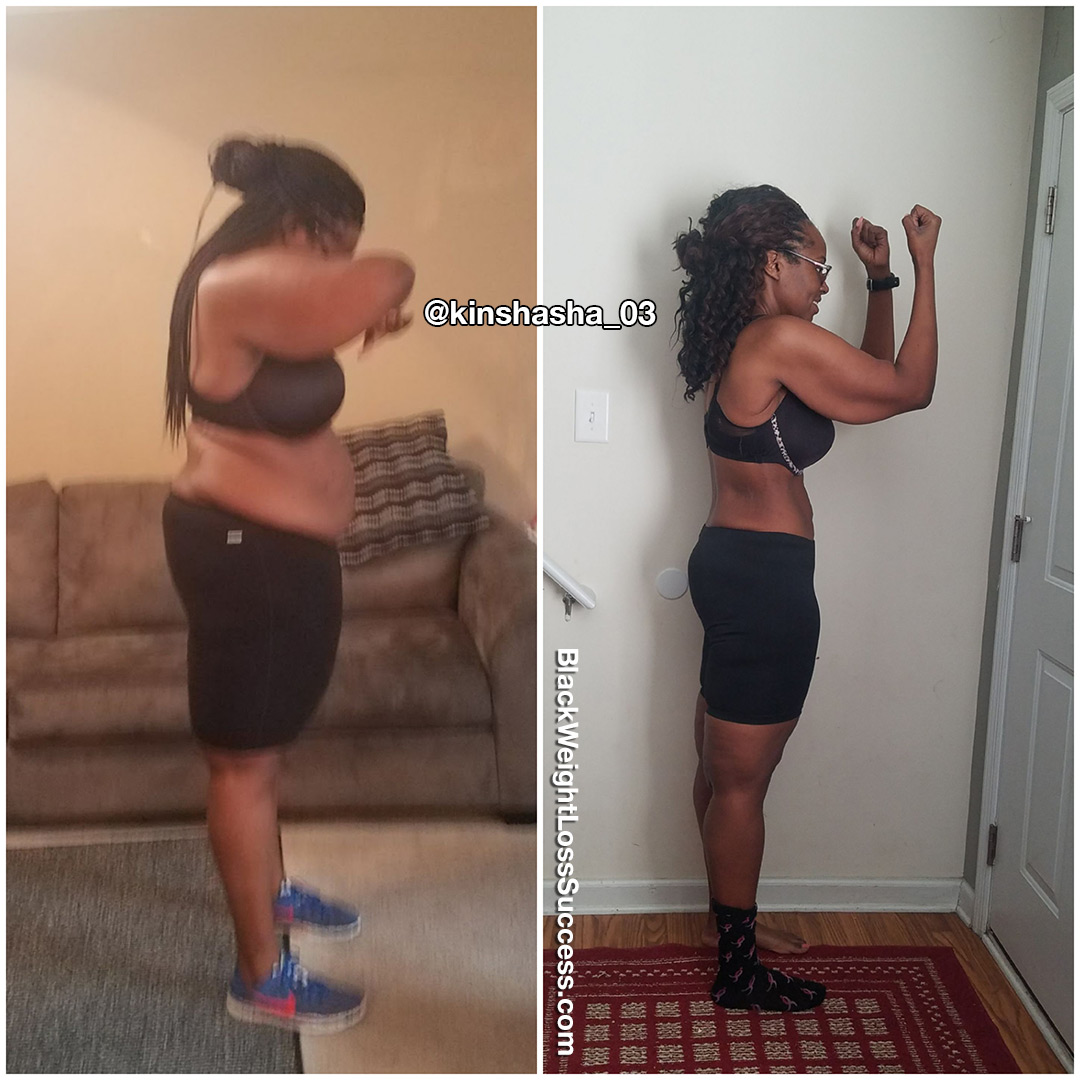 ---
Transformation of the Day: Kinshasha lost 86 pounds. She battled the pounds for years and used various methods to release the weight, but nothing brought long term results. An online fitness program gave her the support and guidance she was looking for. Check out her story.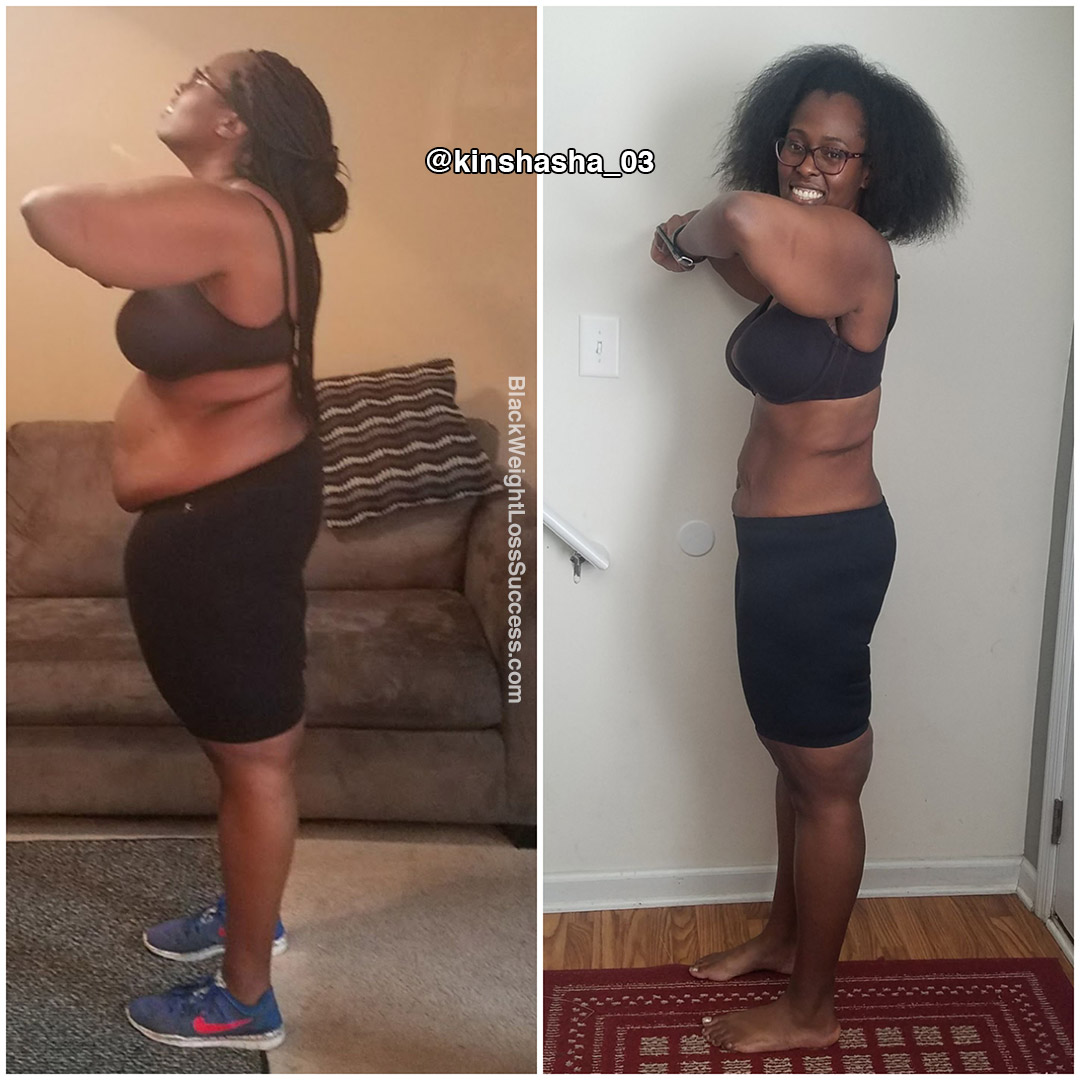 I have been on this fitness journey my entire adulthood. My heaviest weight was 360 pounds. I had weight loss surgery in 2008 and got down to 275 pounds. However, I became pregnant twice. During my pregnancies, I picked up weight that I carried afterward. I tried everything from shakes to smoothies to wraps to pills, etc. I was not having any success.
I was diagnosed with pre-diabetes. Since I'm the only active parent in my three children's lives, I knew that I had to change what I was doing. My children needed me, and I know how close they are to me. I was afraid that they would have a difficult time moving forward with their lives without me.
My eating habits completely changed for the better. My doctor initially told me that I needed to stay away from carbs because my body wasn't reacting well to carbs. My doctor also gave me a page and a half list of food I shouldn't eat again. I felt as if I wouldn't be able to eat anything again.
After doing some research, I stumbled across the Mpowered Fitness 30-day challenge. Coach Maria Collins was offering a healthy weekly meal plan, exercise routine with demos and daily coaching. I decided to give it a try because I didn't know what I should do at that point.
I follow the weekly meal plan. Week 1 of the meal plan is detox week where we do not eat meat. For the 2nd week, we are eating balanced meals that introduce meat back into the plan. The remainder of the month is low carb for me. I love that I am still able to have a treat meal on a weekly basis that consists of the foods I love, such as pizza and tacos. I have found myself enjoying the food options that Coach has provided over the months. I typically eat those meals when we are having treat meals.
I have also been given a fitness profile that is based off my weight, height, and goals. My Coach gives me specific goals for calorie intake, fat, carbs, and protein so that I know what I need to eat to continue to lose weight (which is helpful especially when I am traveling).
When I started this process, I just walked for 30 minutes a day. Coach Maria provides us a recommended workout which consists of different levels. I started at the Steady level because I was not strong enough for Sporty. The exercise routine consists of 30 minutes of weight training and 30 minutes of cardio 6 days a week. By my third month, I moved up to the Sporty level. I still complete 30 minutes of weight training, but my target for cardio is 4.5 hours total each week. So far, I have not stepped one foot into a gym.
In the beginning, it was very touch for me to change because I was not used to eating healthy and working out. My body went into a complete shock, but Coach Maria Collins cheered me on while providing me with alternate exercises that I could do. Coach Maria also provides us with a live motivation session on Sundays. My fit sisters kept me motivated while holding me accountable for what I said my goals were.
My starting weight when I started with MPowered Fitness was 294 pounds, and my current weight is 208 pounds. My height is 5'11. I began my journey on April 2, 2018. As of today, I am 18 pounds away from my goal weight of 190 pounds.
The biggest lesson I've learned is that you do not have to eat chicken breast and salads to lose weight. I don't have to be afraid of carbs, like pancakes, waffles, rice, etc. It is all about a balanced diet and learning how foods will react to your body.
My advice to the women out there who have tried and failed at losing weight is DO NOT GIVE UP.  I know how you feel when you have tried various things, such as weight loss surgery, pills, shakes, wraps, smoothies, etc. I have tried everything, and this was my last hope.
Coach Maria's program has saved my life. The sisterhood in our FB group kept me going when I wanted to give up. Coach and those ladies will keep you motivated while cheering you on to the finish line. I can run again, live again, and most importantly I love myself again. I have gone from sitting on the couch to working out 6 days a week. I believe the world needs to know about the work my coach is doing.
Instagram: @kinshasha_03
Her coach: @mpoweredfitnessig