Transformation of the Day: Margo lost 48 pounds. After being hospitalized for high blood pressure and depression, this mom decided to fight for her health. She's gone from a stressed out, self-professed junk food Queen to a healthy eater who works out five days a week. Check out her journey.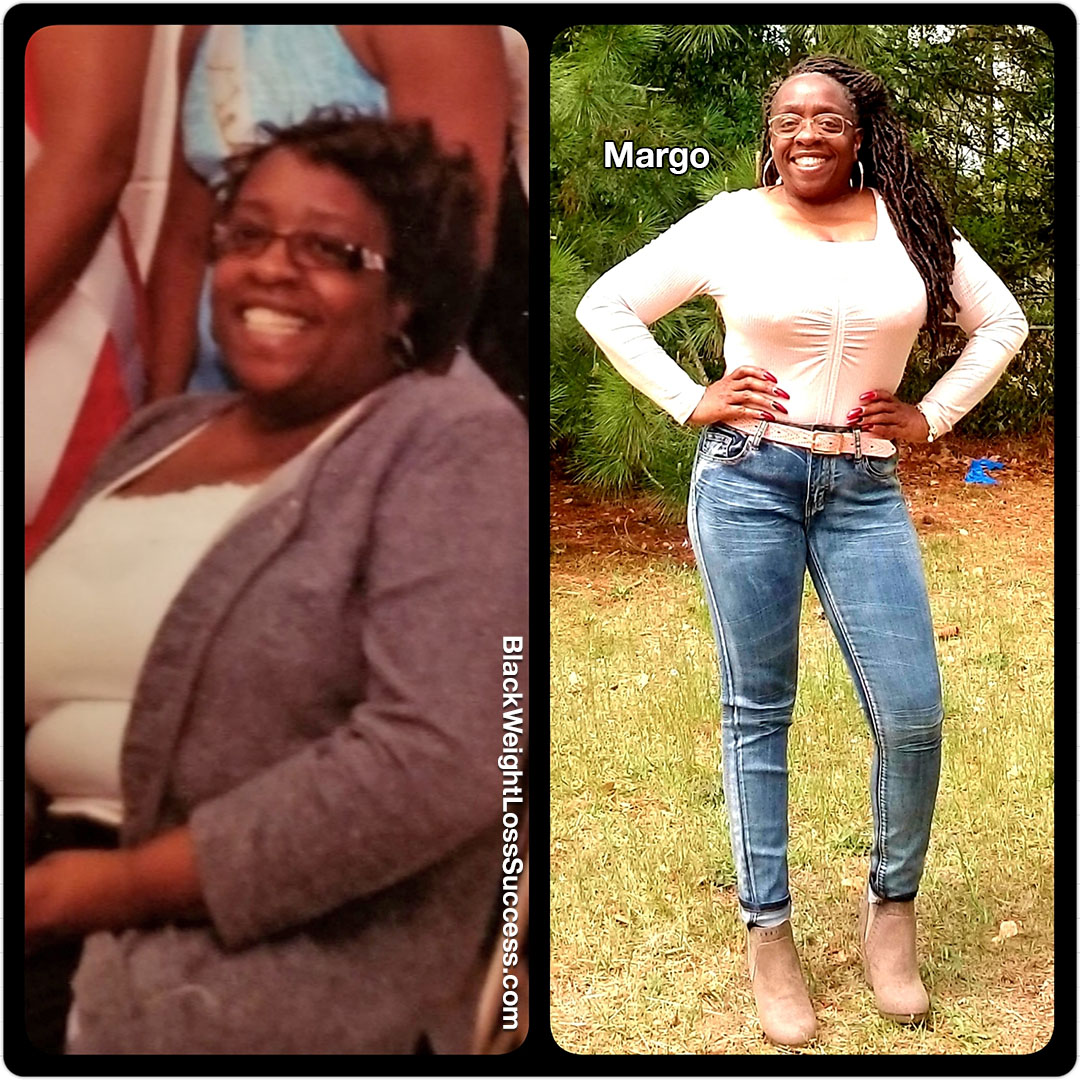 What was your motivation? What inspired you to keep going during the tough times?
My motivation was my kids! Knowing that I was all they had, I couldn't let them down. I was hospitalized for high blood pressure and depression. At the time, my stress level was at an all-time high. I was on meds for blood pressure, depression and pain. (A walking pharmaceutical!) The will to live and not disappoint my kids was my inspiration. I knew I had to fight!
How did you change your eating habits?
Before my transformation, I was the junk food Queen! I had a 2 liter of Pepsi each day. A Reese's cups were also a definite must must have!
I woke up one morning and decided to change. No More Junk! It has been over four years now since I've had soda of any kind. Now and then, I will crave a piece of chocolate, but I've learned it's better to satisfy that craving than to eat everything else in sight trying to satisfy it.
I've never have been big on counting calories, so I just used common sense. You know what is right for you. When I wasn't sure, I would ask or do some research. I went from eating one meal a day to 3 healthy meals with healthy snacks. It truly amazes me that I could eat more and lose weight.
What was your exercise routine?
Started out walking 1-2 miles a day. I work out at least five days a week, on average. I'm always doing some kind of challenge because that gives me a push. I've always been a competitive person so I had to dig deep and find the competitiveness that I knew was in me. For the past four years, I've done a 90/90 challenge. You work out for 90 days straight for 90 minutes a day with a minimum of 10,000 steps, the first year. This year the step count went up to 15,000 steps. I'm now up to 5-10 miles, and I also do weight training. The minimum step goal was 15,000, but most days I would go way beyond that. I've learned to push my limits on this journey.
I want to give a big shout out to my personal trainer, DaLeffhanda, for believing in me when no one else did. He looked beyond my disabilities and pushed me beyond my limits. He also assisted me with my eating habits. This man helped me change my life!!
Starting weight/Current weight
I am 5'2″ tall, and my max weight was 196 pounds. I had told myself at one point, "As long as I stay under 200lbs, I'll be ok". My current weight stays between 148-153 pounds.
When I started my healthy lifestyle, within four months, I lost 50 pounds. After I lost the weight, it was time to build some muscle, because I was just a straight bean pole! However, I was told that you have to tear down to rebuild.
What is the biggest lesson you've learned?
My biggest lesson thru it all: Once you set your mind to it, anything is possible! When I was hospitalized for high blood pressure and depression, and I came out of there with a sack full of meds, trust and believe, I definitely had a new mindset! My blood pressure was around 153/113, and all the doctors told me was it was hereditary and because I was a black female I would have to take meds. I hated taking medication. I am proud to say that today my blood pressure is maintaining at 120/80 WITH NO MEDS!
You can see the physical effects of weight loss, but the mental effects have been very rewarding. A good workout makes me feel better than any meds I've ever taken. If God kept me thru two divorces with mental and physical abuse, I knew he had a better life in store for me. You can't beat this healthy lifestyle!
Life has thrown me a few curve balls, but anything is possible! I was too stubborn to let life get the best of me! Knocking on the age of 57's door, I am literally living my best life. I would tell anybody, "Don't wait as long as I did!"
With God on my side, I can't lose.