Transformation of the Day: Radiance lost 95 pounds with healthy food and exercise. She was uncomfortable in her body. She also felt that her physical health was at risk, along with her mental, emotional, and spiritual well-being.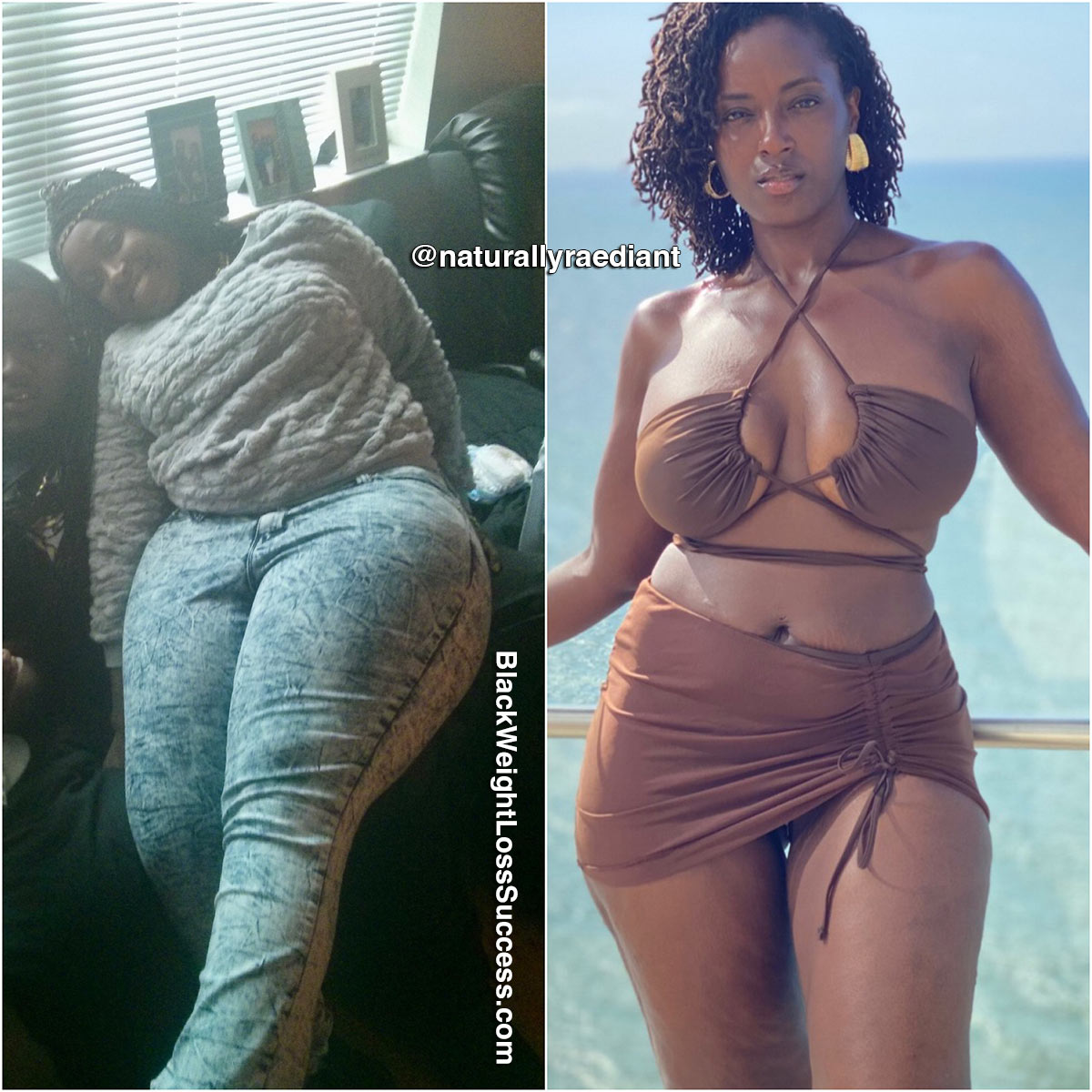 Social Media:
Instagram/TikTok: @naturallyraediant
FB: Radiance Woods
What was your motivation? What inspired you to keep going, even when you wanted to give up?
I was very uncomfortable in the body I had! I felt trapped in a way. Not only was my physical health at risk, but my mental, emotional, and spiritual well-being also suffered! My daughter was and still is a driving force for me! I want her to make better decisions than I did. 
How did you change your eating habits?
The processed and fast foods were a major problem and had to GO! Lol! My current diet comes from whole, natural foods (fruits, veggies, meats, fish grains, nuts, and vegan dairy alternatives). Processed and/or refined foods are very limited. I also cook my own food and don't eat out as much! 
What is your workout routine?
I do cardio and strength training using my body weight! 
How often did you work out?
I work out 4 to 5 times per week for 45 minutes to 1 hour. 
What was your starting weight? What is your current weight?
Starting weight: 255 pounds 
Current weight: 160 pounds 
What is your height?
5'6″
When did you start your journey? How long did your transformation take?
I began in 2015. I dropped the weight naturally with consistent exercise, nutritious food, and prayer! I actually worked out for one year straight (I was little overzealous, lol) and was able to drop 90 Ibs in that first year. I've kept the weight off ever since. 
Is weight loss surgery part of your journey?
No surgery. 100% natural. 
What is the biggest lesson you've learned so far?
It's not a sprint, it's a marathon. It's not a race; it's a journey. It's not a diet, it's a lifestyle!!! Also, you are your own worst enemy! 
What advice do you have for women who want to lose weight?
Get out of your own way! You are capable. The journey won't be easy, but it is SO worth it! Most importantly, you are more than enough just the way you are, but you owe to yourself and those you love to experience the best version of yourself. Keep going…you got this!