Transformation of the Day: Trey lost 87 pounds. Her motivation was to live a long and healthy life for the benefit of her children. Now, she is fully in love with herself, inside and out. Having weight loss surgery, transforming her eating habits and developing a love for fitness has put her on a new course. Check out her journey.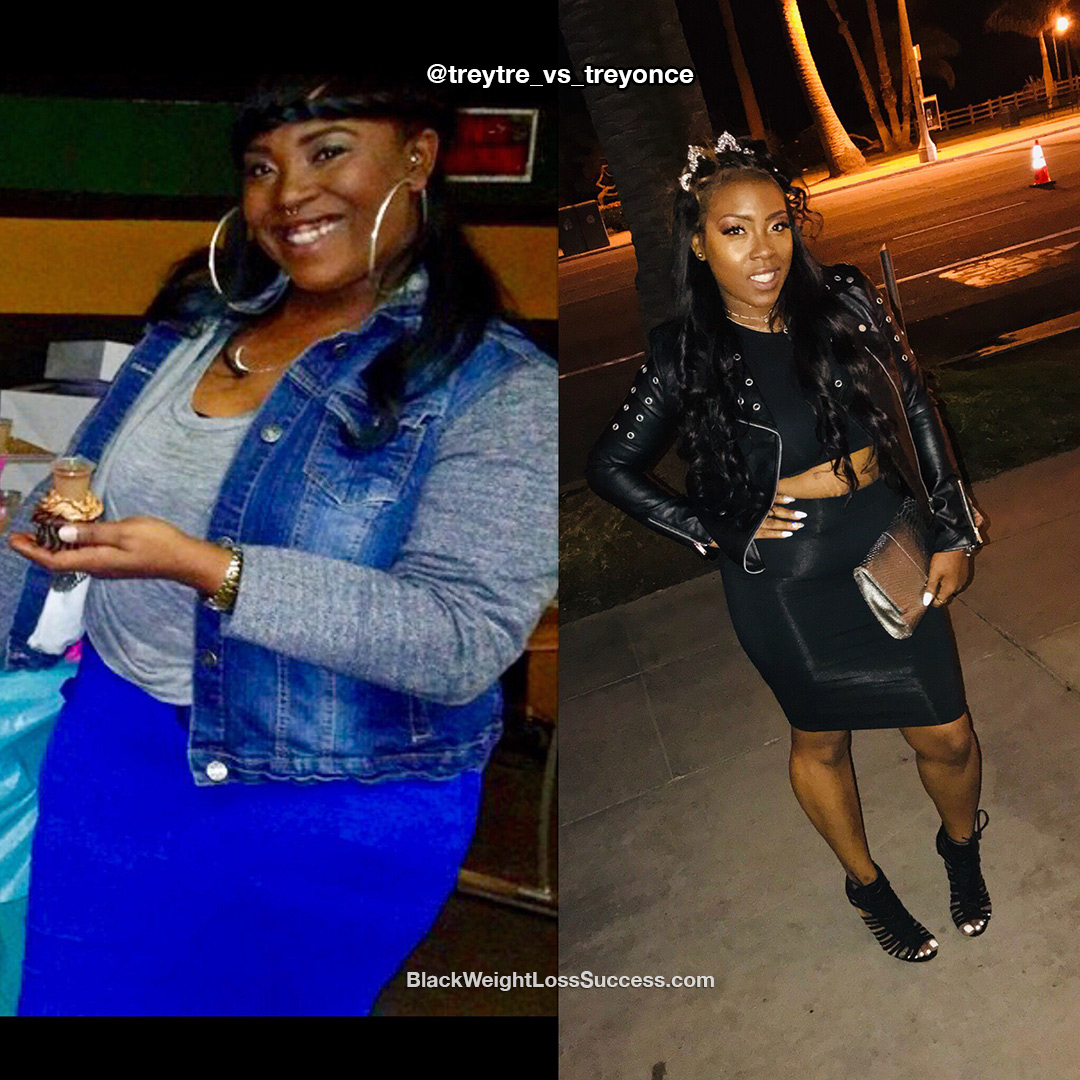 What was your motivation?
I seem to always get this question and I feel like it is very, very self explanatory. My motivation through this journey is simple: I want to live a long life for my kids
What inspired you to keep going when you wanted to give up?
The inspiration I have everyday when I wake up, is being able to live a new healthy, improved and inspired life. I'm able to do things and go places I'd never been. When times times got rough, and when stalls came and seemed to never want to leave, I remembered the day I looked at myself in the mirror and felt disgusted by what I'd become. That is what motivates move to push forward.
What was your starting weight? What is your current weight?
I started the process for weight loss surgery in November of 2016 at my highest weight of 267. Always telling myself "I'm thick." not realizing that I had become borderline diabetic. I decided to make a change and I started a weight loss surgery program at Western Baratric Center in San Bernardino, CA. That's when my life changed for the good.
I had the Gastric Sleeve procedure on 09/26/17. Today, I am fabulously at a weight of 180 pounds and still have 20 more pounds to lose before my Surgeverisary. My height is 5'6″. My journey was long and hard, and even after surgery the road to change was tough. I remembered that this journey was/is my own and this is the best decision I have ever made. No regrets! (I started a YouTube channel specifically for my WLS journey.)
How did you change your eating habits?
I was never really a "Bad" eater or an "overeater". However, as a single mom of 2 boys, working full time and running a cupcake catering business, I never found the time to eat consistent meals. Now, after having the Gastric Sleeve procedure, I have had no choice but to stop and make sure I am getting all my protein and meals in. Overall, I eat what is beneficial and I don't consume things that may hinder my success.
What foods did you stop or start eating?
CHIPS were my best friend, and now my enemy. lol. I still indulge in them, but I watch my portions. I used to love salads with a passion, but now we just aren't on the same page anymore! It seems like my brain wants lettuce and my stomach says "NOPE! Not over here girl" I have a new found love for Brussels Sprouts in all forms of cooking….Crispy, crunchy and toasted to perfection. Overall, I just eat what's beneficial and stay away from things that may hinder my success.
What did your workout routine look like?
After being cleared to workout after surgery, I went hard in the gym. Everyday, for 1-2 hours a day, I was breaking a sweat and loving every bit of it. I didn't have any difficulties with my procedure so my transformation came with ease. Then, I started attending a circuit training course in Apple Valley, CA. Honey, when I tell you it was like death! Man, I wanted to give up every time I entered the room. After going consistently for about 3 months, my body adjusted and my mind was prepared for the "Tone Up". Now, it's apart of my weekly routine.
What is the biggest lesson you've learned?
I've learned to love every inch of myself from within. Regardless to the outer appearance. Once you do that, you will learn to enhance your beauty on the outside by making positive strives toward a better and healthier you. I am a witness and walking testimony to that.
What advice do you have for others who want to lose weight?
Take the first step and don't be afraid. People are going to doubt your strength. Some may even discourage you for their own personal gain, but to LIVE and not just EXIST is the ultimate goal.
Everyone doesn't want to be skinny. That is not the mission. The goal is to be a healthy individual. Join weight loss forums, research the best options/weight loss plans, and find others who want to better themselves as well. Give yourself a second chance and never give up.
Instagram: @treytre_vs_treyonce