Transformation of the Day: Brittanie lost 52 pounds. After a break up, she gained lots of weight and felt miserable. She took control of her eating habits, workout out regularly and learned that results don't come overnight. Check out how she did it.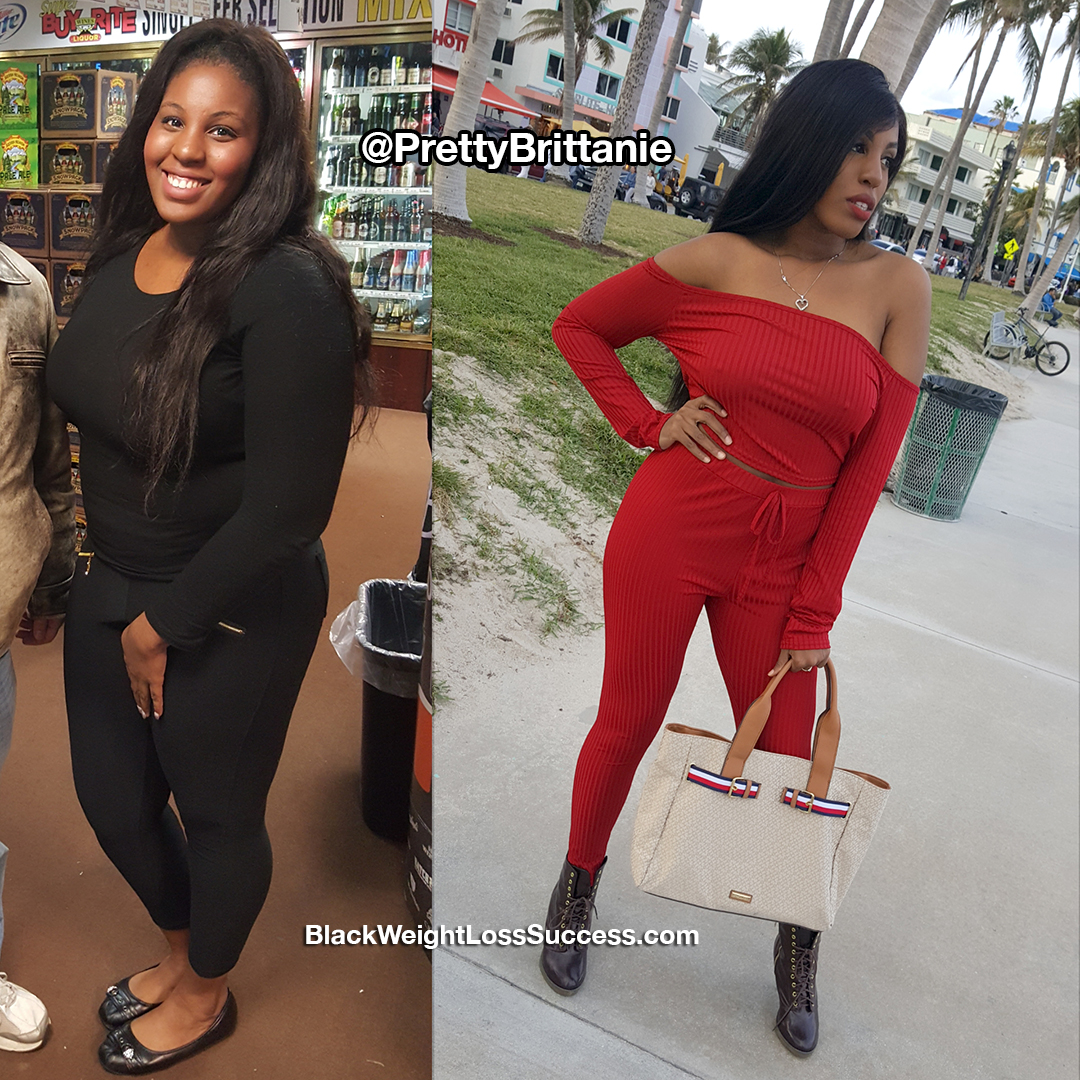 What was your motivation?
I broke up with an man who I was with for 5 years. Instead of letting him see what he'd be missing by transforming into a sexy Goddess, I did the opposite. I turned into an obese and out of shape person! I was miserable for months and had no control over my eating habits.
I realized that it was time for a change when I kept having to buy bigger sizes became my clothes were getting too small. I also realized that I couldn't stand on my feet for too long without them hurting due to my weight.
When did you start your journey?
In February 2016, I started my weight loss journey and couldn't be any happier! I'm still working on becoming more fit, but at least I'm able to say, "It's possible!" I dropped 50 pounds in 4 short months.
How did you change your eating habits?
Before, I was eating everything and anything. I ate lots of African and Jamaican food specifically. So, I started a low carb diet…No bread, pasta, etc. I also had lots of fruit, salads, protein shakes and smoothies. Once I lost a about 40 lbs, I slowly incorporated higher carb foods into my life again.
I tried not to eat more than 1300 calories a day. No juice, no Gatorade and no sugar drinks. Water is my main drink. If I did have an alcoholic beverage, it was a simple vodka tonic.
What did your workout routine look like?
I worked out minimum 5 times a week. I did 45 minutes on the elliptical and then I would do weight training or work out on the machines.
Starting weight/Current weight
My starting weight was 210 pounds and now I weigh 158 pounds. I'm 5'9″.
What's the biggest lesson you've learned so far?
I've learned that I can't give up when I feel that I've hit a plateau. Temporarily switching up my diet and intensifying my cardio has allowed me to break through boundaries that I thought I never could.
What advice would you share with other women who want to lose weight?
Trust the process. You ARE making progress! Losing weight, getting fit and getting results aren't instantaneous. There were nights that I would come home from the gym and just cry because I wasn't seeing results as quick as I wanted to, but I didn't give up. I told myself to keep going. Next thing I knew, I was on the beach in a thong bikini. Have faith!
Instagram: @PrettyBrittanie