Transformation of the Day: Brittany lost 38 pounds. After a breakup, her eating habits went off track and she wasn't giving it her all in the gym. After speaking with a trainer, she realized what areas needed improvement and began taking action. By becoming a pescatarian and adding strength training to her workout routine, she's made lots of progress. Check out what she shared with us.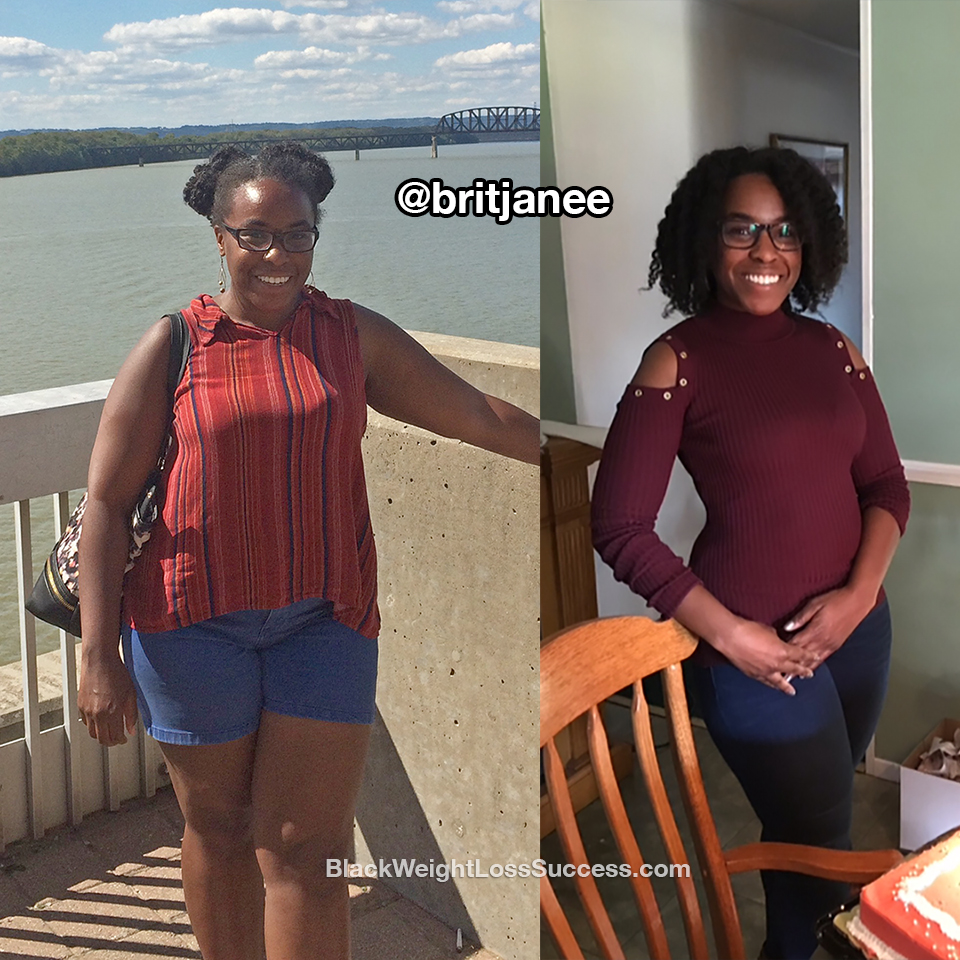 Starting weight? 192 pounds 
Current weight? 154 pounds
Height: 5'3″
How long did your transformation take? 
I officially started this journey in January 2017.  I started seeing results in March/ April 2017 and then more progress along the way.
What was your motivation?
I have always been in to fitness and exercise, but after a breakup my eating habits went off the rail.  I was also doing the bare minimum when it came to working out. I would go to the gym two or three times a week and struggle to get through thirty minutes of cardio. I wondered why I wasn't losing weight. After seeing a personal trainer, I realized what some of my problems were; Eating too much, eating the wrong types of food, not incorporating strength training into my workout routine and not drinking enough water… just to name a few. My trainer weighed me that day and I weighed 192 pounds. That was a number I was not expecting to hear. On that day, I committed myself to working out more and, later on, eating better.
How did you change your eating habits?
In April of 2017, I stopped eating meat and took on a pescatarian diet [vegetarian who eats fish]. I eat seafood, vegetables, fruit and the occasional sweet. I felt so much better after eliminating meat from my diet. I believe, along with exercising, the elimination of meat has really contributed to my weight loss.
What did your workout routine look like?
Previously, I was working out two or three days out of the week, for only thirty minutes. I even remember getting off the elliptical one day after a twenty minute workout.
Now, I workout three to four days out of the week, for a minimum of one hour. Sometimes, I work out for up to an hour and a half. Some days, I do thirty minutes of cardio and thirty minutes of strength. On the other days, I only do an hour of cardio or strength train for an hour. Out of the week, I incorporate strength training into at least half of my weekly workouts, if not more.
What inspired you to keep going when you wanted to give up? 
I had come so far. There were times when I would look in the mirror and not see progress, but I knew that if I continued to work hard the change would come. I also realized that I never wanted to be the size that I was a year ago ever again. Now, I am much happier, healthier and motivated due to committing myself to a healthier lifestyle.
What is the biggest lesson you've learned?
That I can push myself. It won't be easy, but if I want this lifestyle bad enough, I can continue to work to achieve my body goals.
What advice do you have for others who want to lose weight?
Keep at it and don't give up. When you want to stop working out that is when you should get back in the gym and keep at it. The progress will come and it will show. You will be so proud of yourself because you knew you could do it all along.
Instagram: @britjanee and @britbritgetsfit
Twitter: janeebrittany
Website: www.brittanythurman.com