Transformation of the Day: Candice lost 53 pounds. She was faced with several life challenges, including depression, a very demanding job, and her father's illness. One day, she realized that she had to power to give herself a "do over" and take control of her life and her habits. Check out how she took action.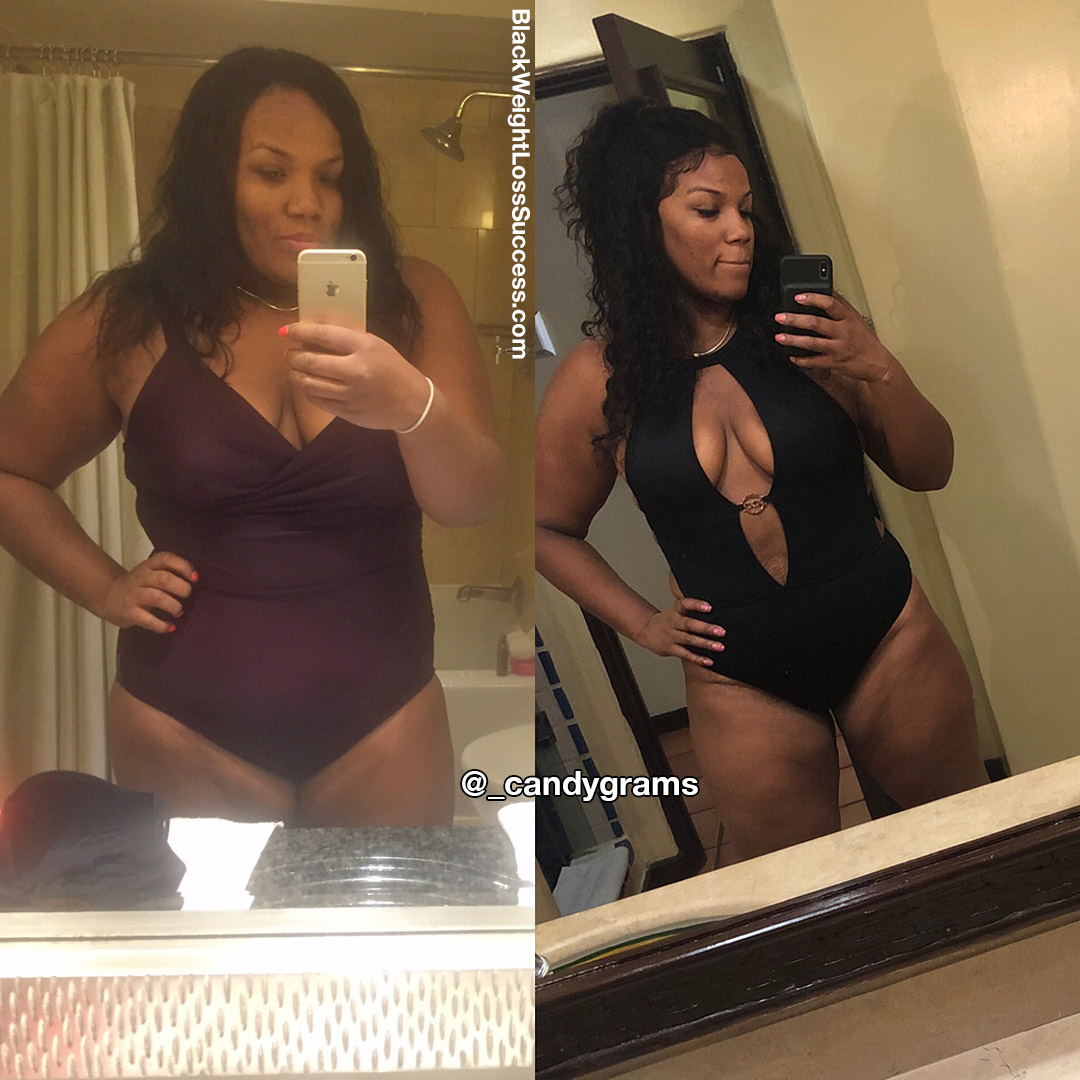 What was your motivation?
I felt like most days I was in a bad dream. My highest weight was 303 pounds in July 2017. My father had just become extremely ill. I was working 70hr weeks at a mortgage company, and I wasn't in control of my own life. I would settle for toxic relationships because I didn't value myself. I was also battling depression from a failed marriage.
Then, I just had a mental breakdown one day. I was so upset with myself. I couldn't look in the mirror, and I didn't want to go out. On that day, I just decided to start going to the gym for some "me" time.
I saw an Oprah quote, and her words were, "You are responsible for your life. If you're sitting around waiting for someone to fix you, save you, or to even help you, you are wasting your time because only you have the power to take responsibility to move your life forward, and the sooner you get that, the sooner your life gets into gear…." Let that sink in next time your laying around feeling bad for yourself and ready to give up. Every day is a redo!
How did you change your eating habits?
I started eating on a schedule and drinking a gallon of water a day. I cut carbs and alcohol. I'm not much of a chef, so I started doing meal prep with two women who go to my training classes. I typically juice 3 days a week, have 1 cheat day (not meal), and 3 days of controlled meals. I eat healthy foods, like chicken, broccoli, green beans, spinach, etc.
Tell us about your workout routine.
I work out for 1.5-2hrs a day for 5 days/week. I do 1 hour of cardio no matter what. The remaining part of my workout consists of weights or ab workouts. I find myself using the Fitonomy app a lot to get an idea of what to do for my evening workout.
Starting weight/Current weight
I started my journey at 301 pounds in March 2018. I currently weigh 248 pounds, and I'm 5'11". I started seeing a huge difference about 3 months into my journey.
I'm down 53lbs, and I'm not even sure about the number of inches I've lost anymore. The confidence I've discovered in myself has pushed me into a better career, a huge promotion, and a new found love for being "single" and ok with that.
What advice would you like to share?
You have to evaluate your circumstances and figure out why you are in the position you are in with your life. I encourage you all to remove all the negativity in your life. Not only will the weight fall off physically, but the mental baggage you've been carrying around for years will too. That will make you see how much you are truly worth! We are all diamonds waiting to be polished by no one other than "yourself."
Instagram: @_candygrams