Transformation of the Day: A'Kia lost 61 pounds by focusing on fitness, nutrition, and self-care. She realized that she couldn't truly be her best self for her children if she was not taking care of herself. Also, she found the support and tools she needed to get results.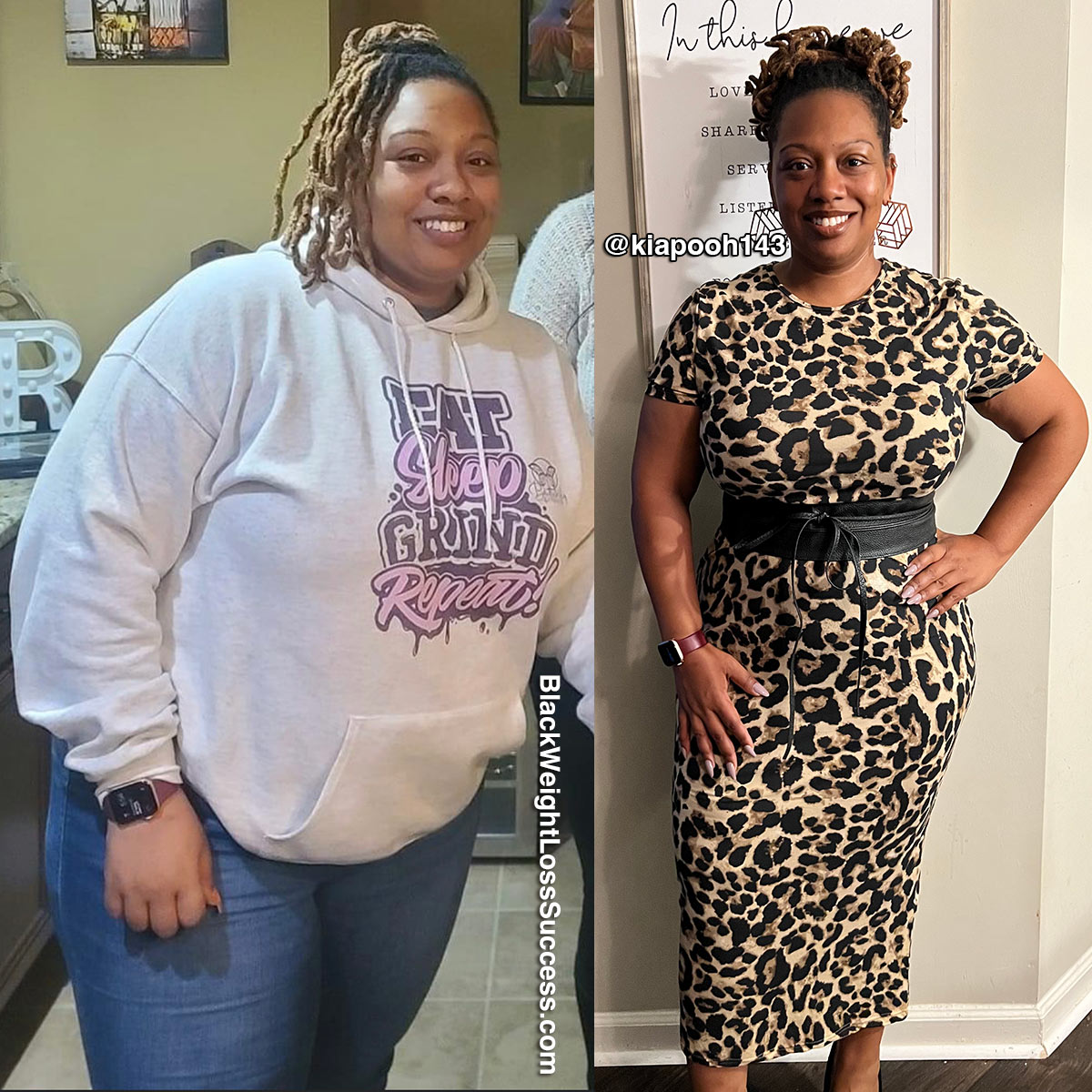 Social Media:
Instagram: @kiapooh143
Facebook: www.facebook.com/acwarrior
What was your motivation? What inspired you to keep going, even when you wanted to give up?
My motivation has been my children. I know that by not taking care of myself, I was not going to be able to be the best version of myself for them. I need to be able to keep up with their growth and activities, so I finally decided to put myself first. 
They continue to inspire me because there is so much I want to do for them, and I need to be here on this Earth to do that. So when I think I want to fall off, I focus on knowing they need me as much as I need them!
How did you change your eating habits?
Changing my eating habits was challenging, but it was a decision I had to make. I started by emptying the pantry, cabinets, and fridge of all the bad things I loved. I needed them to be gone, so I didn't become tempted. 
When I started my journey, I had a meal plan from a trainer. At some point, I began to feel like the plan was too restrictive. I needed something more fluent that allowed me to make my own decisions and still continue to get results. 
I began using Herbalife products and following the nutrition guide via a challenge. During that challenge, I began to see that I LOVE, LOVE, LOVE the products and the guide that allowed me to make choices on my own to get the results I was looking for. The flexibility of it all allows me to sustain when life happens and continue to get results when I follow the lifestyle!
What is your workout routine?
Two times a week, I take classes with Orangetheory fitness. In addition, I participate in a boot camp every Sunday, and in between, I have workouts with a trainer that I do virtually. So on average, I get in a workout 3-4 times a week. HIIT workouts are awesome!
What was your starting weight?
275 pounds
What is your current weight?
214.1 pounds (as of 8/29/22)
What is your height?
I'm 5'4″.
When did you start your journey?
February 1, 2022
How long did your transformation take?
I'm still transforming, but my current results are six months in.
Is weight loss surgery part of your journey?
No
What is the biggest lesson you've learned so far?
The biggest lesson I've learned is that improving my fitness and losing weight has allowed me to see about me, emotionally and spiritually. It has allowed me to focus on myself because this journey takes just as much mental strength as it does physical strength. So my biggest lesson has been no matter what, I remain positive and continue to work on me!
What advice do you have for women who want to lose weight?
Decide, and don't look back! Choose YOU! As women, sometimes we take on the weight of the world and typically put ourselves last. In order to ride this wave and enjoy this journey, that has to stop! 
It's not just physical. It's mental, and if you can get past that, you will get the results that you desire no matter what! Go for it! And if you need a support system, find one! There's nothing like the community I have to inspire me and continue to push me to be the best version of myself! You need that! Trust me!