Update: Carly has lost 103 pounds.
View this post on Instagram
Transformation of the Day: Carly lost 92 pounds. In January 2018, this Alpha Kappa Alpha soror made the decision to become a better version of herself, and finally release the weight after years of trying. She's learned the importance of healthy eating habits and that consistency is key. Check out her journey.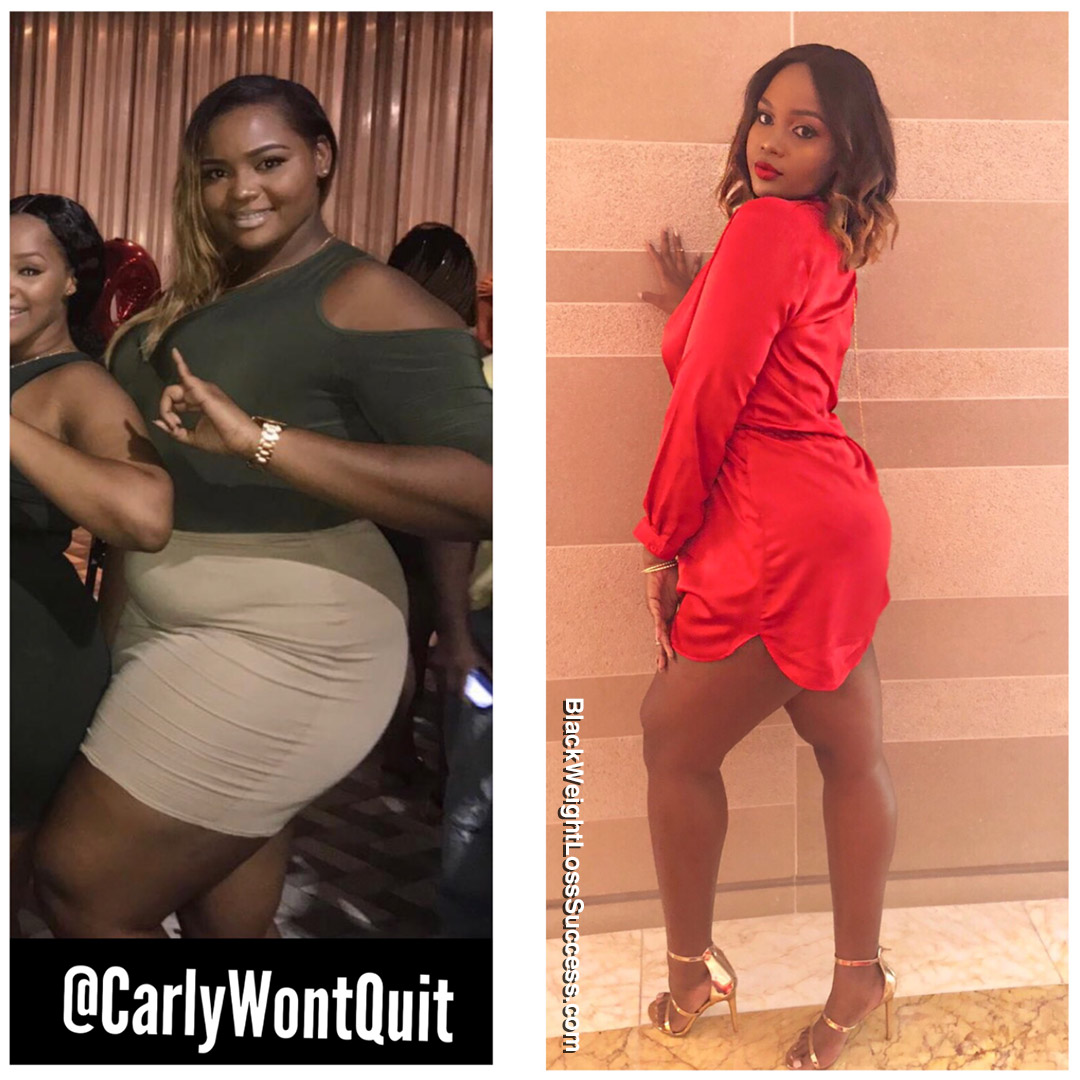 I started this journey in January 2018. I remember the day I chose myself and never looked back! This journey has been life changing for me in so many ways. At the beginning of 2018, I would've never thought that I would lose 90 pounds! I finally did it, after years of trying every diet on earth and working out. With 1 month left in the year, it would be a dream to lose 100 pounds before 2019. Consistency is key, and Carly won't Quit.
What was your motivation? What inspired you to keep going, even when you wanted to give up?
My daily motivation was to become a better version of myself for myself. I wanted to finally lose the weight I'd been wanting to lose since I could remember. I wanted to be healthier…. to take a flight of stairs and not be out of breath. It was so hard not to give up (like all my other attempts), but I pushed myself. I watched empowering videos of weight loss stories to stay inspired.
How did you change your eating habits?
I went cold turkey with sugar, carbs, and sweets. I knew that this time, I had to do something drastic to make a lifestyle change. I cut my sugar intake entirely, reduced my carbs immensely, and cooked my own food. No fast food, soda, or juice. I didn't drink any liquids besides water and tea (no sugar). I stopped eating fast food, fried foods, white bread, rice, pastries, and cake. My meal plan is low carb. I mainly eat meat and vegetables with little/no bread. I also eat fruit (natural sugar).
Tell us about your workout routine.
At first, I started off with mainly cardio. I had little to no knowledge of weights I just walked on the treadmill and used the elliptical for 30 minutes at a time. After gaining more knowledge and confidence, I began to incorporate light weights into my routine, along with 45 minutes to an hour of cardio (elliptical and stair master and treadmill). I worked out 4-5 days a week.
Now, I work out 5-6 days, sometimes twice a day. I do a mix of classes (Zumba, total body pump, boot camp, and yoga). I also have cardio days where I work on legs, arms, back and abs, each on a separate day.
What was your starting weight? What is your current weight?
My highest and starting weight was 312 pounds, and my current weight is 220 pounds.
What is your height?
6 feet tall.
Is weight loss surgery part of your journey?
Nope, not a part of my journey. All natural.
What is the biggest lesson you've learned so far?
The biggest lesson ever: Diet is KEY. Working out and not giving the body the proper nutrition it needs will do NOTHING. Diet is 80% of the work, and working out is 20%.
It's not a race, it's a lifestyle change. Be steady and strong, because consistency is key. Never cheat yourself. If you work hard, you will see results.
What advice do you have for other people who want to lose weight?
Never compare your journey to other people's journeys. Stay motivated and consistent. It will not happen overnight. Diets will not work unless must make a significant lifestyle change.
Instagram: @carlywontquit