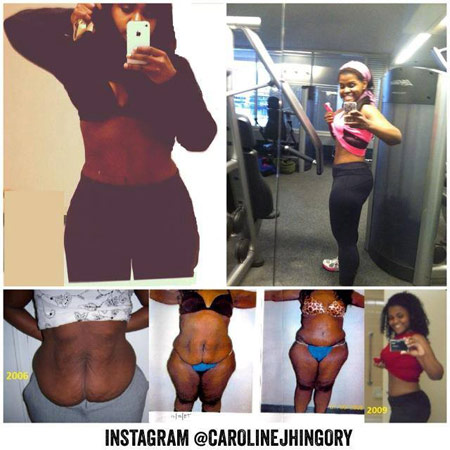 Hey Divas, our good friend Author Caroline Jhingory recently wrote to us to talk about loose skin.  We featured the story of her 150 pound weight loss back in July and she received a lot of questions from Black Women Losing Weight members about sagging skin post-weight loss.  She shared the info below and photo for more info:
"As a result of my weight loss, I was left with a mass of hanging skin on my belly and underneath my arms that hung like curtains. The fact that my stomach was bigger than my already tiny boobies bothered me the most. People often commented that my belly looked like the stomach of a woman that had 5 kids, although I have never had children. I know of others that were successful at losing 100+ pounds and they had no issues with sagging skin. Their skin bounced back. However, for many (myself included), there was no amount of exercise or strength training that would get rid of my post-weight loss flab.
In December 2007, I choose to have an abdominalplasty (tummy tuck) and lipo on my arms to remove the excess skin. I thought that the skin weighed more, but the doctor said it was around a pound and half worth of skin he removed. Over the last few years, I have reduced additional flab around my belly with more intensive cardiovascular exercise. Much of the research out there says that you need to SWEAT, meaning cardio, to burn fat around the belly.
I'm a little 50/50 on whether I would have plastic surgery again.  Maybe on my thighs. I'm a little hesitant because the surgery was the worst.  Let me say it again …the worst pain of my life. Maybe I am just a sucker. It hurt when I laughed, it hurt when I breathed, it hurt when I walked, it hurt when I ate.  And for some reason I couldn't pee after surgery unless I splashed ice cold water on my "vajayjay" with a water bottle and shocked it to pee. The doctor said this was normal and that it happens to some women after C-sections, so go figure."
Check out Caroline on Instagram.