Update: Shout out to Eayna! She has released 150 pounds.
Transformation of the Day: Eayna lost 134 pounds. She'd been overweight since childhood and was dependent on food as a coping mechanism. Binge eating, depression and low self esteem were part of her struggle. After trying a number of different solutions, she found that surgery, exercise and healthier eating habits allowed her to take her life back. Check out her journey.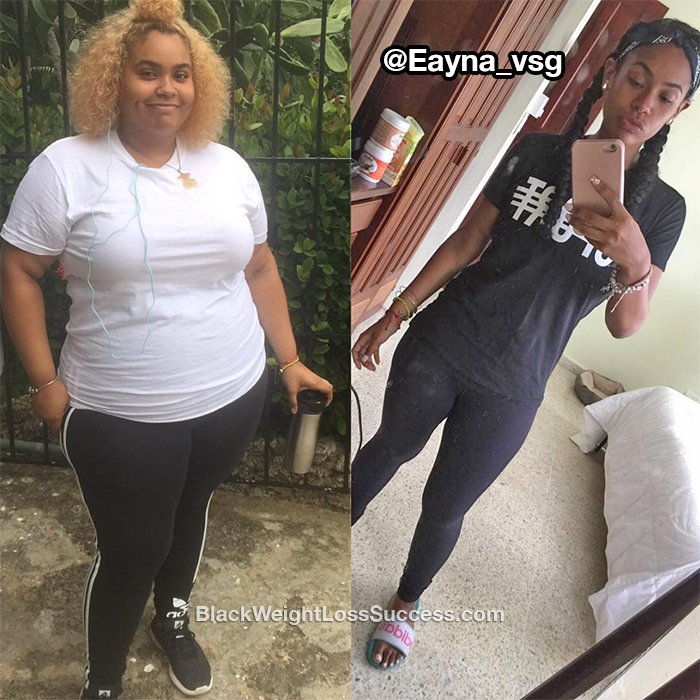 I've been overweight since the age of 5 and it really took a huge toll on my life. I became very dependent on food and used it as a coping mechanism for just about everything. I would go to the gym, get on diets, take diet pills, and even saw a nutritionist. I would make an effort and see progress, but food was still everything for me. I would binge eat, eat until I couldn't breathe, but still continue. I finally hit rock bottom in 2015 when I weighed almost 300 pounds (272 lbs) at 5'3″ tall. I found myself depressed. I had low self esteem and was withdrawing from the people who loved me.
Finally the opportunity for weight loss surgery came about and I knew that I had to mentally prepare myself. I had so much negativity around me from people who I thought would support me, but I pushed through. On May 31,2016 I got the Vertical Sleeve Gastrectomy and I don't regret it one bit. I have stuck to my diet of protein, veggies, legumes, fruits, and water. I've lost 134 pounds since the start of my journey in November of 2015.
Today, I am 25 years old and I am 9 months post-op. I go to the gym 5 days a week and sometimes 2 times a day. My workout consists of a lot of cardio. Now, since I am down to my goal weight, I will begin strength and resistance training to help me tighten and tone. Yes, there will be skin removal surgery in my future. As of right now, I am happy with where I am at and I wouldn't change my decision for the world.
My advice to these lovely ladies partaking in their individual weight loss journeys is: Congratulate yourselves for taking on your health. Do what you have to do, by whatever means necessary, to lose weight and adopt a healthy lifestyle, whether it's done naturally or via surgery. Stay motivated and stay focused. Everyone loses weight at their pace, so do not get discouraged if you don't see the differences instantly. Trust me, the hard work will pay off!
Instagram: @Eayna_vsg