Transformation of the Day: Gia lost 60 pounds with Keto, Intermittent Fasting, and a new mindset. She realized how closely tied her lack of self-care was to her self-esteem. Now she is focused on having a healthy relationship with food. Check out her journey.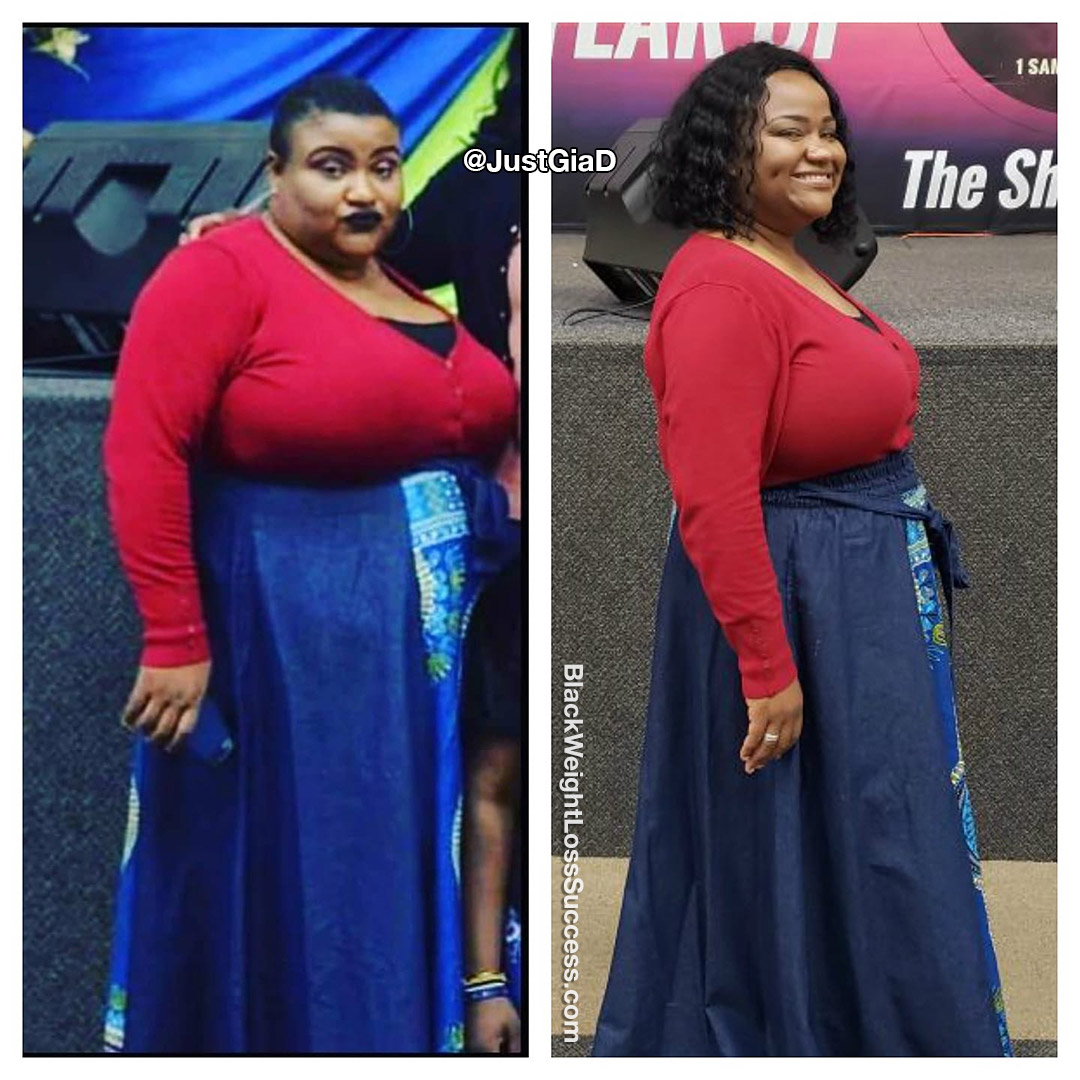 What was your motivation? What inspired you when you to keep going, even when you wanted to give up?
I have battled being overweight most of my life and being obese more so in my adult life. I have tried countless weight loss plans and had success with them. However, I always would lose my steam, motivation, and the desire to continue for whatever reason. 
This year I finally sat down and really took the time to discover why I wanted to lose weight. I figured out what kept me from maintaining the results that I got with other programs. It was so much more than a superficial reason. I realized how closely my self-esteem was tied to "letting myself go." I tapped into my low self-worth and how I didn't feel like I deserved to be healthy and happy. The journey to happiness and wholeness has changed my mindset about losing weight and accomplishing goals in general. I decided that I was ready to love myself for real and be happy for real. That realization translated into how I took care of my body and how I viewed dietary and fitness choices.
How did you change your eating habits?
I followed a Ketogenic diet to start. I reduced my intake of carbohydrates and increased my consumption of protein and fat. After the 3rd month, I reintroduced carbs into my diet so that I could have a more sustainable way of eating. 
I avoided sugary drinks like the plague. I don't add sugar to anything I eat or drink. I drink mostly water, and I have coffee with heavy cream daily (This is my guilty pleasure). I also did intermittent fasting. I fasted for 16 hours and ate in an 8-hour window. Now my focus is just having a super healthy relationship with food. I try to make good food choices. I don't want to live in a restrictive way, so I make allowances for things that I like, but in moderation.
What did your workout routine consist of?
I walked 3-4 times per week. I tried to get 4 miles under my belt during every workout, but that didn't happen every time. I have recently introduced strength training into my routine because I am seeing the necessity. I am not focusing more on Fat loss vs. Weight Loss because you lose some good stuff like lean muscle mass when you just focus on losing weight. I was considering getting a personal trainer, BUT with the wealth of information that you can actually get online, I am building my own routines to follow. I plan to get certified as a personal trainer eventually.
What was your starting weight? What is your current weight?
Starting weight: 279 pounds
Current weight: 218.4 pounds
Goal weight: 140 pounds
What is your height?
I am 5'3″.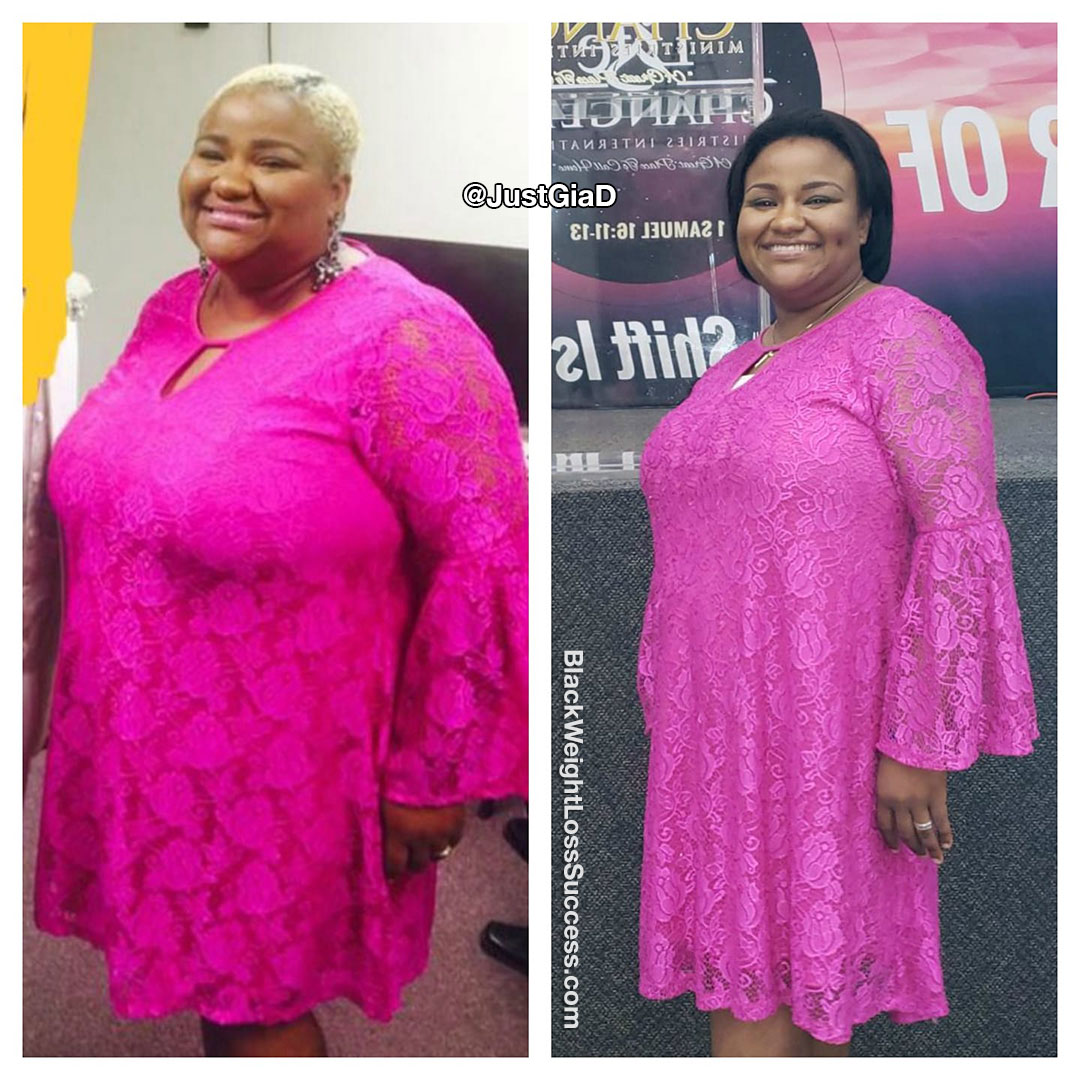 When did you start your journey? How long did your transformation take?
I started on February 27th, 2019, and I am currently still on this journey. I have been at it for almost 5 months.
Is weight loss surgery part of your journey?
No, I have not had weight loss surgery.
What is the biggest lesson you've learned?
There is a lot more to weight loss than just losing weight. There is an emotional component, as well. You will have to deal with the behaviors that caused you to become overweight. A lot of self-reflection and evaluation is required to change those behaviors and some significant self-love! Love your body to wellness! Also, there are no shortcuts!! Shortcuts don't lead to lasting change. When you put in the work, you will reap the rewards. Your body will change!
What advice do you have for women who want to lose weight?
Know why you want to lose weight. Your why will keep you going when you want to give up. Your why will prevent you from giving in to temptation. Your why will help you get back on the bandwagon if you fall off. 
Also, handle yourself with care. Don't deal with yourself too harshly while you are on this journey. Focus on your small steps, and only worry about the day that you are in. Eat well that day. Exercise well that day! The small steps will lead to big results. Don't overwhelm yourself with your big picture. Enjoy the journey. 
You should also document with pictures. My before and after pictures are a motivation tool for me. Seeing how much my body is shrinking and changing blows my mind ALL the time! 
You can do this! Go in with the knowledge that you have everything that you need on the inside of you to succeed at weight loss.
Instagram: @JustGiaD  
Facebook: JustGiaD