Update: Keesh lost 13 more pounds for a total of 78 pounds gone. She shared with us how she has continued to make progress.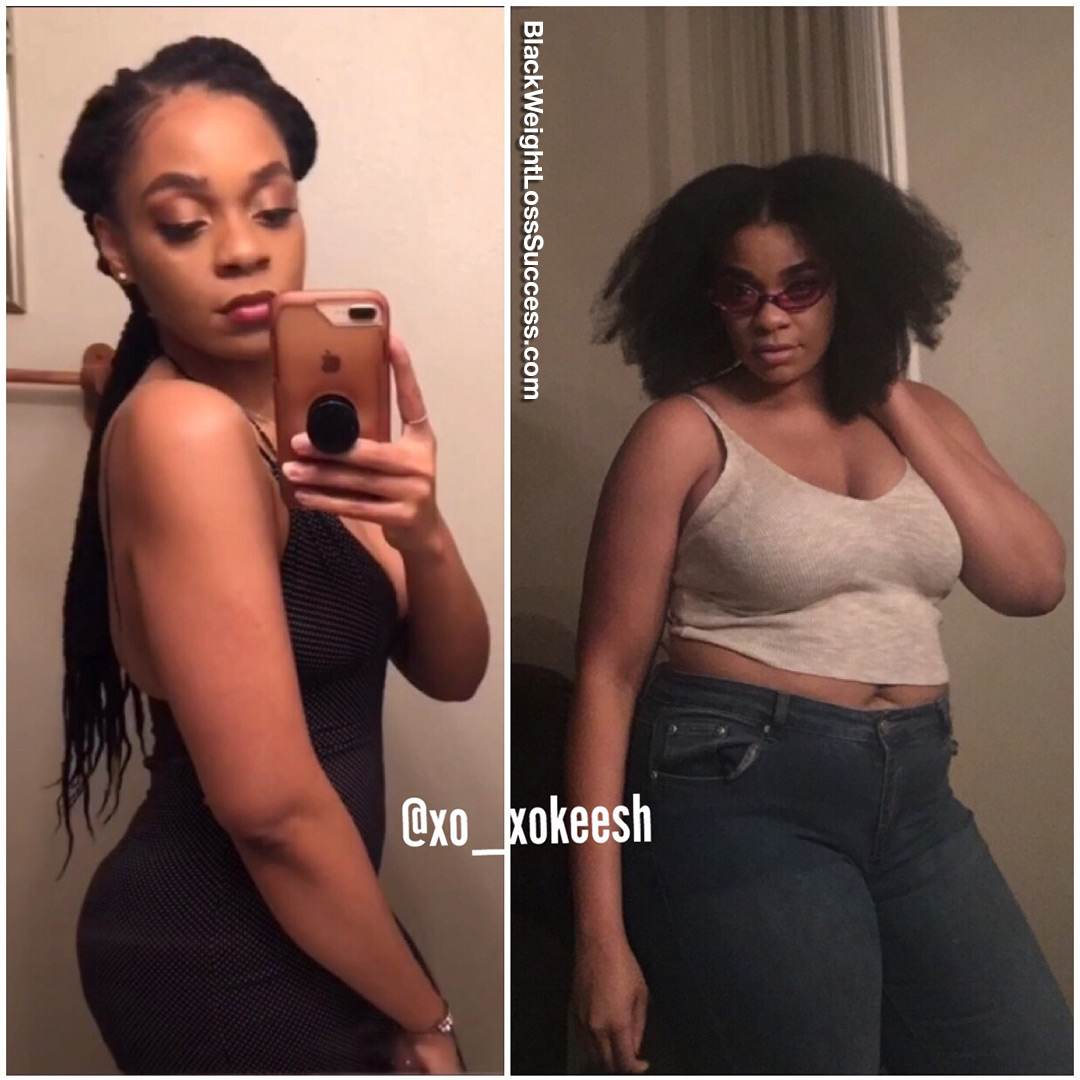 I still maintain a plant-based lifestyle. I am having a blast exploring new recipes and ways to create 'traditional' dishes veganized. I am 78 pounds down and consistently building muscle.
I work out about 3-4 times a week; I mainly do at-home workouts. I love doing HITT workouts, jump roping, running, and light weight lifting. Additionally, I practice positive self-talk. Love yourself at every stage and be gentle with yourself. Listen to your body, always.
People often ask me how to begin a plant-based lifestyle. My advice is to transition in stages that you are most comfortable with. When I began, I cut off types of meat gradually (omitting beef, turkey, chicken, and then seafood). Another option is to cut down how much meat and dairy you consume in a day (Ex. Omitting meat/dairy from breakfast, then dinner, etc.). I can't stress enough: we are all unique. You should honor your body and how it will best respond to the desired lifestyle change. Don't be pressured by anyone; do you and all will work in your favor.
I have a new blog that I launched last week. Currently, I publish once a week. I plan to cover a variety of topics: Plant-based lifestyle, marriage, divorce before 30, depression, anxiety, self-love, God and the universe, affirmations, etc.
Instagram: @xo_xokeesh
www.xoxokeesh.com

---
Transformation of the Day: Keesh lost 65 pounds. Not only did her body change, but her mind and soul changed as well. She flourished by practicing mindfulness and meditation, along with at-home workouts and a plant-based diet. Check out her journey.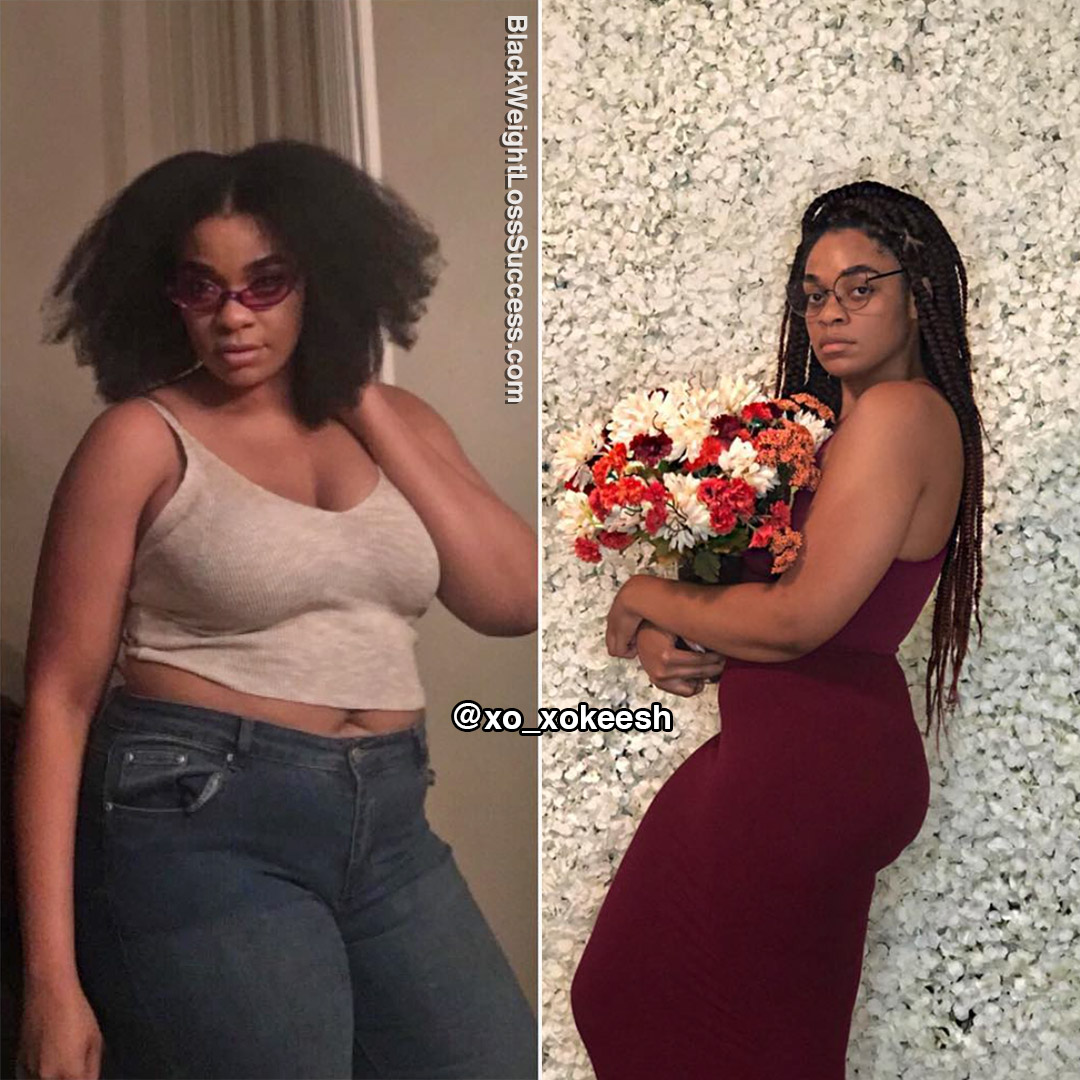 What was your motivation? What inspired you when you wanted to give up?
What initially motivated me was merely losing weight, but as I got further along in my journey, my overall goal shifted. It became more about the health of not only my body but also my mind and soul. I challenged myself to loads of self-love, as well as accountability.
Wanting to "give up" is natural, we are only human. I say acknowledge those moments and release them. Some days you won't feel like working out, or you may eat a little more than usual. Acknowledge that. Allow it and release. Tomorrow is another day.
How did you change your eating habits?
Initially, I shifted to a cleaner diet, which included, chicken, turkey burgers, seafood, veggies, fruit, etc. As I got further into my journey and practiced mindfulness and meditation, I slowly cut out meat. In March 2018, I stopped eating beef. In August 2018, I stopped chicken and turkey. By October 2018, I cut out seafood. Currently, I follow a plant-based diet. I believe that if you want to transition to a plant-based diet, it's best to do it in stages for an easier transition. However, that is what works for me. Never allow anyone to tell you what you NEED to do. Listen to your body; it knows exactly what is needed.
What did your workout routine look like?
I work out about 4-5 times a week on average. Initially, I worked out only in the gym. As I've come to know my body, I do fewer gym workouts and more at-home workouts. I love to jump rope and do HIIT. Figure out what works for you. You can still build lean muscle outside of the gym.
What was your starting weight? What is your current weight?
My starting weight was 260 pounds. Now, I weigh 195 pounds. My height is 5'11″.
When did you start your journey? How long did your transformation take?
I officially started in March 2018, so it's been about 9 months. (No surgery.)
What is the biggest lesson you've learned?
To trust and listen to my body. Learn to cut out outside noise and outside validation, and you'll be just fine, Sis.
What advice do you have for other people who want to lose weight?
Find your "why" and hold yourself accountable. At the end of the day, only you control you. You have to put in a conscious effort each day to progress forward and stay true to your passion and goals. Don't get caught up on others' journeys. God made our bodies unique. Be patient and kind to yourself.
Instagram: @xo_xokeesh
Business IG: @keeshalamode