Transformation of the Day: Kristina lost 26.6 pounds and 2 dress sizes. She was tired of being tired and having low energy. She was also tired of wearing clothes that didn't make her feel confident or stylish. With the help of her nutritionist and her trainer, she learned how to eat and workout in a way that works for her. Check out her story.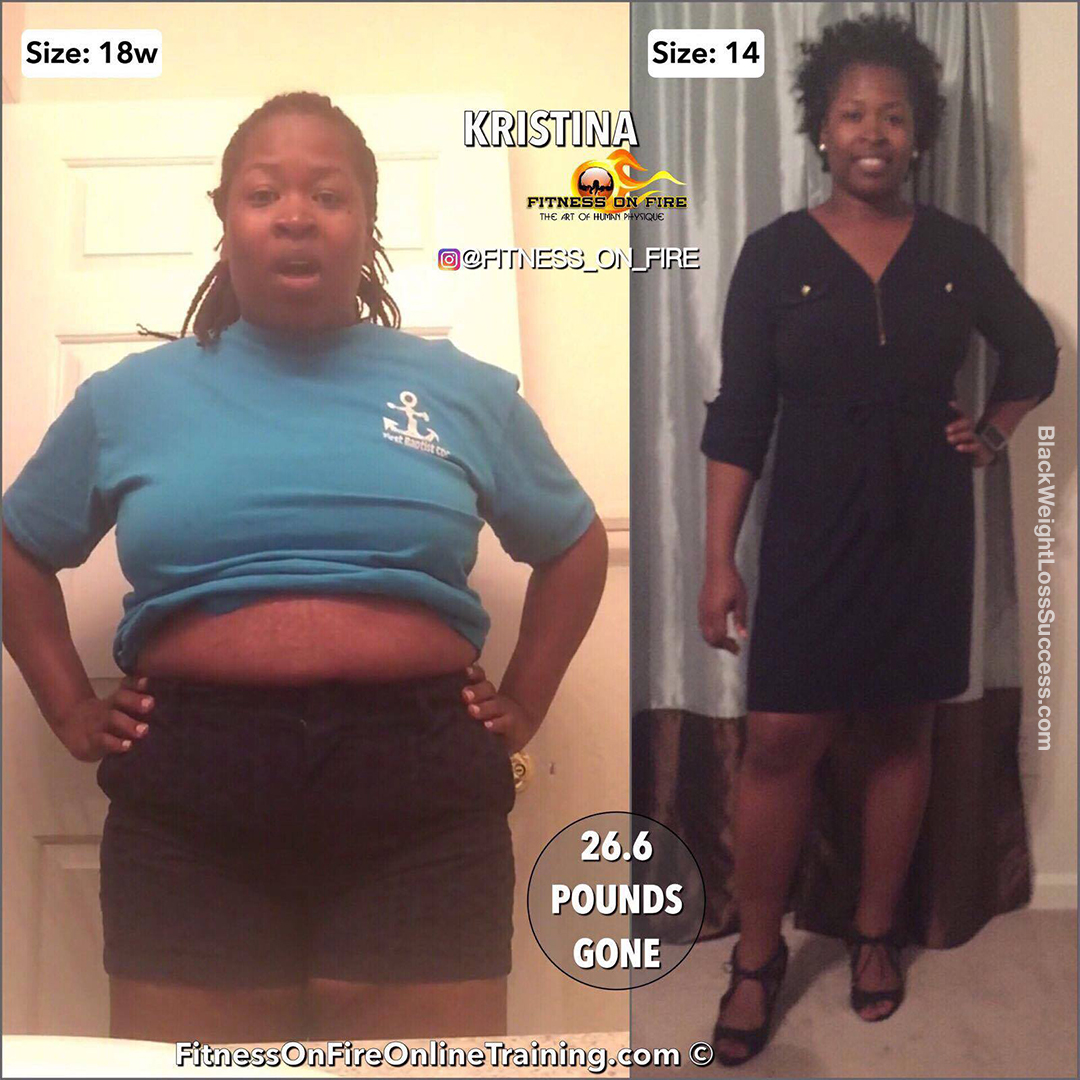 Age: 34
Height: 5'7″
Starting weight: 231.6 pounds
Current weight: 205 pounds
Total weight loss: 26.6 pounds
Starting Dress Size: 18W
Current Dress Size: 14
Representing: South Carolina
What was your motivation?
I was tired of always feeling tired and not having energy. Finding cute clothes came easily. However, once some of the pieces reached a certain size, they took on different looks. Even if the pieces looked nice, I could always see my huge stomach sticking out in everything that I wore. All of the previously mentioned concerns were things that led me to seek change. I wanted to feel confident, not only my clothes but also in my own skin. I realized that I changed my style of dress to include all loose and flowing pieces that hid my body shape. I wanted to be able to put on an outfit and rock it with style, grace and confidence. This motivated me to not only talk about change, but to actually get started with the process in a doable way.
I was inspired to start my journey about two years ago after trying on a dress and realizing that it didn't fit the way I wanted it to. I was going to have to go up another size, and I wasn't about to do that. After starting my journey, I did well for a year, but I fell off due to several life occurrences.
After re-evaluating my goals, I realized that I'd accomplished too much to let it all go to waste, but I needed to find another way to accomplish my goals. This motivated me to restart my journey this past summer (2017). I wanted to learn how to enjoy the foods that I loved, but in a healthier way. I also wanted to become more active, because I was starting to feel much older than I actually am.
How did you change your eating habits?
My eating habits changed with the process. I've gone from eating maybe twice a day to eating six times a day, which has become my norm. Now, I eat three full meals, three snacks, and drink a gallon of water a day (no less than 90 fl oz). I'm still able to enjoy some of my favorite foods, just in a healthier, portion-appropriate way. By adhering to serving sizes, ensuring that my meals are balanced, and eliminating certain things, I was able to develop healthier habits.
Some of the things that I eliminated were sugary items, whites (bread, pasta, potatoes), and high fructose drinks/sodas (especially my favorite… cherry coke). I traded those things in for more water, drinks sweetened with honey/Splenda/ etc., and browns (sweet potatoes/ red skin potatoes/ brown rice/ whole wheat-whole grain pasta and breads). I also exchanged red meat for more poultry, fish, and other seafoods.
What does your workout routine look like?
I started going to the gym 5-6 days a week. For at least 60-75 minutes of resistance training and HIIT, doing the workout regimen designed by my online trainer, King of the Fire. I also did ZumbaStrong classes, which provided high intensity cardio workouts in addition to my workout regimen for the program.
How long did your transformation take?
The present transformation took approximately 3 1/2 months, with over 90 trips to the gym. I first started seeing results after the first week. This motivated me to keep going in pursuit of my first goal (set forth by my online trainer). Although that goal seemed far-fetched, I continued. After obtaining my first goal, I really noticed a change in how my clothes were starting to fit. I also noticed a change in the way that my body was dropping the fat and was beginning to reshape itself. This motivated me to continue working towards the second goal set for me by my trainer of completing 100 trips to the gym, in addition to keeping up with my food requirements.
The Fitness on Fire online training program worked for me because it taught me how to not only develop healthier eating habits, but it allowed me to still cherish my love for eating a variety of different foods. It also worked for me because it allowed me to move more (using the gym of my convenience), which I really wanted to do. I love the fact that, although they are far away from me, Fire and NutritionistGuru are there every step of the way with loads of encouragement!
What advice do you have for others who want to lose weight?
My biggest advice for those who want to lose weight is to simply do it! It is so well-worth the efforts, because of the confidence and sense of accomplishment that you'll gain. Nothing happens overnight, so you'll have to learn to be patient and embrace each step along the process. We're all human, so we will have occasional slip-ups. The ultimate key is to never give up!
Instagram: @KFultonThomas
Disclaimer: Reference or link to any specific product, diet plan, exercise plan or service mentioned in the weight loss stories we share is for the information of our readers, and does not constitute an endorsement or recommendation by Black Women Losing Weight.