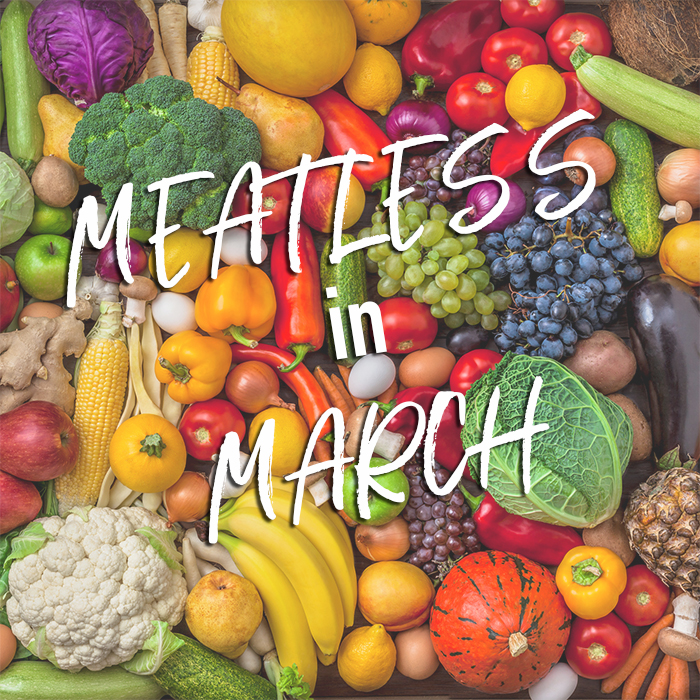 Our focus for March 2018 will be eating more plant-based, whole foods. Lots of fruits, vegetables, nuts, unrefined whole grain foods, seeds, plant-based meat substitutes, etc.
Why? How is this beneficial for weight loss and health?
Plant foods are great for weight loss, especially low calorie, high fiber foods, like greens, beans and celery. These foods are full of fiber, nutrients, anti-oxidants, healthy carbs and more. Fiber rich food can be very filling, thus keeping you satisfied for hours. Fruit can be a great substitue for candy and cookies. On a low carb plan or worried about sugar intake due to blood sugar issues? Focus on low glycemic index fruits and veggies.
Goals for this month's challenge:
1) Go Meatless Every Monday. No fish, chicken, beef, pork, etc. No flesh foods. We also suggest cutting out dairy to get the biggest impact.
2) Tuesday thru Sunday – Eat at least one completely Plant Based, healthy meal each day – Breakfast, Lunch or Dinner.
3) Share photos of your meals and snacks on social media with the challenge hashtag #BWLWMar
Curious about Vegetarianism or Veganism? Go ALL Out and make all of your meals plant-based. Give it a try for one week or four. The choice is up to you.
Resources and Recipes: We will post resources and recipes here on our blog and on our social media channels all month to help you stay on track. Scroll down for a collection of great resources to get your started.
---
Want to join us? Are you in? Leave us a comment below and let us know. 

The fun starts on Monday, March 5th!



"I'm going Meatless in March with @blackweightloss!
#BWLWMar #plantbased
Click to Tweet
---
Note: If you have any food allergies, digestion issues related to produce or medical issues* that don't allow you to eat in this way, this isn't the challenge for you. For example: If you are on medication that limits your intake of vegetables due to vitamin K or have a digestive disorder, this may not be the challnege for you. If you are a diabetic or have blood pressure issues, discuss the pros and cons of a plant-based diet with your doctor or a nutritionist before trying this challenge. (Medicial Disclaimer Below)
Create wholesome, healthy plant based meals. Ultimately, just how meatless you decide to go is up to you and your needs. Here are some suggestions:
All fruits. These can be fresh, frozen, dried, juiced or canned.
All vegetables and leafy greens. These can be fresh, frozen, dried, juiced or canned.
All whole grains – Examples: whole wheat (unbleached), brown rice, quinoa, oats, oatmeal, whole grain cereal, barley, grits, whole wheat pasta, whole wheat tortillas, rice cakes and popcorn. (Avoid white, refined flour if you can)
All nuts and seeds – Examples: walnuts, peanuts, almonds, soynuts, pecans, pinenuts, pumpkin seeds, etc.
All legumes. That means BEANS of all kinds.
Quality vegetable oils, like olive, avocado, coconut oil, grapeseed and sesame.
Beverages: spring water, distilled water, brewed tea, freshly made juice and smoothies that you make yourself, etc.  However, you should focus on increasing your water intake if you haven't been drinking enough. Give your body a rest from the dye, additives, added sugars and chemicals in many drinks.
Other plant-based foods/condiments: meat substitutes (like seitan), tofu, nut "milks", tahini, natural/plant-based sweeteners (in moderation), seitan, vinegar, seasonings, salt, herbs and spices.
Foods to avoid or cut back on: Fried foods, food smothered with butter, fast food, high sodium foods, meat (of course), artificial sweeteners, alcohol and processed/refined sugar. Stay away from Vegetarian and Vegan junk food as much as you can. i.e. If you have a vegan cookie, it's still a cookie.
---
We are also hosting a DietBet this month – $35 Bet – The fun starts on March 10th.
Our DietBet particpants have lost 26,977 pounds and split $143,140 worth of bets.  Lose %4 of your weight and split the pot… like an office weight loss pool. Get the full details today!
---
Resources
There are tons of plant food focused recipe sites online and recipe books to choose from.
Meal Plans to help you get started:
Recipes and Articles
Books*
Join our Email List

*Medical Disclaimer: If there is any reason why you should not change your diet and how you normally eat due to an ailment, pregnancy, blood sugar issues, chronic illness, allergies or other medical issue, Do Not participate in this challenge. If you have trouble digesting raw or cooked fruits and veggies, this is not the challenge for you. When in doubt, speak with your doctor before joining any weight loss challenge or before starting ANY eating plan/diet.
*This post includes Amazon affiliate links. We may receive compensation if you make a purchase. It's just one of the ways we keep the lights on. 🙂