Shanice wrote in to share with us how weight training has changed her body. This busy student knows that you have to work for the body you want and that the numbers on the scale don't always reflect all of your progress. Check out her story.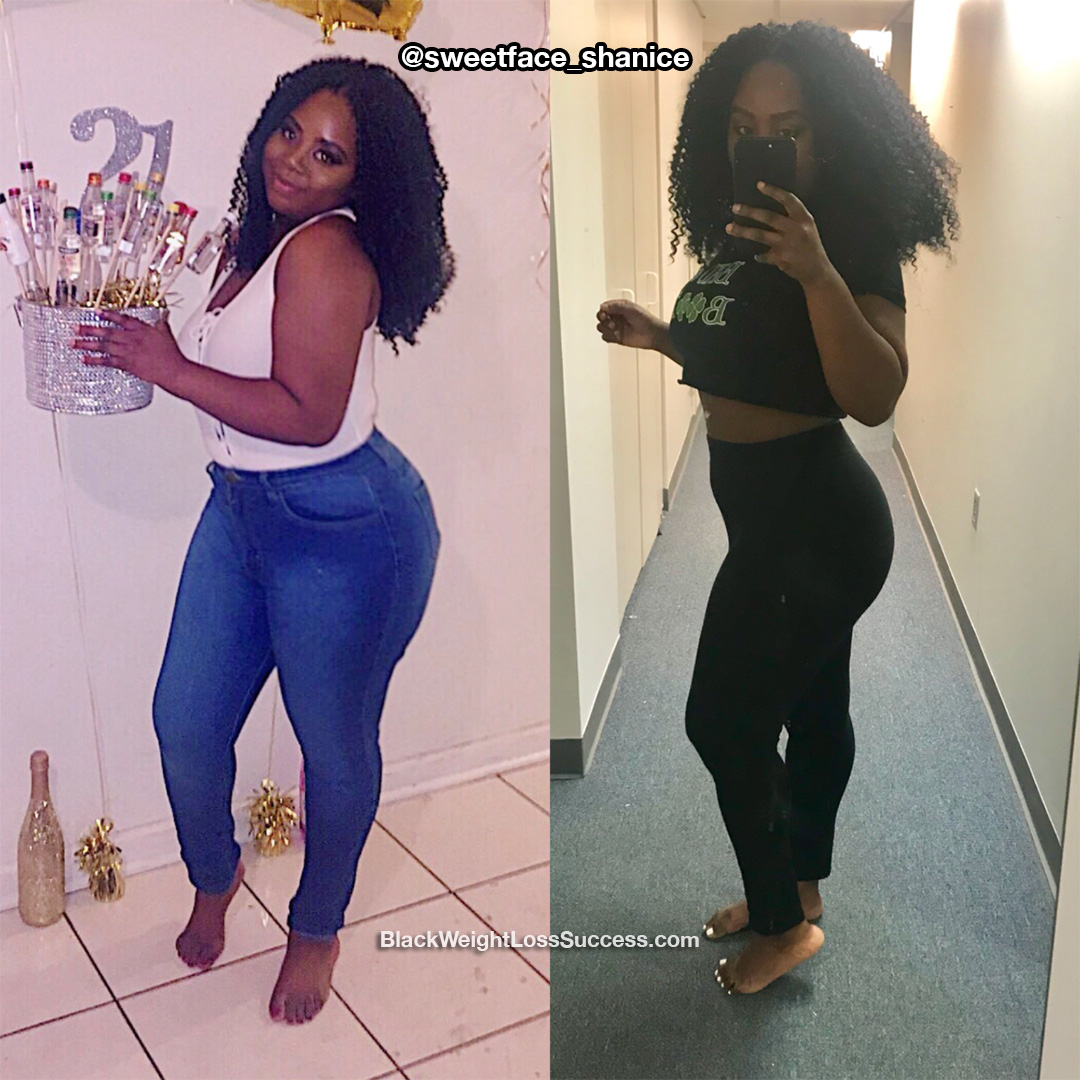 Left: Jan 12th, 2017 – 21st birthday
Right: Mar 17th, 2018 – After demolishing bottomless mimosas
Believe it or not, this is only a 6 pound difference. My starting weight was 166 pounds and my current weight is 160 pounds. I didn't lose a lot of weight, but my physique changed significantly due to lifting weights. I am 5'1″ and although I don't look 160 lbs (that's what everyone says) that is my weight and I honestly think it's due to muscle.
I know that you genuinely have to work for the body you want. Once you start lifting, you'll get addicted. Right now, alcohol is my biggest issue because I go to a huge party school and drinking is so normalized. I still have a really long way to go but I'm pretty proud of myself right now.
Here are some answers to common questions I get asked:
I do not drink juice or soda. I literally walk around campus with a huge purple water bottle (32 oz) and I refill it about 5 times a day. I drink about 160 oz of water everyday.
I started out doing 30 mins of cardio then 20 minutes lifting. Later, I began teaching myself and bookmarking workouts on IG.
I work out for 1.5 to 2 hours, 6 times a week. (20 minutes cardio and 1 hour+ of  lifting) Because I'm in cutting phase, I'm doing a bit more cardio (jump rope, stairmaster, bike, or elliptical), but I still lift for about an hour and challenge myself daily. 3 weeks ago. I was curling with 20 lbs weights, now I'm curling with 40 lbs weights. This may seem small, but I'm happy about it.I'm a full time student so I've ingrained exercise into my schedule
My diet is ok. I'm definitely researching and trying to figure more things out. I have 2 cups of broccoli with every meal since it's my favorite veggie. (Advice: Find that one veggie you like with the best
seasoning and incorporate it in every meal.) I bought smaller plates for smaller portions and a food scale (currently counting my macros). Saturdays are usually my cheat days, but instead of having an entire cheat day I have a cheat meal.
My advice: You have to work for the body you want. Waist trainers, detox teas and fad diets are just marketing tools to strip away your money. After the first week of consistent workouts, your body will get addicted and you'll fall in love. It takes time, peseverance, and dedication.
Instagram: @sweetface_shanice