Transformation of the Day: Shariah lost 69 pounds by eating clean, cutting out junk food, and working out 4-5 days a week. Her biggest takeaway has been that consistency is the key to getting results. She also learned the 80/20 rule as it relates to nutrition and fitness. Check out her story.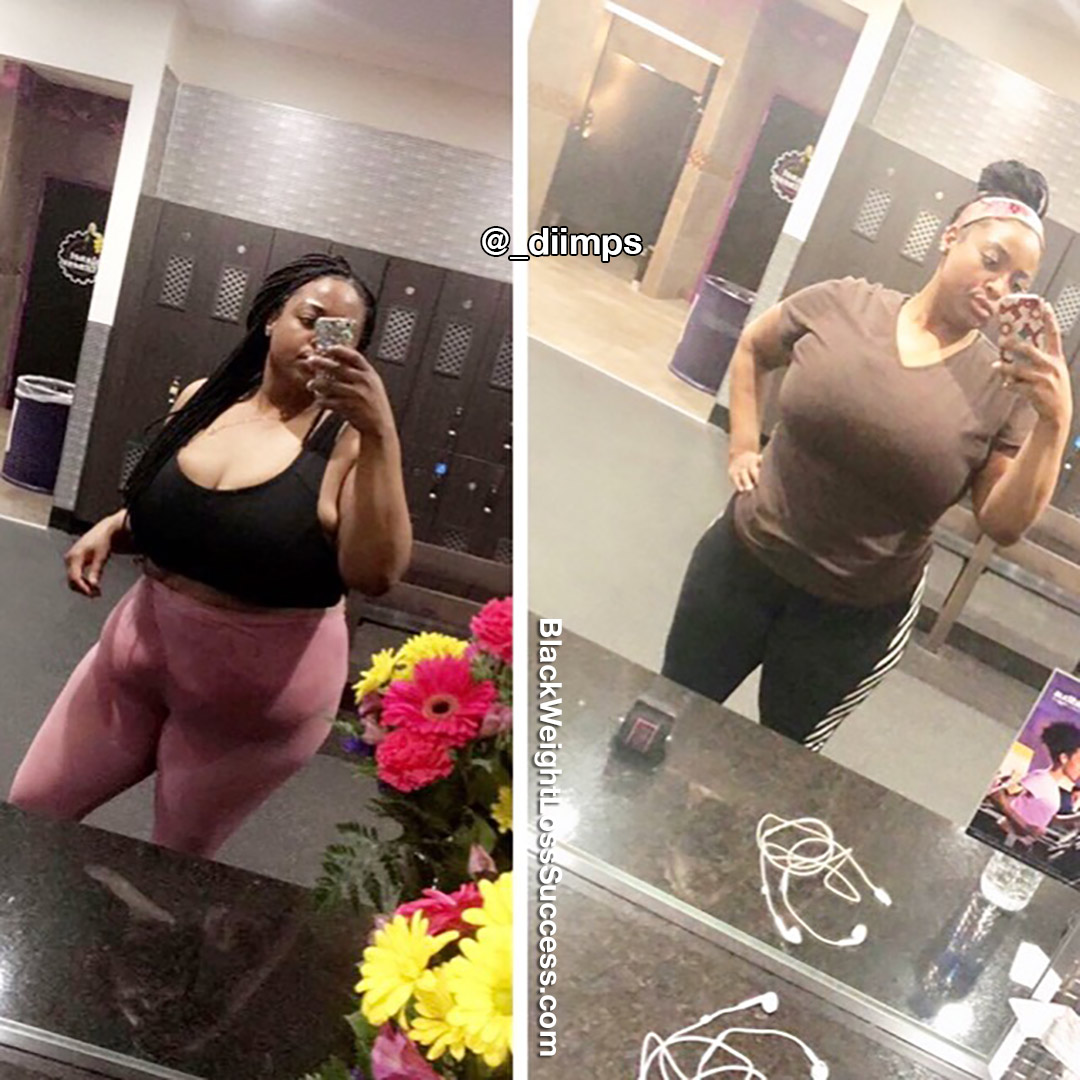 My parents always kept my brothers and me in sports, so I have always been an active person. I just could not let go of sweets. I would go back and forth with losing weight and gaining it all right back. That was the cycle for years now.
Last year, I told myself for my birthday (Oct 6) I wanted to be down to a certain weight. With clean eating and eliminating fried foods and junk food from my diet, I lost more than 60lbs. I almost made it to my goal, but I was off by 9lbs! Coming down from 298 pounds, I am definitely proud of myself. My current weight is 229 pounds at 5'5″. Once I reach 220 pounds, I will choose a new goal weight and continue from there.
This, by far, is still the best bday gift I've given to myself. I've' gained so much, both spiritually and physically. I believed I could, and I did! Now, I'll' never stop because I know what it takes to get what I want in life. This lifestyle will be a forever thing for me because I have a plan that is much greater than this!
What was your motivation? What inspired you to keep going?
I had to motivate myself. I had to finally start doing it for ME and not for the satisfaction of others. Being happy with myself was my motivation. Wanting a better/healthier lifestyle is what inspired me to keep going! Not only that, but I often hear from people who tell me that I motivate them. It feels unreal that I can be a motivation for someone else when I'm' still not at my goal mark, but I had to realize that I've' actually come very far.
How did you change your eating habits?
I started meal prepping and using portion control. Fish, chicken, and shrimp were a regular part of my diet. I'm' a big poultry fan! I also ate brown rice, a lot of green vegetables and fruit as well.
Tell us about your workout routine.
I mainly do weight lifting coupled with about 15-25 mins of cardio. I work out about 4-5 days a week.
What is the biggest lesson you've learned?
My biggest lesson I have learned on this journey is that CONSISTENCY IS KEY! I can't' stress it enough. Also, I learned that the 80/20 rule is legit! – 80% of what we intake in terms of nutrition and 20% workout.
What advice would you like to share?
The main advice I can give a person who's going through a weight loss journey is to never give up! All the painful days you are experiencing will pay off. All the days you feel too tired to lift weights, still do some cardio. Consistency is literally the key. When you are consistent in always giving up, you'll' be nothing but a quitter. However, someone who is continuously bettering themselves will always come out on top!
Instagram @_diimps