Transformation of the Day: Symone lost 30 pounds and several dress sizes. For four months, she worked with a personal trainer and a nutritionist to transform her eating habits and push herself in the gym. Check out her journey.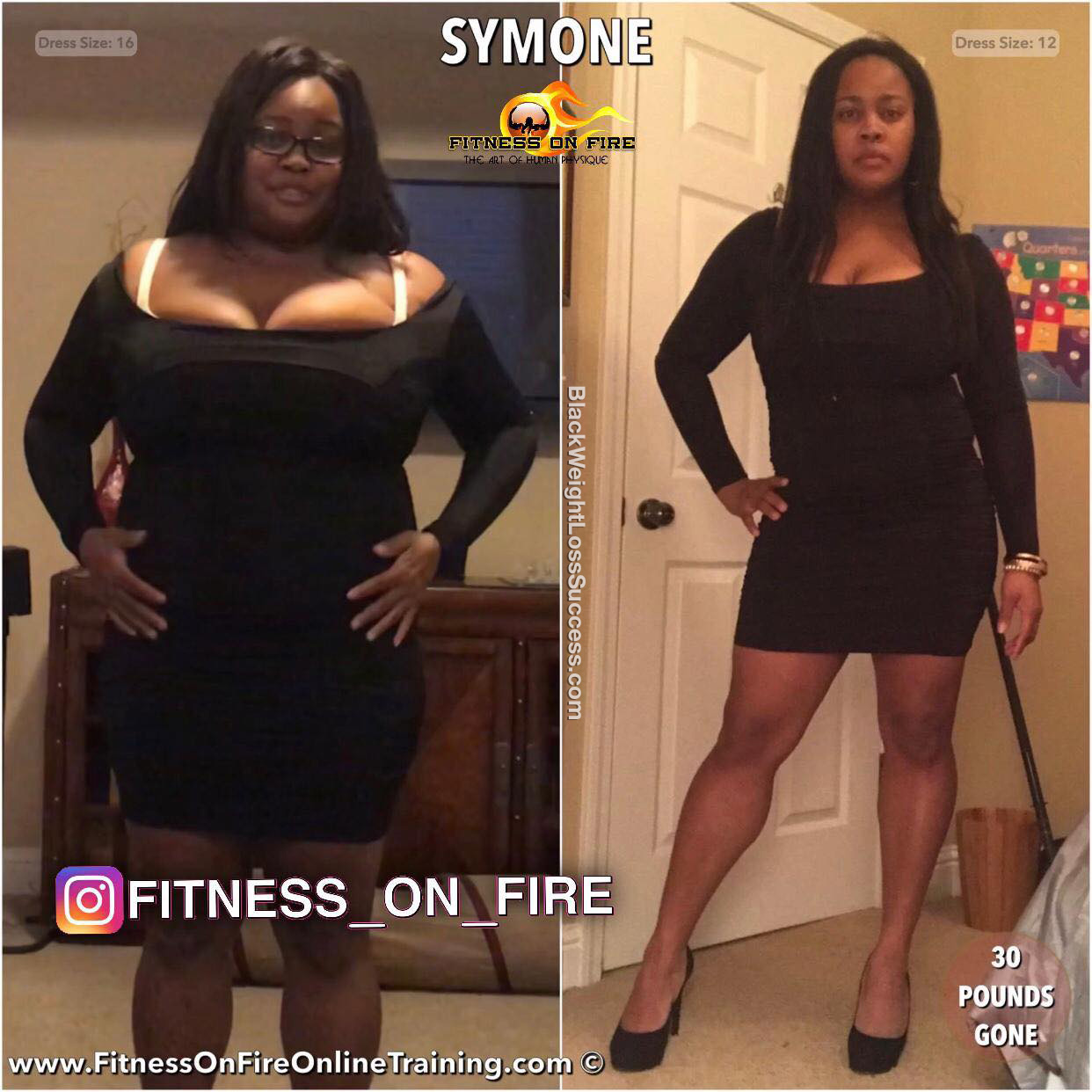 Age: 28
Height: 5'4″
Starting weight: 230lbs
Current weight: 200lbs
Total weight loss: 30lbs
Starting Dress Size: 16
Current Dress Size: 10
Big Why: What was your motivation?
I usually find my motivation from within. However, it wasn't until I saw a picture of myself from July 2018 that I decided to get in shape. When I look back at that picture, I look so uncomfortable, and I know that I felt uncomfortable too. I knew that I had to do something, and that was the catalyst for me.
What inspired you to start your weight loss journey?
I've always admired other people's transformations, and wondered, "When is mine going to happen?" What inspired me was that I didn't want to go into my thirties being overweight. I've heard that your metabolism dramatically changes once you turn thirty, and I didn't want weight loss being harder than what it should be when I reached that age.
How did you change your eating habits?
Being on the Fitness on Fire Online Training Program, I had to learn what to eat and how often to eat. I used to eat whenever I got hungry. I could eat and then not eat for 4-5 hours. Sometimes, I wouldn't eat dinner because I was told I shouldn't eat if I wasn't hungry. I would miss meals at dinnertime, not knowing how important it was. It's important to keep eating throughout the day.
I had to stop eating fast food, fried foods, red meat, and processed foods, as well as foods that are high in fat or sugar. Eliminating sugar was hard for me because I would drink cranberry and orange juice all the time! Once I cut that out of my diet, I started eating more vegetable, fruit, protein, healthy snacks, and 3 liters of water a day.
What did your workout consist of?
I go to the gym six days a week doing resistance training as instructed by my online trainer, King of the Fire of Fitness on Fire. I workout for 90-100 minutes. I really do push myself because I want to see the results that I want.
How long did your transformation take?
I've lost 30 pounds in four months. It wasn't until mid-October that I saw my results. That's when the compliments started to come in. I work at a pharmacy, and my pants are a size XL, and my shirt is a 2XL. I probably wear a medium now, but I haven't bought new scrubs yet! I like how baggy they feel because it lets me know that I'm losing body fat and weight.
Why did the Fitness on Fire Online Training Program work for me vs. other programs I've tried in the past? Number one, it was cost-effective. I was about to spend $160 a month for one training session each week and then spend two days working out on my own. That didn't even come with a meal plan detailing what I needed to be eating and what to cut back on.
The second thing is the accountability that I get from my personal trainer and nutritionist. They are always in my corner when it comes to what I need and staying consistent with working out. They make sure I'm eating what I'm supposed to, and they're there for you when you have questions about food and certain machines when going through the program.
Third, what program do you know that can give you a nutritionist and a personal trainer for $1 a day?? I'll wait lol.
What advice do you have for others who want to lose weight?
My advice would be to stay consistent. The more you are consistent, the more progress you will see in the long run. It's going to be hard at first, and you're going to feel like you want to give up because the weight is not coming off as fast as you want it to. Drink lots of water, eat the right foods, and stay consistent with working out. Your results are outside of your comfort zone!
Instagram: @symoneredmond