Transformation of the Day: Tashena lost 62 pounds. This young lady realized that she was in control and began taking steps to improve her health. This journey hasn't just been about weight for her. It's been about being able to do things that she never thought she would achieve. Check out how she took action thru exercise and meal prepping.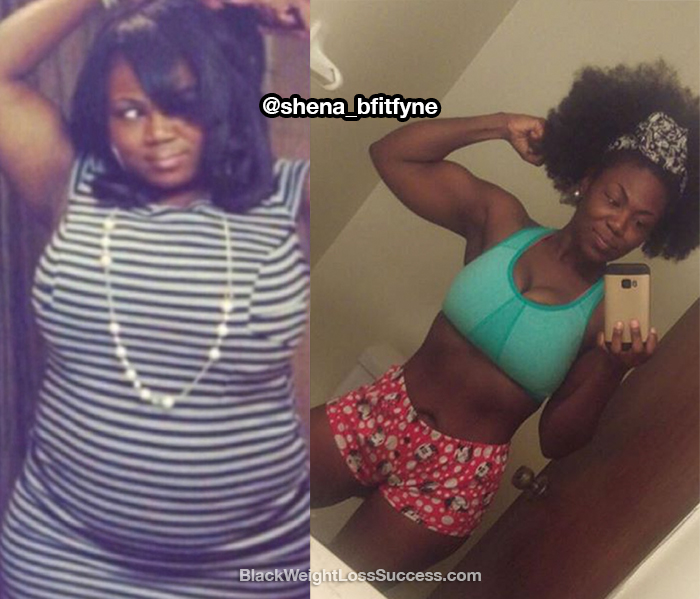 My name is Tashena and I'm currently 29 years old. I began my fitness journey at the age of 27, in late Oct 2014, I realized that I was in control of my health and I was failing myself.
In the beginning, I was only doing cardio (which was walking until I was able to jog) 6 days a week. I also stopped eating fast food and began meal prepping my breakfast, lunch, dinner, and snacks. After I lost the weight, I started with light weight lifting until I was able to add more and figure out the body frame that would make me happy.
For me, there never came a time when I wanted to stop my journey just because it became apart of my lifestyle. This journey is beyond losing weight for me. It's about watching my body do incredible things that I never imagined it could do and knowing where I am now is only the beginning.
At 5'2″ tall, my starting weight was 217 pounds and I currently weigh 155 pounds. However, I rarely weigh myself now. I've found that the scale has a way of controlling your journey and making it less enjoyable. When I was weighing myself at the start of my journey, I had gotten down to 130 pounds because I let the scale control me. I wasn't happy there, so I began to lift weights and did very little cardio so that I could gain lean weight properly.
Today, I still workout 5 times a week and I still meal prep. I meal prep every Sunday and keep it simple.
Lean meat – boneless skinless chicken, swai, cod, steak, and every now and then seafood.
Veggies – baked sweet potatoes, cucumbers, squash asparagus, spinach, kale, arugula, broccoli, and carrots
2 servings of fruit a day – pineapples, mangos, bananas, watermelon, apples
…and a gallon of water a day. I eat 6-7 times a day and I never skip breakfast.
Advice: If you can't find a routine that works for you, create your own. Take control of your health. I promise, you ARE worth it! I have never used any weight loss products or surgeries but I certainly don't discourage the PROPER use of them.
My Instagram is @shena_bfitfyne. If there is anything else you'd like to know feel free to ask, if I can help I most certainly will.