Transformation of the Day: Teesia lost 77 pounds by working out at home and adopting healthy eating habits. This mom wanted to be the best version of herself and improve her health overall. Reading the stories we post, watching transformation-focused TV shows and seeing the progress of friends and family motivated her on this journey.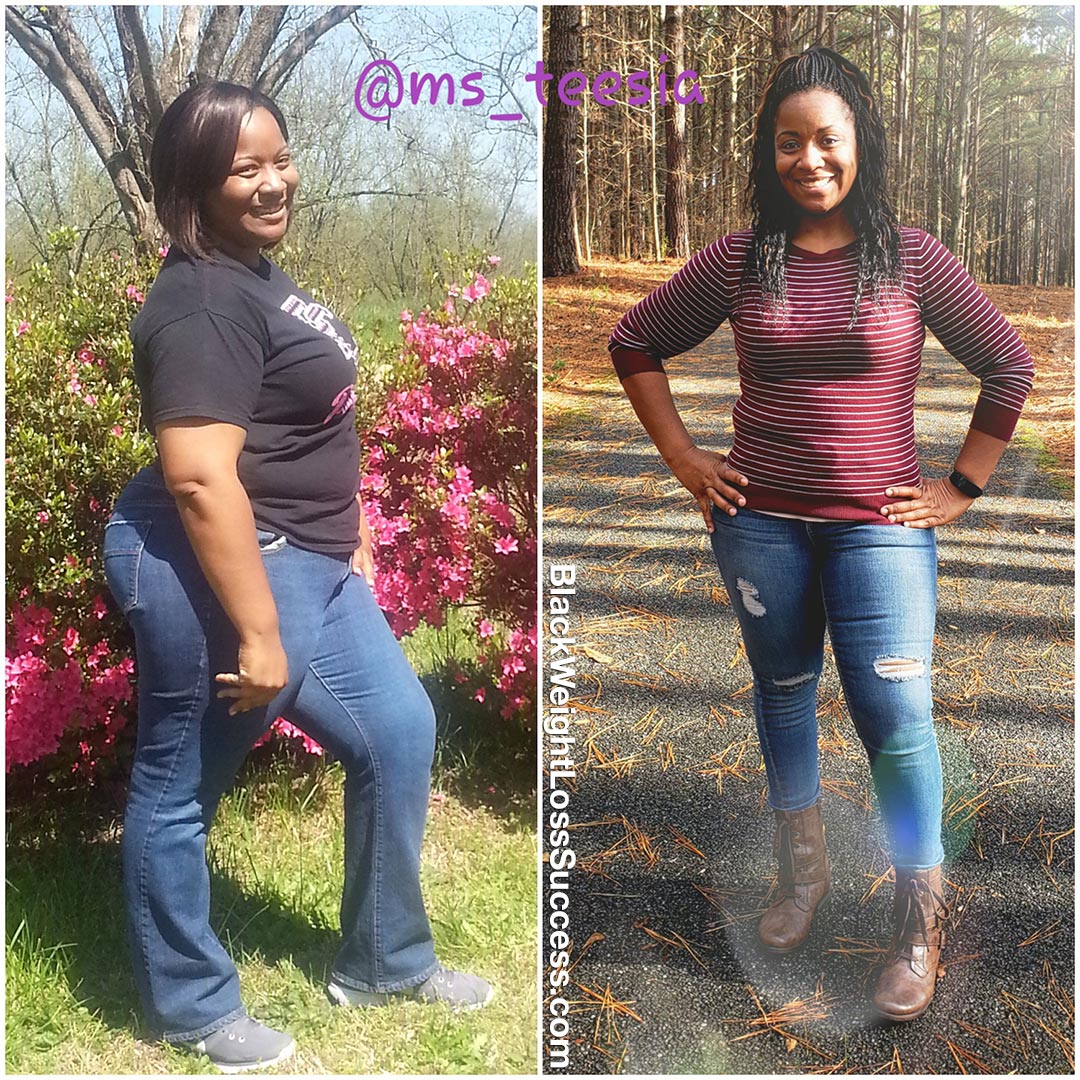 I am a 37 year old mother of a teenage son, and I've been overweight for 16 years. I finally reached a point where I was tired, and I was ready to do something about it. Initially, I didn't tell anyone about my weight loss journey it just in case I quit or failed, as I had done so many times in the past. I found motivation on your website, reading stories of women who were around my size and who went through the same struggles. I also watched weight loss shows.
I felt like I had put everyone else first for all of these years and now it was time to put myself first. It was time to take a chance on me. Making this change was the best decision that I've made in a long time.
What was your motivation? What inspired you to keep going when you wanted to give up?
My motivation was a desire to be healthy. I had back problems for years and had been recently placed on blood pressure medication to help with the fluid on my legs/ankles. When I wanted to give up, I would remember why I started; I just wanted to be the best version of myself. I would get on this site daily to read the stories of other women on this journey. I also watched My 600-Pound Life and Extreme Weight Loss faithfully for inspiration. Seeing the progress of one of my co-workers and a couple of my FB friends inspired me as well.
How did you change your eating habits?
I cut out soft drinks while on a Church fast and never started drinking them again. Once I became serious about my journey, I cut out junk food, followed by fried foods, and then bread. I begin to eat more salads, baked/grilled foods, and fruit. I also made sure to eat breakfast every morning. I didn't follow a specific plan, but I did use the MyFitnessPal app to record meals and track calories.
What did your workout routine consist of?
I would work out 5 days per week for at least 30 minutes per day. I worked out in the comforts of my home by doing the Shaun T Hip Hop Abs video several days per week and using free weights. I would also go to a local park and walk/jog around the track. During this journey, I climbed Stone Mountain with my best friend, participated in a 30-day fitness boot camp, and participated in six 5k's. All of this was a significant accomplishment for me because I was not a physically active person at all.
What was your starting weight? What is your current weight?
My starting weight was 276 pounds. I got down to 192, but the number on the scale is bouncing back and forth from 199-202. I went from a 22/20 jean size to a size 13/14. On a good day, I can fit into a size 12 pair of jeans. I went from a 2X top to a medium top. I would like to get down to 185-190 pounds.
What is your height?
5'7 1/2″
When did you start your journey? How long did your transformation take?
I started my journey at the end of July 2017, and it took me one year and two months to drop the weight. I slacked off for a few months, but now I am back on my journey.
Is weight loss surgery part of your journey?
No, it was not. I did it the old fashion way but had this method not worked weight loss surgery would've been my next step.
What is the biggest lesson you've learned?
I've learned several lessons:
I can't compare myself to others who are on this journey because what works for them may not work for me.
Instead of taking it one day at a time I've learned to take it one meal at a time.
It's ok to start over as long as I just don't give up and quit altogether.
This process is more mental than anything.
I've learned to not be so hard on myself. It takes a lot of prayer, discipline, and self-motivation to make it through.
Sometimes you just have to go at it alone and be your own darn cheerleader.
Oh and not everyone is not going to be happy for you, but that's ok.
What advice do you have for others who want to lose weight?
Just start! Don't wait for Monday, don't wait for your birthday, and don't wait for the New Year to get here. JUST START. This journey is not easy, but it will be worth it. It's one of the best things that you can do for yourself.
Find what works for you. Some of the information on weight loss can be very overwhelming. If all else fails, go back to the basics of watching what you eat and exercising. In the past, I've tried everything from weight loss pills to paying to go to a weight loss doctor. While I was successful with both of them, after I quit going to the weight loss doctor I gained back the weight that I lost plus a whole lot more. I did a whole lot of emotional eating over the years but got to a point to where I was just tired. I was tired of being unhealthy, tired of not being able to play outside with my son for long periods of time, and just tired of the skin that I was in. It was at that point I knew it was time to do something about it.
You won't see any instant results but keep going because in a few months everyone will notice. Make sure you are doing it for the right reasons. You've got this! Stop making excuses and take a chance on yourself. If I can do it anyone can!
Instagram: @ms_teesia