Transformation of the Day: Tiana lost 50 pounds. Growing up, she was always the bigger girl in the group, and she shied away from going out. Her motivation was a desire to feel good, look good, and become a healthier person. Check out how she took action.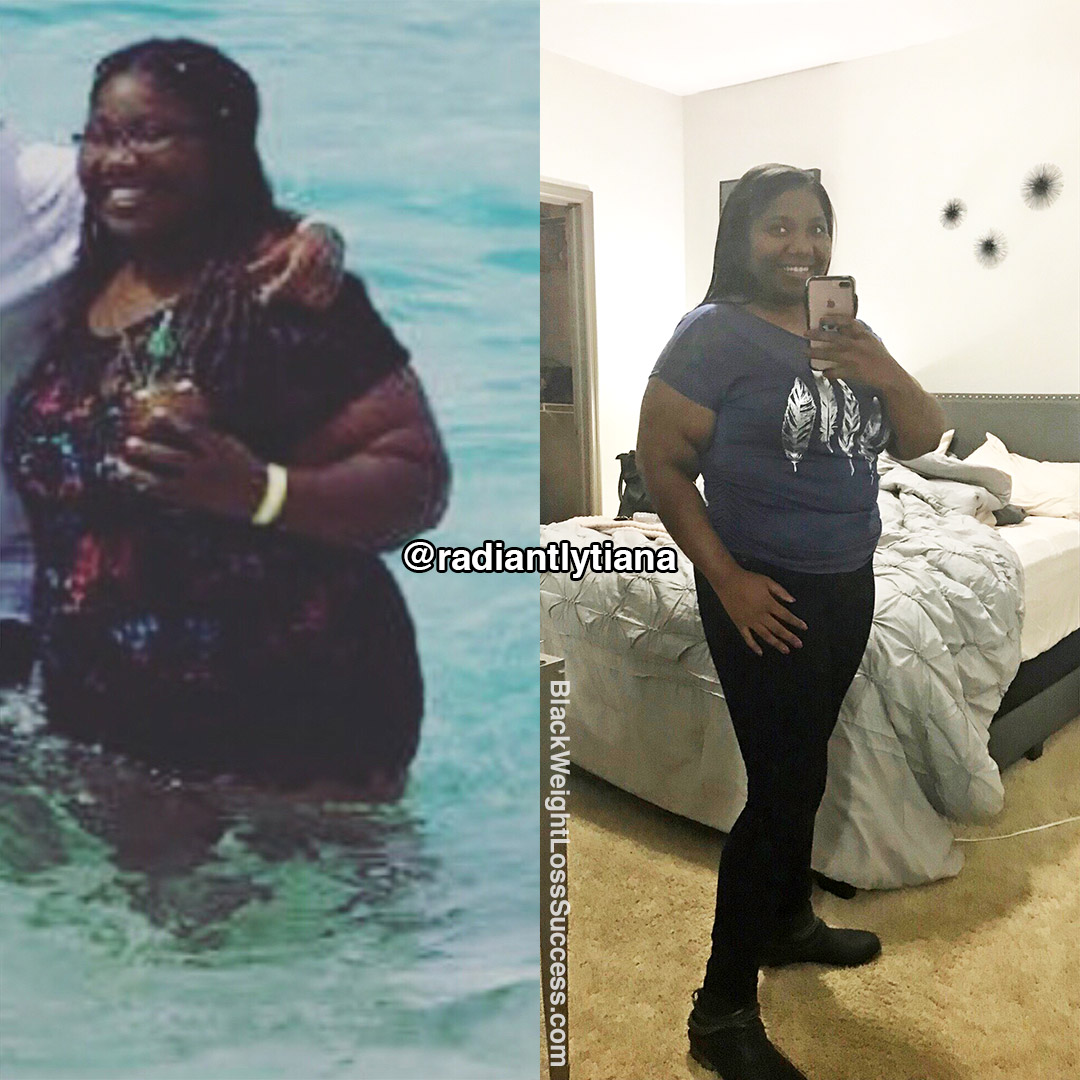 What was your motivation? What inspired you to keep going when you wanted to give up?
My motivation was a desire to be more healthy. I also wanted to look and feel good in my skin. Growing up, I was always the bigger girl in the group. I would shy away from parties and going out. Last October, I hit my all-time highest weight of 250 pounds, and I was pushing close to a size 18 in pants. I had never gotten clothing that big before in my life. I knew I had to change.
When did you start your journey?
October 2017
How long did your transformation take?
A full year.
How did you change your eating habits?
I lost the first 30 pounds by intermittent fasting and eating 2 big meals a day. The last 20 pounds are a result of low carb cycling. Now I've realized that my body quickly gets used to doing the same thing, so I switch up my eating routine often to shock my body.
Before my weight loss journey, I would eat any and all fast food, now I meal prep. My meals are high protein with low to moderate carbs. My breakfast usually consists of eggs and bacon. I have a piece of fruit for my morning snack. For lunch, I eat either chicken or ground beef with a green vegetable paired with either rice or sweet potato. Dinner is always grilled chicken with some greens.
What is your workout routine?
I work out 3 times a week at a CrossFit style boot camp. I also do pilates once a week to help strengthen my core. It helps with my anxiety since it focuses on slow breathing.
What was your starting weight? What is your current weight?
My starting weight was 250 pounds. My current weight is 200 pounds, and my goal weight is 150 pounds. I'm halfway there. I'm 25 years old, and my height is 5'4″.
Was weight loss surgery part of your journey?
I did not have weight loss surgery and did not think about having any. I wanted to do it naturally.
What is the biggest lesson you've learned?
Never give up. No matter how much you plateau or how good the food looks, always reach higher. Also, be consistent with everything. I used to have a really slow and sluggish metabolism. Now, after a year, it has finally become faster.
What advice do you have for other people who want to lose weight?
Love yourself now and love the journey. Oftentimes in life, we want to skip the journey and go straight to the destination. If we did that, how would we learn all the valuable lessons?
Instagram: @radiantlytiana