Transformation of the Day: Ashley lost 33 pounds. This mom of five experienced significant weight gain during her last pregnancy. She got tired of the people commenting on how much weight she gained. She found a weight loss program that worked for her and made exercise part of her daily routine.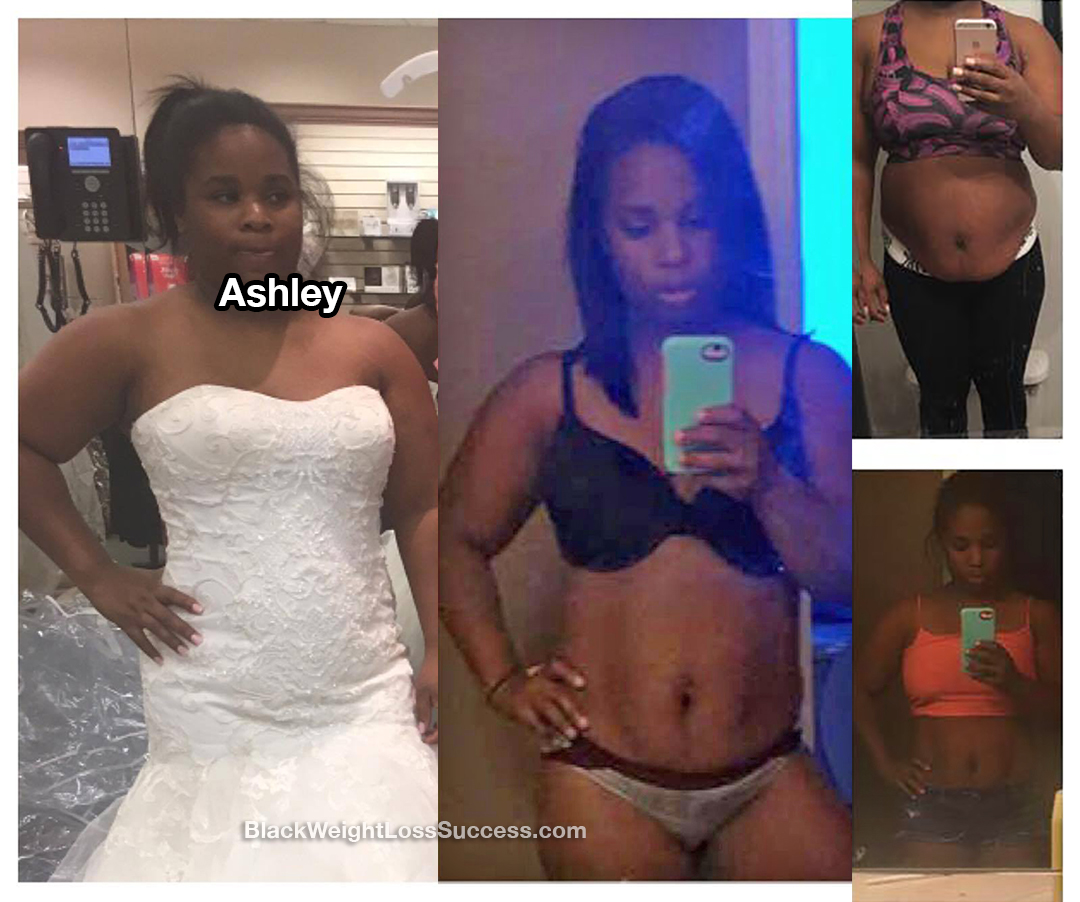 Starting weight: 172 pounds
Current weight: 139 pounds
Height: 4'11"
I started my journey in Feb 2017 and I still have about 15-20 lbs to lose.
What was your motivation?
I'm a mother of five. Before I got pregnant with my last baby, I got down to about 125-130 pounds. He was born in July 2014 and weighed 10 pounds. I weighed 172 pounds after that pregnancy and just got tired of people letting me know how fat I'd become everytime they saw me. Seriously, that would be the first thing out of their mouths when they saw me.
What inspired you to keep going when you wanted to give up?
The fact that my 10 year wedding anniversary was coming up in June 2017. I wanted to look better for myself and for my husband.
How did you change your eating habits?
I started off slowly. I began drinking nothing but water with my meals and limited my sugar intake, but wasn't seeing the progress I wanted. One day, I saw a photo of a woman I worked with in the past who was overweight. She was going to a local clinic and had started losing a lot of weight. I'm usually skeptical, but since I actually knew her I knew it was true.
So, I finally went to the weight loss clinic and they taught me an eating program. I would eat 6 servings of carbs a day and only 15 grams of sugar per day. The program didn't limit me from eating my favorite foods. For example, an 8 count nugget from Chick-fil-A was 1 carb serving/1 sugar serving and small fry was 2 carbs/0 sugars. I also got the b12 shots that they offered at the clinic once a week which helped with energy.
I love alcoholic drinks, so I asked whether I needed to give those up. I was told no, but the darker the alcohol the better. However, those sugary, mixed beverages were a no no. They also told me to mix my liquor with diet soda. That's what I have done and I've continued to lose weight.
What was your workout routine?
I started off slow when it came to my workout routine as well. I used my 21 Day Fix DVDs. Then, I joined a gym in Feb 2017. I worked out almost everyday for 3-4 months. I would workout on the elliptical, stairmaster, treadmill and bike for at least 20-30 minutes at a steady pace. The pounds just started coming off. In May 2017, I added on a diet pill from the clinic because I needed more energy. Eventually, I decided to work on my eating habits so that once I stopped taking the diet pill I wouldn't just gain all of the weight back.
What's the biggest lesson you've learned?
The biggest lesson I learned is that you have to be happy with yourself, regardless of what a scale says or what you see in a mirror. People are going to talk whether you are fat, skinny or whatever.
What advice do you have for women who want to lose weight?
My advice: Find out what works for you. I tried EVERYTHING and the only time I saw the scale go down was when I started going to the clinic and following the eating plan they gave me. Understand that what works for one person may not work for someone else. If you need to get surgery for a jumpstart, do that. If you need diet pills, go for it. If you can just eat right and work out, do that. Don't let anyone put you down for figuring out what works for you!
Instagram: @urobsessionxoxo_26
Snapchat: ashjones08