Update: Tracie has brought her weight loss total to 108 pounds. Check out how she has continued to make progress.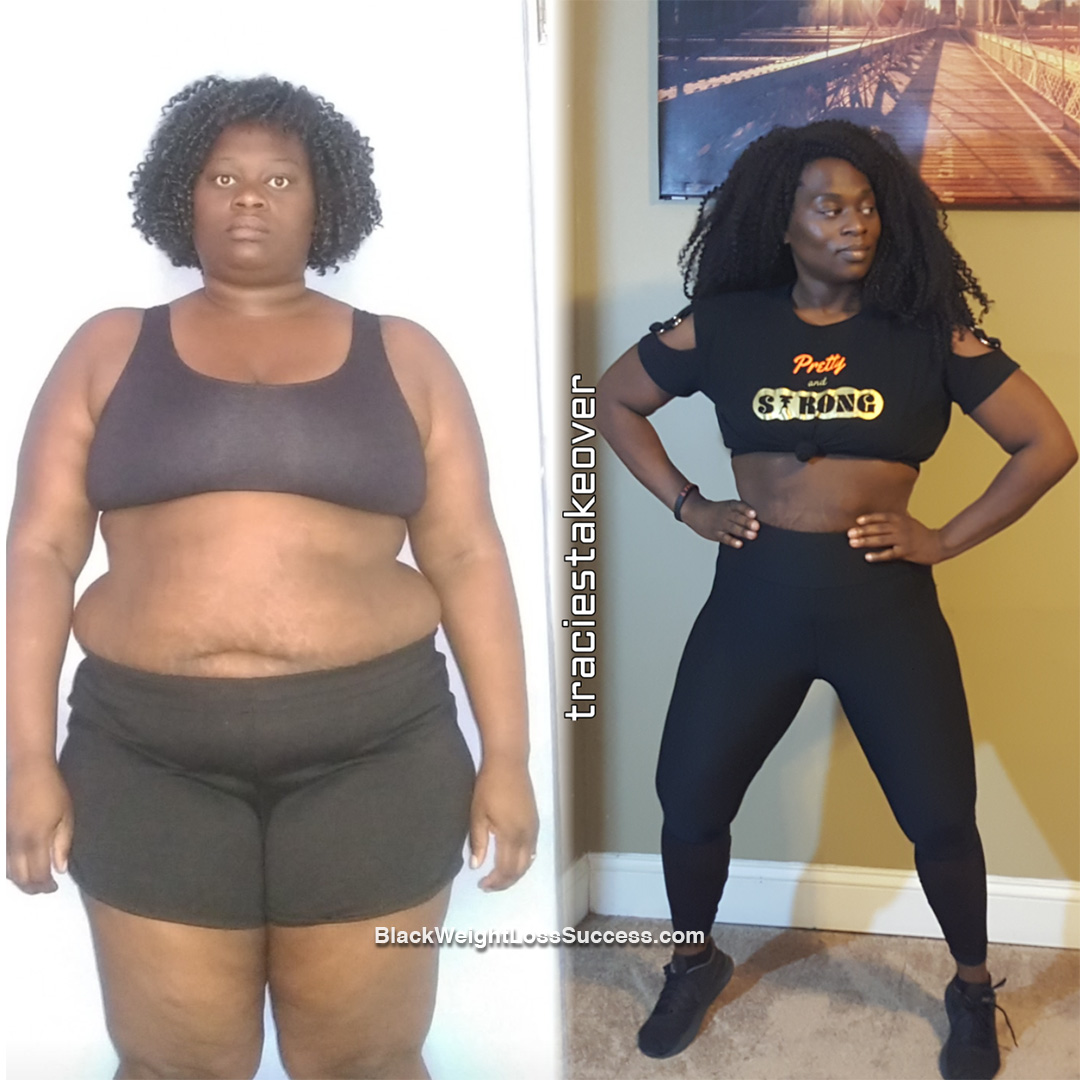 How have you continued to get results?
I maintained a weight loss of about 90lbs for a year by staying active. I am now down 108 pounds. I didn't eat a strict diet, but I maintained my new eating habits and had treats from time to time. After a year, I wanted to continue to change my body so I pushed myself more in the gym. I also shortened my intermittent fasting window to about 6 hours, 5 days a week, which works for me. I eat 80/20, with 80% being clean eating. As far as exercise goes, I am still doing burpees, but I focus on strength training and only do strict cardio about 3 days per week.
What's the biggest lesson you've learned?
The most important lesson I've learned during this process is to love and accept me, as I am first. By doing this, I have been able to enjoy each stage of my journey rather than just waiting until I meet my goal.
What advice would you like to share at this point in your journey?
My advice for others has not changed much. I always want to encourage women to have a healthy, happy mind and spirit, then develop the body to match. This is your journey for YOU!
---
Transformation of the Day: Tracie lost 91 pounds. A few years ago, she lost 100 pounds but bipolar depression and it's devastating impact contributed to her gaining the pounds back and more. She decided that she needed to live for her family and for herself, so she recommitted to her transformation. Check out what she shared with us about how she is getting results.
My name is Tracie and I've lost almost 200 pounds in the past 5 years. In 2011, I lost 100 pounds and documented it on Youtube. I went from 268 pounds down to 168 pounds. Due to the severe ups and downs of having bipolar depression, I gained all the weight back and then some.
I was hospitalized in the summer 2014 after taking a bottle of sleeping pills and surviving. I finally realized that I am here for a reason and that I needed to live. I am a wife and mother of 5 and if nobody else needed me, my children did.
I began my second weight loss journey in November 2014 with a starting weight of 286 pounds. I also started documenting my journey on Youtube. I started this process slowly and only lost about 15 lbs. Then, in June of 2015, I decided I was going to make a change for good and I haven't gone back on that commitment.
Currently, I've lost 91 pounds. The funny thing is that due to the muscle I've built this time around I am the same size at 195 pounds that I was at 168 pounds just a few years prior. I am 5'3 and now I wear a size 12. I do have lose skin and I'm trying to combat it by moisturizing regularly, drinking lots of water and toning.
I began this journey by just walking for exercise and decreasing my portion sizes. As I became more consistent, I started making better choices with food, increased my cardio and added light strength training. I never cut anything out completely, but limit the fattier and sweeter foods.
I eat healthy the majority or the time but don't cut out comfort foods completely. My typical meals are some of the options below:
Breakfast – Old fashion oatmeal, Oatmeal pancakes, Fruit with cottage cheese, Eggs
Snacks – Fruit, Cottage cheese, Nuts, Veggies with hummus, Protien bar, String cheese
Lunch/Dinner – Grilled / baked chicken, Salmon, Chili, Ground turkey with veggies, Turkey burger, Steamed veggies, Sweet potatoes, Stir fry, Zucchini pasta
In September 2015, I began doing Crossfit. I now attend class 4 to 5 times a week at 5am and do additional cardio 3 to 4 times a week. I have built so much muscle and gained the confidence I've never had before. This confidence has pushed me to take my journey to the next level and begin training for a figure competition. I will be entering a transformation competition in December 2016 and plan on competing in my first figure competition in 2017.
If I could give someone advice, it would be to start where you are. Try not to worry about what others say or think and just be consistent. Know that this journey has hills and valleys. As long as you don't quit you will reach your goals. This is a lifestyle, so don't get complacent. Continue to find new things to challenge youself and most of all HAVE FUN!
Instagram: @traciestakeover
Youtube Channel