What is clean eating?
When you eat clean you will be eating unprocessed, whole foods that are prepared or cooked in ways that don't add extra chemicals and toxins.  We are talking about fresh fruits, fresh vegetables, lean meats, whole grains, lots of water, healthy dairy and fresh juice. You will avoid fried food, fast food, junk food, bleached white flour, artificial ingredients, soda, commercial juice and sugary drinks, processed sugar (white sugar, corn syrup), and foods with preservatives, toxins, dyes, saturated fat, and trans fat.  You will likely be cooking at lot of food at home, making green smoothies, eating salads, eating healthy snacks, and really realizing just how healthy you've really been eating.  It's not about perfection…it's about making healthy choices.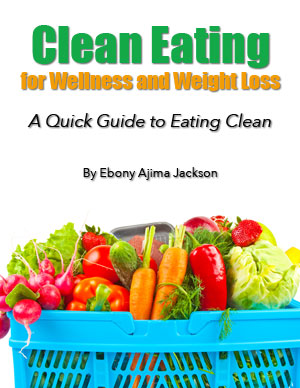 The following food list is from my ebook on Clean Eating.  The foods are broken down by category according to the main food group they consist of.  If you can form your diet around these foods, you will be following clean eating principles.  This list is not a bible. You want to use it as a guideline for clean eating, but ultimately, you have to find what works for you. Use this list as a starting point.
Lean Meats, Meat Substitutes and Fish/Seafood:
Poultry – Chicken Breast is your friend
Extra Lean Ground Turkey
Pork Tenderloin
Veal
Extra Lean Ground Beef
Grass Fed Beef
Tempeh
Tofu
Lamb rack
Shrimp
Lobster
Clams
Mussels
Scallops
Salmon, Tuna, Bass, Mahi Mahi, Tilapia and all other fish varieties
Venison Steaks
Buffalo
Bison
Elk
Egg whites (duck, chicken or goose)
Dairy Rich Foods and Milk Alternatives*
Cottage cheese
Greek yogurt
Skim milk
Plain yogurt – add fresh fruit
Hard cheeses
Unsweetened Almond milk
Unsweetened Rice milk
Sweeteners
Fruit
Coconut Sugar
Stevia
Organic Agave Nectar
Honey
Sugar-Free Applesauce
Fruits And Vegetables
Basically there's NO restriction here – as long as it's fresh and in its natural state, it goes! These should form the bulk of your diet plan.   Try to eat organic if you can.  You can also have unsweetened dried fruit.
Grains And Starches
Brown or wild rice
Quinoa
Barley
Buckwheat
Oats
Sweet potatoes/yams
Popcorn
Brown rice cakes
Low sugar granola
Soba noodles
Whole grain bread, pasta and cereal – in moderation.  Look for unbleached grain products.
Chia seeds
Flours – Spelt, Whole Wheat, Oat, Rice or Quinoa flour
Legumes
All beans
Black eyed peas
Chickpeas
Soybeans
Lentils
Healthy Fats And Oils
Olive oil
Avocado oil
Walnut oil
Flaxseed oil
Coconut oil
Almonds
Avocado
Cashews
Hazelnuts
Pecans
Pine nuts
Pumpkin seeds
Sunflower seeds
Brazil nuts
Chestnuts
Macadamia nuts
Pistachios
Sesame seeds
Walnuts
Flaxseeds
Poppy seeds
Natural Peanut Butter
Condiments
Apple Cider Vinegar
Ketchup – Heinz Reduced Sugar or Wholefoods Organic
Reduced Sodium Soy sauce
Salsa or Fresh Pico de Gallo
Hot Sauce
Low Sugar Steak Sauce
Herb Pastes
Tomato Sauce
Broth (vegetable, beef, chicken)
Olive oil cooking spray
Olives
Please be mindful of your known food allergies and avoid any foods you know you have health issues with.  In addition to the list, you can use any assortment of vinegars, hummus, mustards, sodium-free spices, etc. to help boost the flavor of your dishes without adding any 'unclean' ingredients.
*Note that some individuals may be lactose intolerant and will need to avoid dairy in their diet plan. When that's the case, go for almond milk, coconut milk, or rice milk instead and avoid all cheese variations.  Also, avoid low-fat dairy.  Most have additives and chemicals added in to replace the fat that you should avoid.  This is very common with so called "diet" products.