Transformation of the Day: Ashlee lost 40 pounds. This proud mom wants to be a healthy example for her son. By eating right, exercising regularly, setting realistic goals and taking it one day at a time, she got great results.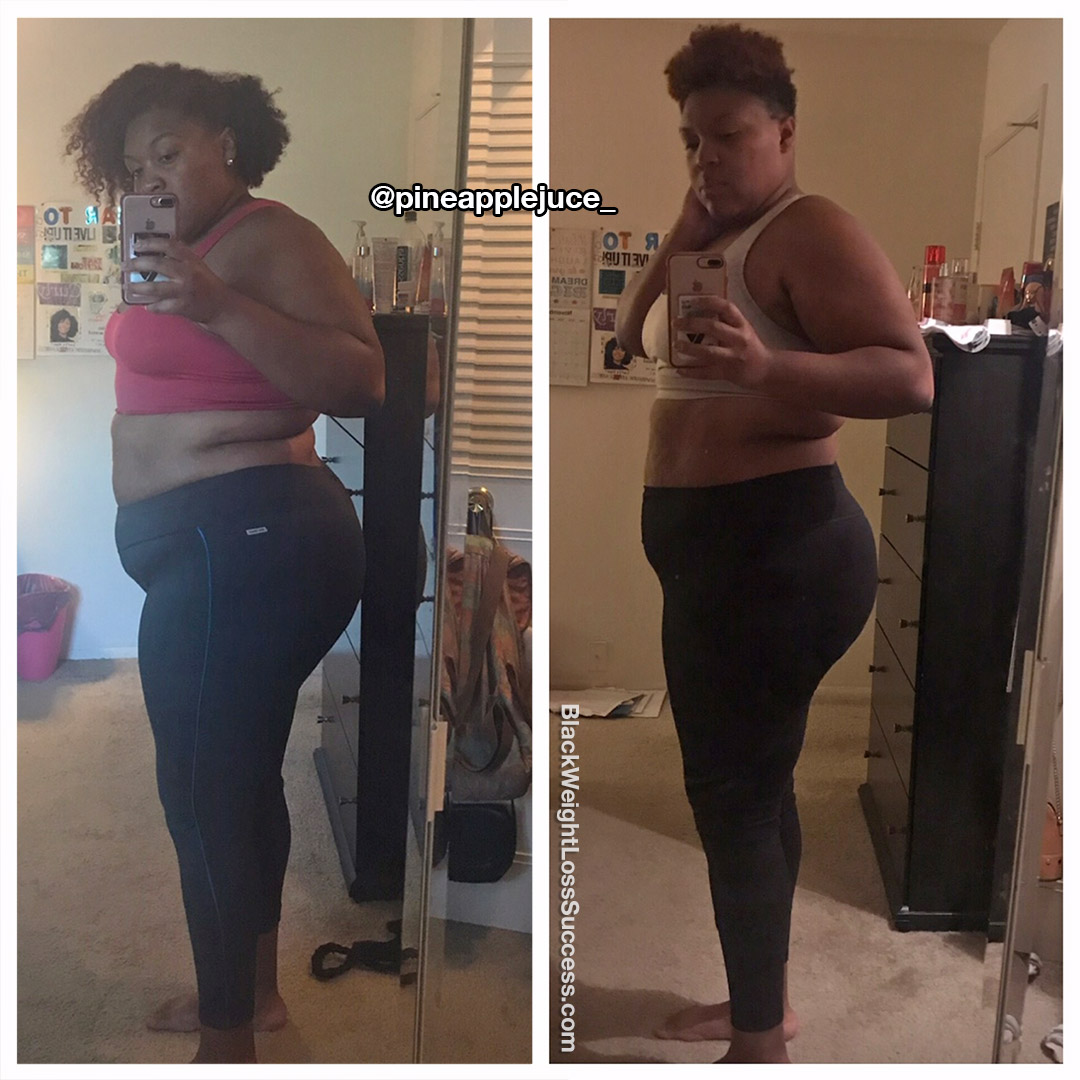 My name is Ashlee, and I just want to encourage every single African American woman out there who may be feeling discouraged or defeated. YOU CAN overcome anything you put your mind to!
What was your motivation?
My motivation has always been my son. I was a teenage mom at the age 17, and I weighed in at 320 pounds. At the time, I had recently lost my mom to lung cancer and was just trying to graduate from high school. I've had plenty of ups and downs. Some seasons were more difficult than others. Over the years, I've gained weight and lost it again. Went back and forth on the YO-YO wagon for a while, but finally had to make my mind up because I realized my son was watching me. My weight issues weren't only weighing on me, but on my son as well.
How did you change your eating habits?
I met with a trainer and expressed my goals to him. He put me on a strict eating plan (not a diet) and encouraged me to have 1 cheat meal a week. It took time getting to one cheat meal a week, but during that time of implementing healthy changes, I gave myself lots of grace. I did NOT beat myself up.
My meal plan consists of a large, protein filled breakfast (eggs, vegan sausage, fruit, etc.). My morning snack was usually a smoothie of my choice. Lunch is lean protein, like chicken, vegetables and a healthy carb, like sweet potatoes. Dinner is a lean protein with veggies. I am required to drink 1 gallon of water a day and take a women's vitamins along with probiotics as well.
Tell us about your workout routine.
I weight train twice a week and do cardio 4-5 days a week (30-45 minutes of cardio). Also, sitting in the sauna has excellent health benefits.
Starting weight/Current weight
My starting weight was 320 pounds. My current weight is 280 pounds. My goal weight is 250 pounds. I am 5'10". Losing 40 pounds has taken me 3 months, but it has not come easy. It takes hard work! Putting in the work and making these lifestyle changes has benefited not only me, but also my son. He is a growing athlete. As beautiful black women, it is our responsibility to educate our children and support each other as we live healthy lives.
Is weight loss surgery part of your journey?
I have not had any weight loss surgeries. I almost had the Gastric Sleeve, but I opted out the day before. I'm so thankful that I did!
What is the biggest lesson you've learned?
The biggest lessons; Take it one day at a time. Set realistic goals. Have fun with loving on your body. Enjoy the journey.
What advice would you like to share with women who want to lose weight?
Give yourself plenty of grace. You're not going to be perfect 100% of the time. Giving yourself that room to breathe allows you to keep going. Don't be so hard on yourself. Also, don't let those Instagram bodies full you. Just because they are snatched on the outside doesn't mean they have peace within. Love yourself!
I pray this encourages someone!
Instagram: @pineapplejuce_