Transformation of the Day: Consuella lost 83 pounds. A family history of blood pressure, high cholesterol, and diabetes inspired her to change. She realized that she was just hurting herself by overeating, and needed to find herself again. She worked with an online training and nutrition program to get the guidance and support she needed.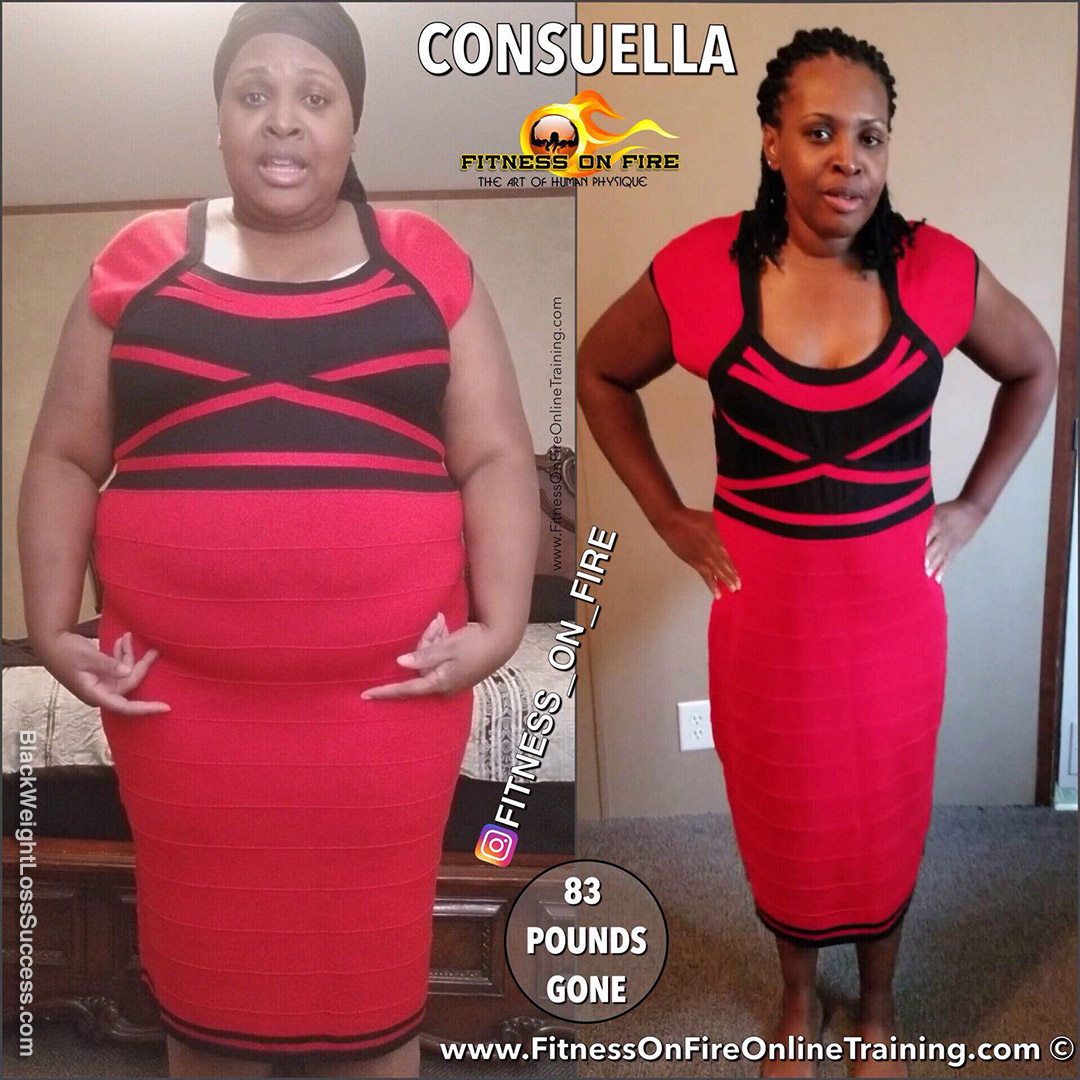 Age: 37
Height: 5'8
Starting weight: 270 pounds
Current weight: 187 pounds
Total weight loss: 83lbs
Starting Dress Size: 22
Current Dress Size: 14
Representing: Louisiana
What was your motivation?
You might think this is crazy, but when my husband was out of town working, I was like "I can eat what I want, and no one is here to stop me or make me feel bad about eating so late at night." Then I realized that I would only be hurting myself. I wanted my husband to come back home to a new and improved wife, not a "What happened to you?!" wife. Lol!
What inspired you to keep going, even during the tough times?
A family history of blood pressure, high cholesterol, and diabetes inspired me to change. However, what really smacked me in my face was a photo my husband sent me of myself. I could not believe how I looked! I was upset with myself for letting myself go that far. My husband was always telling me that he loved me just the way I am. I had no love for myself, looking like I was looking. I knew to be a mother and wife you lose yourself, but honey I was way off track and desperately in need of finding myself again. The energy boost I get from working out makes me feel awesome that's what keeps me going back day after day. I am loving my progress. It's still unbelievable. I don't look at it as weight loss, but just becoming a healthier me.
How did you change your eating habits?
I am going to be honest here. I am not perfect, so some of my meals may not have been what I should have been eating. I never went overboard and even if I did cheat and ate items that weren't on my regimen I worked extra hard.
My meals consisted of…
Chicken breast, legs, and thighs that were baked or grilled
Baked or grilled fish
Shrimp
Baked turkey wings
Salmon with a side of veggies and a salad for dinner.
Subway and Fit Blendz are two restaurants I've used while on this journey.
I stopped eating sweets, drinking alcohol, and eating late at night. I started eating more veggies, drank plenty of water and spent more time in the gym with my extra time.
What did your workout routine consist of?
My workout consisted of doing HIIT/Resistance Training for 75 minutes to 2 hours 5 to 6 days a week. On the weekends, I aimed for an hour and a half or 2 hours.
What was your starting weight? What is your current weight?
My starting weight is 270 pounds and my current weight is 187 pounds. My height is 5'8″.
How long did your transformation take?
My transformation has been 10 months so far. I started seeing results 2 months into my journey.
The Fitness on Fire Online Training Program worked well with my schedule. Having a nutritionist was the best help ever! Nutritionist Guru helped open my eyes to try different meals and treats that were healthier for me. She was a listening ear, even if she didn't realize it. Thanks again to Fitness on Fire for helping me become a better me!!
What advice do you have for other women who want to lose weight?
We should all aim to live a healthier life. It's the best choice you can make for yourself! Consistency is very important.
Instagram @Mrscee14