Transformation of the Day: Brandee lost 102 pounds with prayer, healthy eating habits, and exercise. Her turning point came when she came up with the idea for a weight loss challenge at work. When her Supervisor approved the idea, she realized that she would be in charge of the challenge and have to lead by example. Check out her journey.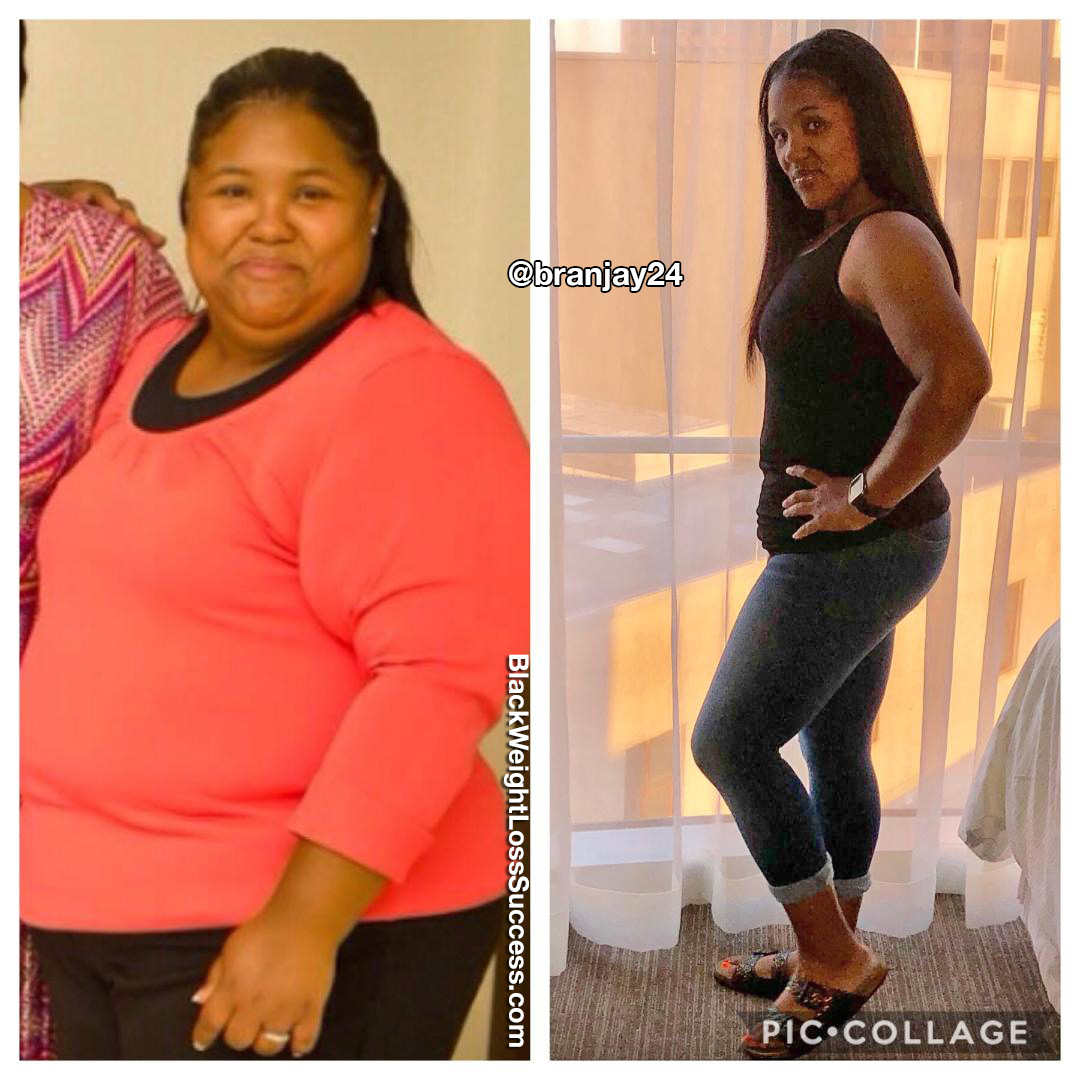 What was your motivation?
I have been a heavy person all my life, and I've failed at many attempts to lose weight. As a young girl, my weight never was an issue for me. As I got older and became an adult, I realized how unhealthy I really was.
When I became pregnant with my second child, I put on a lot of weight, which added to the already heavy person I was. After giving birth, I thought that I would be motivated to lose weight and get on track, but unfortunately, that didn't happen. I became very complacent with being at home with a newborn and continued to overeat and not exercise. I started to hate the way I felt when I woke up in the morning. I had just a sick feeling to my stomach due to the unhealthy foods I was consuming. My weight was totally out of control!
As my children got older, I realized that I had to do something about my weight, or I would not live to raise them. After picking my son up from school one day, I was on the phone with my cousin. We talked about losing weight all the time, and this particular conversation was no different. As the New Year was approaching, we discussed our resolutions. Losing weight was on the top of the list of course. In that conversation, we agreed that eating healthier would need to be a top priority, but that we find ourselves eating unhealthy because the type of foods that we need to eat right can be so expensive.
After hanging up the phone with her, my son said to me, "Mama, I wasn't trying to be in your conversation, but I couldn't help but hear you say that it is too expensive to eat healthy." I told him that yes, it could be very expensive. He looked at me with concern on his face and said, "Well, Mama, wouldn't it cost more for a funeral." After hearing those words come out of his mouth, my heart dropped! To know that I am complaining about the simple cost of healthier foods that could save my life, and it would cost way more to bury me if I continue to live an unhealthy lifestyle… I knew that my life had to change.
I wasn't sure how I was going to tackle my journey, but I knew that I had to make changes. Hearing those words was the motivation that I needed because I realized that my unhealthy lifestyle would affect more than just myself. A few weeks went by, and I was in constant prayer on how I am going to get this journey started. It was the New Year, and I was at work talking with my Supervisor and Executive Director of my agency about the New Year. My Executive Director asked me what my goals for the New Year were, and as always I told her it was to lose weight and become healthier. I also told her that I was thinking about starting a Biggest Loser challenge at work to motivate others who wanted to reach some of the same goals. She looked at me and said, "Go for it, and I will support you 100%." It seemed like a good idea until I thought about the fact that I would have to be an example if I was going to spearhead this. Our agency had no wellness plan in place for employees, and this was my opportunity to get one started.
Then, I immediately panicked because I felt like, "What did I just get myself into?" How in the world could I possibly motivate anybody when I couldn't even motivate myself. I was a bit nervous, but I knew that this was God putting me in a position to help save some lives, including my own. I could no longer procrastinate because I had to lead this initiative. This is where my journey started.
How did you change your eating habits?
I knew that I could not overwhelm myself and had to make slow but meaningful changes. One thing for sure, I knew I had to stop eating MY problem foods, and for me, those were bread and sweets. I cut them out totally! Carbs were the enemy for me. Although I didn't count carbs, I cut out the obvious ones like crackers and white flour. I was no expert at this, but I knew that as many carbs as I was eating, that it was definitely was adding to my weight gain.
I also cooked at home as much as possible. For breakfast, a typical meal would be scrambled eggs with cheese. Ss I started to add some (and I mean some) carbs back to my diet I ate oatmeal (apple cinnamon) and turkey sausage/bacon. I didn't and still don't like to eat breakfast, but knew that I needed to in order to kickstart my day.
For lunch, a typical meal would be tuna (w/mayo and onions) and cucumbers and a piece of fruit. Because I was watching out for those obvious carbs and did not want to eat crackers, I substituted cucumbers to get the crunch I was looking for. For dinner, a typical meal for me would be Salisbury steak and mixed veggies (I was addicted to this meal for a while). For snacks, I absolutely love cashews. They are always my go-to. Yes, I have to be careful because they are high in fat, but they are so filling in between meals.
Having two children who were very active in sports, which kept us away from home a lot, I knew that eating out would be a part of our lifestyle. When eating out, I would share half my meals with my daughter, who was younger at the time. I also drank lots of WATER. Water was my best friend!
What did your workout routine consist of?
When I began my journey, I knew that exercise had to be just as much of a priority as eating healthier. I started with 30 minutes of walking daily, whether it was on a treadmill or outside. I did this six days a week, and I made sure that I made Sunday my rest day. As time went on, I still worked out six days a week, but I increased my cardio to include 45 minutes on the elliptical and 20 minutes on the stair climber. I did 45-60 minutes of cardio anytime I hit the gym. I am not the one to want to stay in the gym forever because I do not like to overwhelm myself. After a few months of working out, I started to add weights, and this helped out tremendously with shedding the pounds.
Starting Weight/Current Weight
My starting weight was 275 pounds, and my current weight is 173 pounds. My ideal weight for myself was always 175, and I am still in shock that I reached my goal. Of course, now I have a new goal weight that I am trying to achieve: 169 pounds.
What is your height?
5'4″
When did you start your journey?
I started my journey in January 2013, and I lost my first 80 pounds by October 2013. Since then, not only have I kept that weight off and lost a total of 102 pounds to date!
Is weight loss surgery part of your journey?
No. I lost weight by simply cutting out my problem foods and exercising.
What is the biggest lesson you've learned so far?
The biggest lesson I learned is that I can do ANYTHING I set my mind to. I realize that I wasted so much time being unhappy with who I was. There was so much more to life that I was missing out on due to the insecurities that came with being overweight.
I also learned that the hardest part of losing weight was getting your mind in the right place. I prayed my way through the mental part of this journey, and I'm still praying my way through.
What advice would you like to share?
I prayed, and I asked God to get my mind in order so that I could be successful on this journey because it had to start there. Throughout my journey, many people have asked me what my secret to weight loss is. I simply say, CONSISTENCY! I learned to be committed to this goal, and I was consistent, even on the hard days!
When you think those 30 minutes of walking won't add up to anything, trust me, it will. There will be some tough days, and you will ask yourself, "Is it worth it?" Yes, you are worth it! Show up for yourself EVERYDAY!!!
Instagram: @branjay24
YouTube: BranJays Life