Transformation of the Day: Tayla lost 51 pounds. She hated taking pictures, and trying on clothes made her feel defeated. She decided to face her insecurities, get fit and adopt healthier eating habits. Joining a local boot camp and becoming more aware of emotional eating are two ways she took action.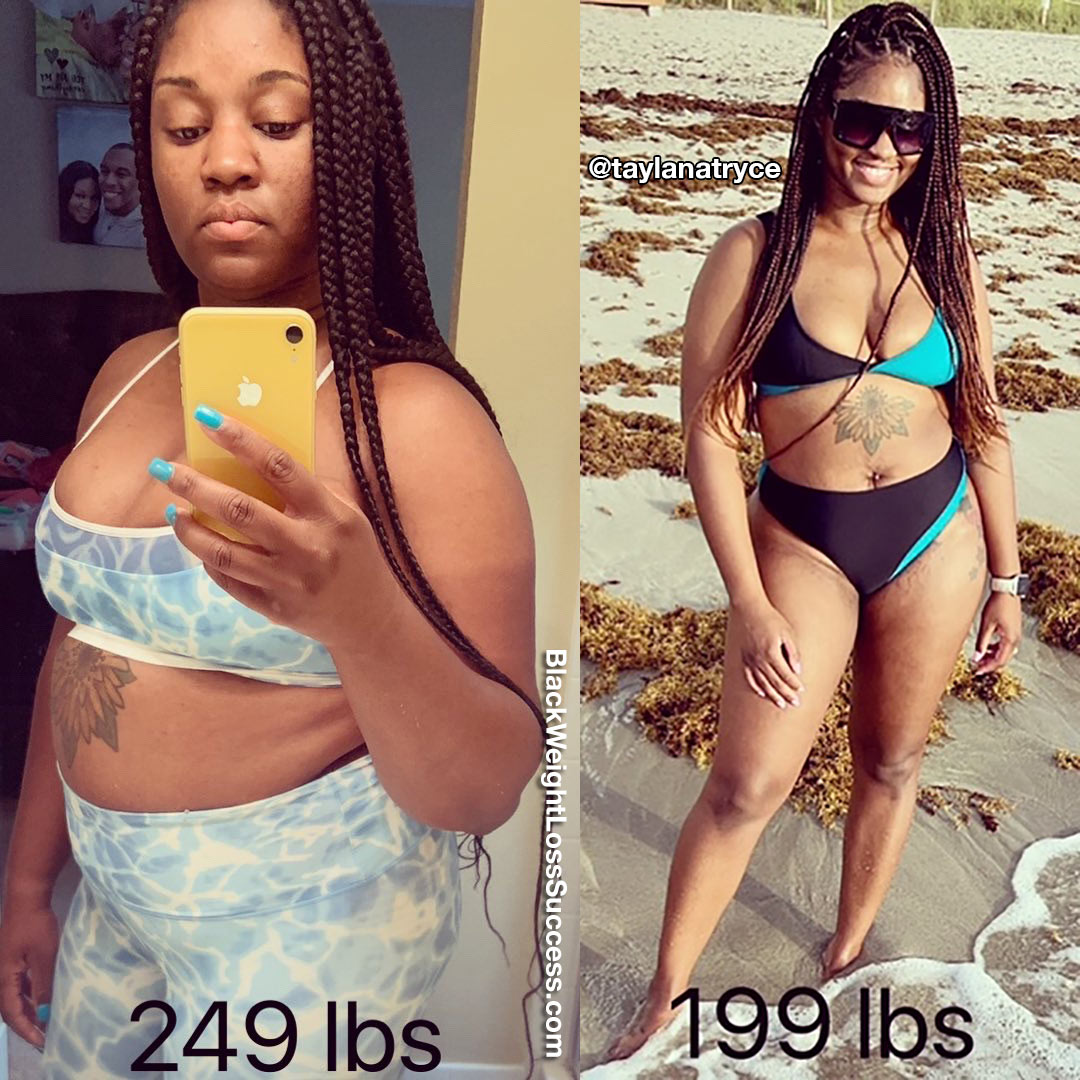 What was your motivation? What inspired you to keep going, even when you wanted to give up? 
My name is Tayla, and I'm 29 years old. My motivation was my insecurities. I couldn't try on clothes without feeling defeated. I also hated pictures, which was a huge red flag for me because I love capturing moments for memories. 
How did you change your eating habits?
I started to pay attention to when I wasn't hungry and when I was just bored or emotional. I would drink water or eat fruit during those moments instead of binge eating chocolate or chicken wings. I also stopped drinking as often as I would before. 
My eating habits still have room for improvement, but I try to limit carbs and pointless snacking as much as possible.
What did your workout routine consist of? How often did you work out?
I joined a boot camp, "The Camp Transformation Center," and worked out 5-6 times a week for an hour each time. 
What was your starting weight? What is your current weight?
My starting weight was 250 pounds, and I currently weigh 199 pounds.
What is your height?
I'm 5'9″.
When did you start your journey? How long did your transformation take?
In May 2020, I started taking matters into my own hands. Then I joined the boot camp in June 2020. This transformation occurred over the course of one year.
Is weight loss surgery part of your journey? 
No, it isn't.  
What is the biggest lesson you've learned so far?
Anything is possible with consistency. 
What advice do you have for women who want to lose weight?
It sounds cliche, but seriously JUST DO IT! Don't wait for a reason. Just wake up and decide to make a change, and make that decision every day! Don't allow yourself to feel defeated. Did you miss a day? Ok, wake up tomorrow and go get it! Your efforts won't be canceled because of one bad day!
Instagram: @taylanatryce