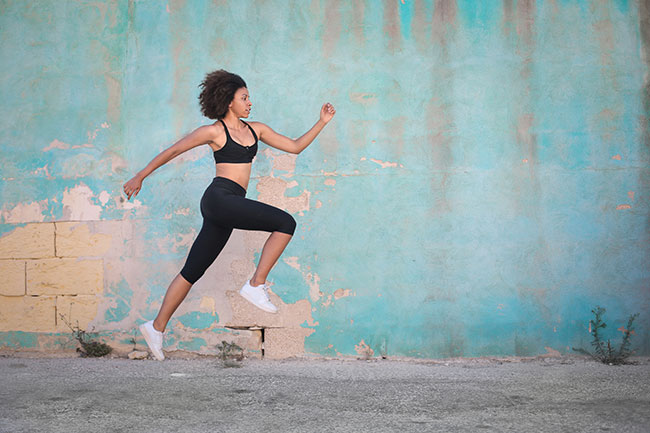 This month's challenge is Super Simple, but it's also Super Powerful.
Commit to being active for 30 days during the month of October!
October 1st – October 30th
Goal: 5 Days of Exercise and 2 Active Rest Days
Each Week
Exercise for a minimum of 30 minutes per workout.
Your choice of exercise: Walking, running, weight training, HIIT, Zumba, etc.
Active Rest Days: On your rest days, take 15-20 minutes to stretch, do yoga, do pilates, or take a relaxing walk. Do something physical, but relaxing.
Work at your own pace, but challenge yourself to work hard as well.
Stay hydrated: Drink at least 64 oz of water each day. (If you drink much more than that or have medical limitations (due to kidney issues or other ailments), that's fine. Do what works for you.
Workout more than 5 days a week if that is your usual routine.
Note: If you can only workout for 2-3 days a week, commit to that. You know your level of fitness. We don't want anyone to hurt themselves or risk injury just to reach the "5 Days a Week" goal. Again, it's very important that you chose a goal and a workout routine that fits your current level of fitness.
How can you join us?
2.
Leave a comment below

and let us know why you are joining this month's challenge.
3. Check in Nightly on Facebook or Instagram for accountability!
4. Lose to Win
5. Share your Exercise Selfies with the challenge hashtag
Use the Challenge Hashtag #BWLW30 when you post workout selfies.

Disclaimer: Before starting any exercise program, please consult with your doctor. We cannot be held responsible for any injuries resulting from attempting this exercise routine. If you have injuries that could be worsened, are pregnant, have knee issues, or are suffering neck and back pain, you should speak with a professional trainer about what workouts would be best for you. Do not attempt if you have current injuries, past surgeries or other physical issues/health issues that could be affected by exercise. Don't forget to stretch before and after working out to avoid injuries.  If you feel pain or severe discomfort, stop.