Update Nov 2018: Check out Carmen's latest update…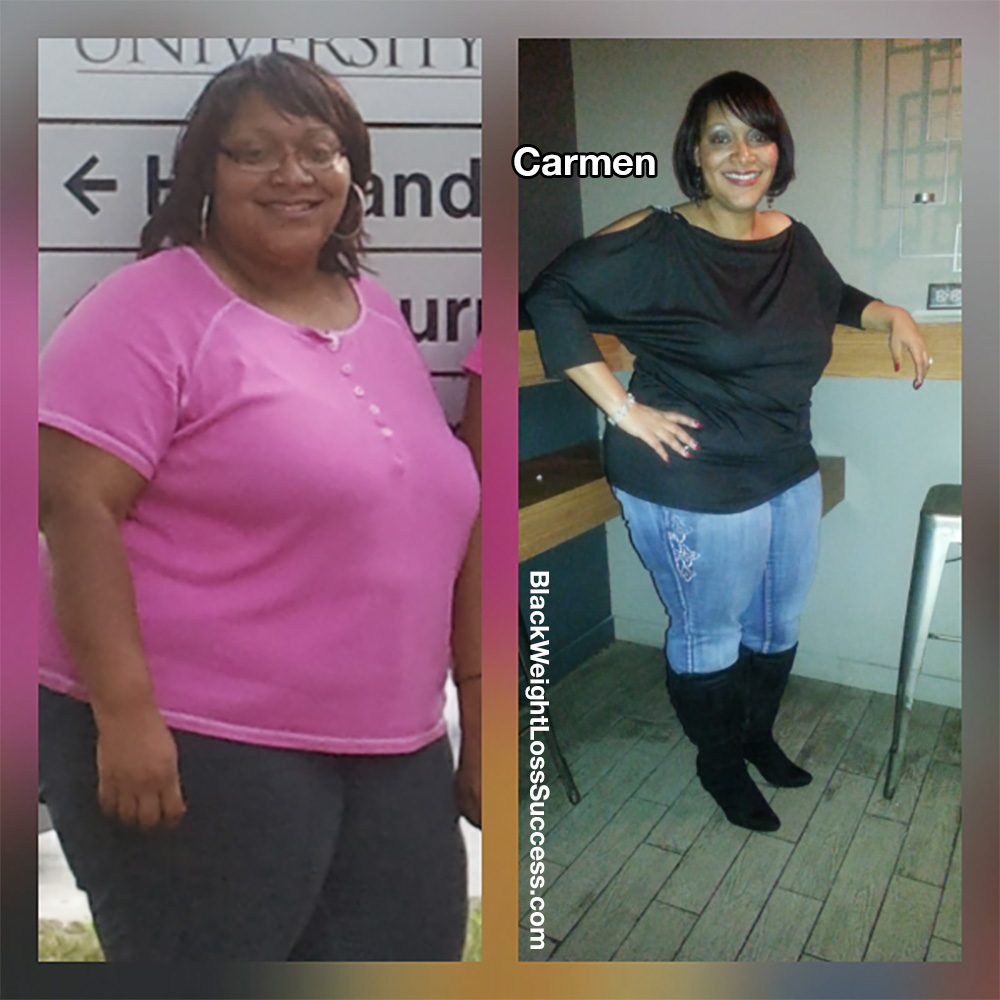 How have you maintained your weight loss/continued to lose weight?
I've maintained by continuing to have a healthy lifestyle of good eating habits and exercise. I've struggled a bit, but I get back on course when I've fallen off.
What has worked for you in terms of eating habits and exercise?
Eating healthy 85% of the time, and having what you want 15% of the time throughout the week. Doing 30 minutes of cardio everyday works as well. If that is a challenge starting out, I suggest working out three times per week and working your way up.
What lessons have you learned on this journey?
I've learned that everything starts with the mind. If you want to lose the weight, you have to make a decision. It's not easy, but you can do it of you put your mind to it.
At this point, would you offer any new or different advice to people who want to lose weight?
I'd just say even when you get off course, don't give up. It doesn't matter how many times you may get off course, tomorrow is always a new day.
---
Carmen lost 80 pounds, going from a size 26 to a size 18. A friend's success with an online training and nutrition program inspired her to try the plan for herself. She shared her experience with us.
I began my weight loss journey in January 2013. My motivation for losing weight came when I began having a few health problems due to my weight. I'd tried a few different weight loss plans and was unsuccessful. Then, I began to cry out to God for help.
A few days later after my desperate plea, a friend sent me a message on Facebook and said, "I've lost close to 30 pounds in five weeks, do you want to know how?" At first, I was hesitant and doubtful. I thought, "30 pounds, in five weeks? Yeah right." Then she sent me her before and after pictures, along with the name of the person that assisted her on her journey. I was shocked and excited. His name is Terry Starks (aka. The Diet Doctor). He's a natural bodybuilder, personal trainer and certified nutritionist who has a ministry to assist others on their journeys to a healthier lifestyle.
I lost 3 dress sizes in 8 weeks! I started at 5'5″ wearing a size 26. I've lost a total of 80 pounds in 7 1/2 months (30 weeks). I got down to a size 18. Yes, it's true!
It takes hard work and dedication. As with any commitment, it can be a challenge when you're so used to eating a lot of sugary, fatty foods and you switch to a life of clean eating. Clean eating means that you'll be eating a lot of fruits, vegetables, and lean meat.
The thing that motivates me to stay on track is the way that I feel, opposed to what I used to feel like before getting on the plan. I'm more energized and upbeat, whereas I used to be achy, tired and out of breath. Once you get to your goal weight, maintaining your weight means continuing your cardio workouts and eating healthy 85% of the time, with cheat meals 15% of the time. The workout routines I follow on the plan are not strenuous, just light cardio and strength training. I also do a lot of walking.
Throughout my three year weight loss journey, I've maintained my progress for the most part. When I do pick up a few pounds, I quickly get back on my plan for fast results. If you want rapid results and you want to look and feel amazing, I suggest Terry Starks' customized plan.
My advice for anyone trying to lose weight is to change your mindset, know where you want to be and get there and in the words of Terry Starks, "STAY FOCUSED!" I'm rooting for you!
---
Update July 2017 – 6 months later, Carmen is updating us on how she has maintained her amazing transformation.
"Maintaining your weight can be challenging if you're not mentally focused. In order to maintain the body you've worked hard for, it takes discipline. Eating healthy meals 85 % of the time and trying to get in at least 30 minutes of cardio everyday, or every other day, really helps. Staying active and eating a well balanced diet is the key to remaining successful, both physically and mentally. It's not as hard as it seems, if you begin with the end in mind. When you do that, you will be successful.
I would encourage anyone that is struggling with their weight and/or those who just want to adopt a healthy lifestyle to allow Terry Starks to assist them along the way. He's passionate and gifted to help you in your journey to being healthy and happy."