Transformation of the Day: Cierra lost 94 pounds. When her weight started to affect daily activities like tying her shoes, she knew it was time to change. Wanting to be there for her family and live a long live, she decided to have the vertical gastric sleeve procedure and document her transformation. Check out her journey.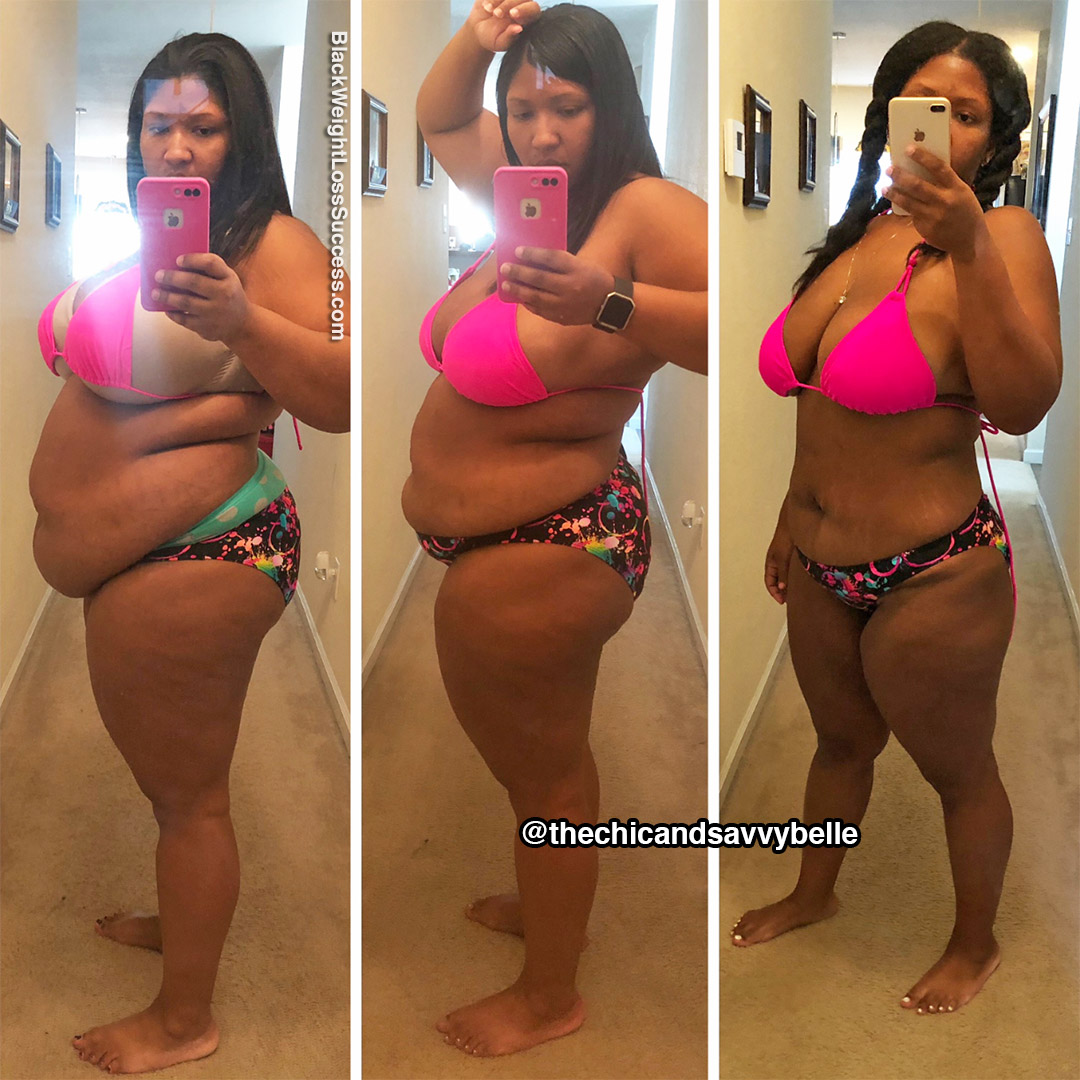 What was your motivation? What inspired you to keep going when you wanted to give up?
2017 was a great year, but physically it was my most depressing. I started noticing a change in myself. I couldn't tie my shoes, I wore flip flops with everything, I wasn't being a good wife, I couldn't do certain activities with my family, and on and on. However, because I'm naturally a very positive and optimistic person, I would never give up on me! I would start a new weight loss journey every Sunday and fall off by Wednesday, lol. Essentially, I had to stop and say to myself, "If I keep this up, I won't be here long for my family.", and that's when the light bulb went off. My son and husband are my inspiration.
I had the vertical sleeve gastrectomy (VSG) on February 6, 2018. BEST DECISION OF MY LIFE!! I actually documented my entire journey on YouTube and have a dedicated weight loss page on Instagram to help others become informed about the benefits.
How did you change your eating habits?
I started changing my eating habits in January 2018, because I knew I had to start mentally preparing myself for surgery. Since I was a self paying client, I didn't have to do counseling or any pre-surgery meetings. This was huge because I realized in 2017 that I was a food addict. So being strong enough to make the decision to put the fork down or eat a few bites less overtime really takes will power. I started off by cutting all white carbs, especially bread, and focused my attention on eating low carb, low sugar meals. The rest is history. Since having VSG, I have continued to live on a low carb, low sugar plan.
What did your workout routine look like?
I workout at least 5 days a week. I love jogging, spin class, swimming, kickboxing and zumba. I also travel a lot and I'm always doing some form of activity.
What was your starting weight? What is your current weight?
My starting weight was 311 pounds. As of today, I weigh 217 pounds. YAY, 6 pounds shy of 100lbs! I'm 5'6″.
How long did your transformation take?
I started eating better in early January at 311 pounds, but I officially started my journey on January 23rd, at 302 pounds, which was the first day of my pre-operative diet. I had to do a two week liquid diet prior to surgery. I thought it was going to be one of the hardest things I'd do in my life, but surprisingly because my mind was made up. It was easy as pie and I didn't cheat one single time! I had surgery on February 6, 2018 and it's been 23 weeks. I'll be 7 months post-op in August.
What is the biggest lesson you've learned?
The biggest lesson I've learned is that you have to be selfish, just a little, to accomplish your own personal goals. One of the reasons I failed so many times is because I was focused on too many other things that had nothing to do with me personally. Things like my friends' issues, work issues, social issues, etc. When I decided to invest in Cierra, that meant she was going to get 100% of my attention. So as of now, it's GOD, family, Cierra and everything else gets what time I have left.
What advice do you have for people who want to lose weight?
My advice is to figure out your strengths and weaknesses and use them to your advantage. So, for example, I love being active and working out, which is my strength. I loveeeee food and eating it, obvious weakness. When I was trying to lose weight naturally, it wasn't the exercise that kept me from losing, it was the fact that I just couldn't say no consistently to food. So using vsg as a tool to help me with the food side of weight loss was me catering to my weakness while maximizing my strengths. Honestly, vsg was the best decision I've ever made in my life and I'm so happy that I took the time to educate myself on it's benefits. *
I hope my story inspires women to do their research and do what's best for them! I've lost weight naturally many times, With the help of VSG, this is the first time that I've been able to stay consistent with long enough for this way of life to become my actual lifestyle. I'm just so overwhelmed with joy!
Instagram: @thechicandsavvybelle