Update: Dominique has lost 50 pounds.
Transformation of the Day: Dominique lost 47 pounds. Unhealthy eating habits, alcohol and a lack of exercise led to weight gain. Realizing that her weight was closer to 300 lbs than 200 lbs was the wake up call she needed. She took her time and made practical lifestyle changes which have led to awesome results. Check out how she did it.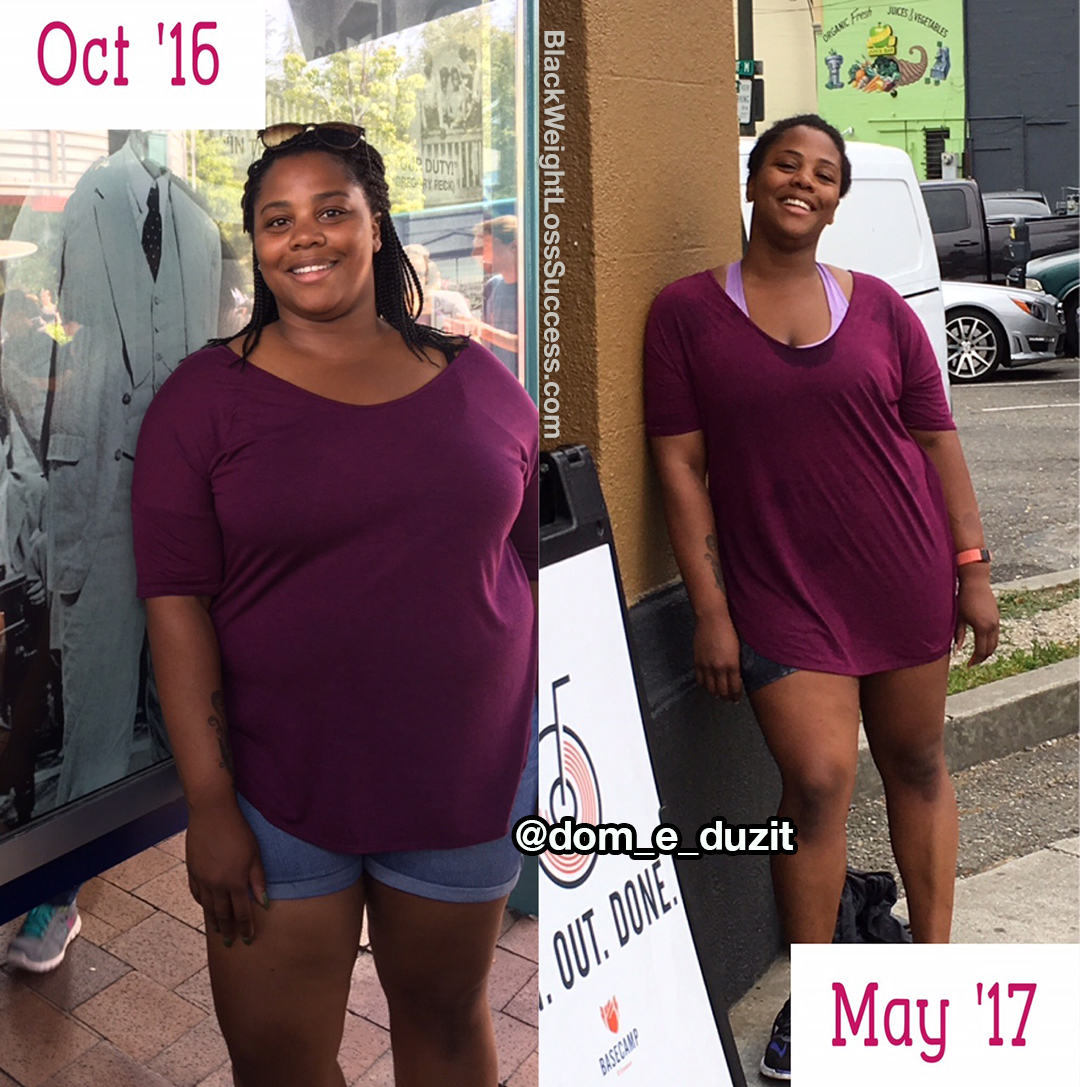 Starting weight: 257 pounds
Current weight: 210 pounds
Goal weight: 170 pounds
Height: 5'7″
On November 18, 2016, I looked in the mirror and I said "ENOUGH!" For the three years leading up to that day, my weight steadily climbed. I was a regular at drive thrus. I drank alcohol most 7 nights out of the week. I also hadn't stepped foot inside a gym. I kept telling myself that I would lose the weight tomorrow, but tomorrow never came. I have always struggled with my weight, but even when I wasn't eating well or exercising I never weighed more than 230 pounds.
I stepped on a scale that mid-November day and I saw that I weighed 257 pounds! I was shocked, depressed and overwhelmed. I had the realization that my weight would continue to rise if I didn't take action and find motivation. I was officially closer to 300 lbs than 200 lbs. The fact hit me that if I didn't make some serious changes, I would get to the 300 lbs mark.
I started making changes slowly, first cutting out fast food and soda. I packed my lunch instead of eating out. I made sure to have healthy snacks on hand (fruit, boiled eggs, deli meat, etc), so I wouldn't go to Starbucks for a cookie or muffin during the day. Now, I eat small meals 5-6 times a day, which leaves me satisfied and controls my cravings.
When it comes to food, my advice is to ask yourself if you REALLY want it. Ask if it's worth your health or your happiness. Some days the answer will be yes, and on those days go ahead. Eat it! As your body and mind start to transform, those days will become few and far between.
When it comes to working out, I was very lucky to find a gym that supported and motivated me. Basecamp is a studio that provides small group, high intensity workouts. The format is 1 minute of cardio, then 1 minute of weight training for a total of 35 minutes. This is followed by 10 minutes of core work. I burn anywhere between 400- 700 calories in the 45 minute class. I take at least 5 classes a week. Most weeks, I take 8 classes, doubling up on some days.
I really recommend trying different gyms or studios until you find one that fits. If I had simply signed up for a gym membership, I would not have fallen in love with working out as I have and I wouldn't be going to the gym as often as I am. Challenging your body CAN be so much fun if you find the right place to do it.
If I can do it, you can do! I used to roll my eyes when I read that in other people's weight loss stories but I promise that it is true. YOU CAN DO IT!
Instagram: @dom_e_duzit